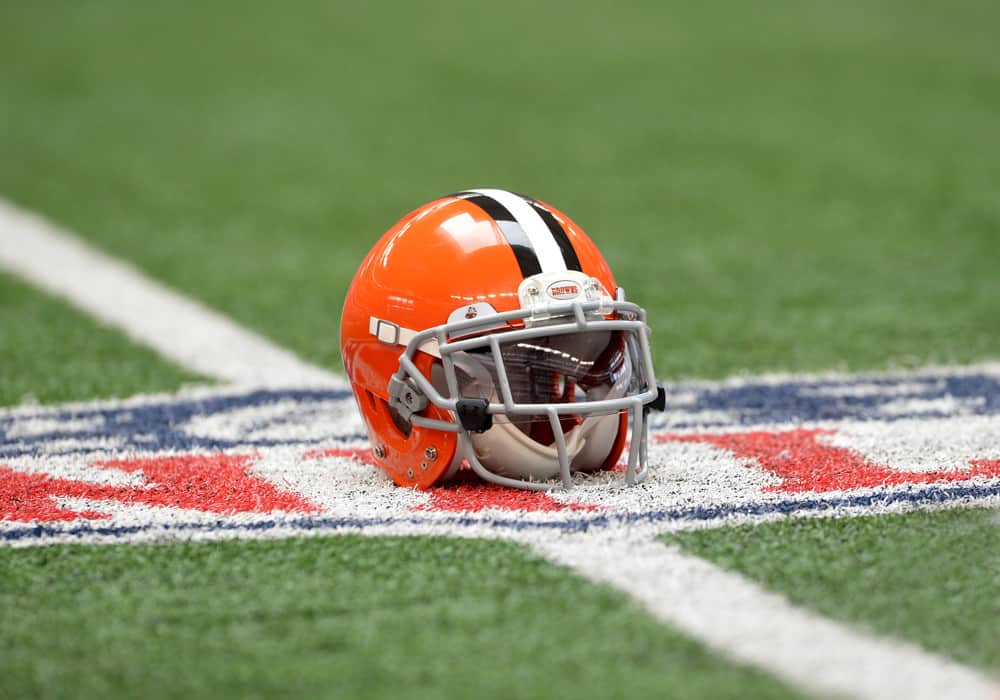 In the mid-late 1980s, the Cleveland Browns were a perennial Super Bowl contender.
Three times between 1986-1989, the team played in the AFC Championship game.
Of course, every Browns fan knows that the hated Denver Broncos defeated Cleveland in each of those contests.
However, during those halcyon days, the team was loaded with talent on both sides of the ball.
Most notably, the Browns were led by quarterback Bernie Kosar and boasted rosters that included Kevin Mack, Earnest Byner, Webster Slaughter, Reggie Langhorne, Ozzie Newsome, Clay Matthews Jr., Frank Minnifield, and Hanford Dixon (among many others).
In preparing for the 1987 season, head coach Marty Schottenheimer liked a young linebacker from Duke University.
Schottenheimer was enamored with Mike Junkin to the point where he believed Junkin could be a star.
In fact, Schottenheimer had so much faith in Junkin that he made a trade that ended up hurting the team.
Then, despite rave reviews from college scouts before the 1987 draft, Junkin was gone from the league after only three seasons.
@VintageBrowns Worst @Browns draft pick… Mike Junkin 1987 round 1 pick 5 is mine pic.twitter.com/CHlYmGORJ5

— Dan Bruni (@dbruni25) April 25, 2019
This is the story of what happened to Mike Junkin.

Terror in high school
Michael Wayne Junkin was born on November 21, 1964 in North Little Rock, Arkansas.
Mike was the second of two boys.
His brother, Trey, was born three years earlier and would also someday play in the NFL.
Junkin and his parents moved to Belvidere, Illinois just before he entered his sophomore year at Belvidere High School.
It wasn't long before he made an impact on the field, literally.
Junkin was a full contact hitter and it didn't matter who he collided with.
He joined a team that had been 15-30 the previous five seasons.
"We knew who he was when he came to town," former Belvidere High coach Vern Pottinger said of Junkin.  "He wasn't very big, but he had an older brother who was playing at Louisiana Tech. Mike was real small, but we didn't mind small players."

"He [Junkin] was one of the players who taught us how to hit," Pottinger said. "He was there in the early years, when we hadn't established much. Our receivers on the scout team didn't want to run over the middle where he was."

"No chance," said former assistant coach Curt Tobin. "They didn't want anything to do with that, I guarantee it."

"He was just so intense," Pottinger added. "He wasn't real big, but he was so intense, anywhere from the weight room to the practice field. He was a tremendously intense player."
Even more impressive, Junkin also played on offense as a tight end and he still delivered devastating blows.
However, his biggest contribution was on the defensive side of the ball.
"He was as good as you could find," former Hononegah coach Donn VanSchelven said, "Junkin could cover a lot of ground. And he was a sure tackler. That was his No. 1 strength.  We always had guys who broke tackles. We couldn't break any tackles against him."
During Junkin's senior year of 1982, he was named team captain and later voted as the program's MVP.

Junkin Becomes a Blue Devil
Junkin's play in high school got him noticed by a number of colleges.
He eventually signed a letter of intent to attend Duke University.
Duke wasn't known for its football program, but Junkin would bring national attention to the program during his time in Durham.
It's an understatement to say that the Blue Devils under head coach Steve Sloan were not very good.
Sloan's teams never won more than four games during his tenure (1983-1986).
However, Junkin announced himself to college football as a freshman despite Duke's awful record.
In a game versus North Carolina State, he had 25 tackles to help pace Duke to a 27-16 win.
Afterward, Sloan praised Junkin's performance.
"…one of the best games I have ever seen a freshman play," said Sloan.
The NC State game was one of only three Junkin played in during his freshman year.
Between his freshman and sophomore years, he gained 35 pounds in order to get more playing time.
In 1984, Junkin was part of a rotation of five linebackers who saw action.
Mike Junkin Duke LB – Drafted by Browns (fart sound) pic.twitter.com/6LbpVFiYqD

— Cedivadova (@cedivadova) April 13, 2020
Junkin was a starter during the 1985 season and totaled 162 tackles while playing through an injured knee.
He also had one interception during the year.
As a senior, Junkin began the season with a severe head cold.
It did not seem to matter when he racked up 15 tackles against Northwestern in the season's first game.
Three weeks later in a game against the University of Virginia, Junkin had 18 tackles and was named ACC Defensive Player of the Week.
He would collect three picks in 1986 along with a plethora of tackles.
By the time he graduated after the '86 season, Junkin had 512 total tackles during his college career.
That is a Duke record.
Junkin's performance as a senior brought him recognition as a Second-team College Football All-American.

The "mad dog in a meat market" is Drafted by Cleveland
Heading into the 1987 NFL Draft, Junkin was a highly rated linebacker.
By then, the Junkin name was already known in NFL circles.
Junkin's older brother, Trey, had been a fourth-round pick of the Bills in 1983 and was on the Raiders roster at the time.
Although many scouts believed Mike Junkin was a second round talent, Browns head coach Marty Schottenheimer thought more highly of him and made a bold move to bring Junkin to Cleveland.
After trading former 1982 first round pick Chip Banks to San Diego (and swapped first and second round picks with the Chargers) the Browns were in the 5th overall spot.
With their selection, they grabbed Junkin.
And then we traded Chip Banks for the rights to draft Mike Junkin ! 🤣🤣 pic.twitter.com/vkt2SbDKWC

— Shawnasaurus Rex (@ShawnG927) July 15, 2018
When asked about the surprising move, Schottenheimer said he liked what he heard in scout Dom Anile's report of Junkin at Duke.
Anile had said that Junkin played out of his mind, much like, "a mad dog in a meat market."
The scout also thought that Junkin was a likely second-round pick and did not think he was worth trading up to the fifth spot despite his assessment.
"Of all the linebackers I have had the chance to evaluate, Mike Junkin is one of the very best I've seen," said Schottenheimer at the time.  "In my mind, he's going to be a very effective (pass) rusher for us. He has a tremendous knack for getting to the football."
After Schottenheimer overruled his scouts and selected Junkin, the Bills and Steelers made notable picks in Penn State linebacker Shane Conlan and Purdue corner Rod Woodson respectively.
Junkin then proceeded to hold out of training camp for 16 days before he and the team reached a four year, $2 million deal.
ESPN's Chris Berman, aka, "The Swami," reviews the NFL Draft board in 1987.

As long as the Browns don't draft Duke linebacker Mike Junkin with the fifth pick in the first round, they should be ok. pic.twitter.com/G4AQarGdrs

— Bill Lucey (@wplucey) April 27, 2021
Rough Beginning for Junkin
Junkin was penciled in at outside linebacker when he finally made it to training camp.
The coaching staff was met with league-wide criticism when the move was announced as Junkin had only played inside linebacker at Duke.
His holdout and the position change were evident during his first pro game, a preseason contest against the Giants.
Playing in the second half of the game, Junkin did not make a single tackle.
As training camp ended, Junkin lost the outside 'backer spot to Anthony Griggs, who would play opposite Clay Matthews Jr.
Junkin saw some action beginning in Week 2 against Pittsburgh.
The idea was that he would get a little more playing time each week as he learned the nuances of the position.
However, by early November of the 1987 season, the players' strike and an injured wrist spelled the end of Junkin's rookie year.
He was replaced by David Grayson.

1988
During the 1988 NFL Draft, the Browns picked another linebacker in the first round.
Clifford Charlton was a First-team All-SEC and First-team All-American in 1987 at the University of Florida.
Cleveland used their 21st overall selection on Charlton and immediately had a log jam at the outside linebacker spot.
Due to Charlton's presence, and the fact that Junkin wasn't comfortable in his new position, the Browns moved Junkin to his natural inside linebacker position.
He then spent his second pro training camp competing with Eddie Johnson for the starting spot opposite Mike Johnson.
Junkin played well enough during the preseason that he was named a starter to begin the year.
In his first career start against Kansas City, Junkin tallied six tackles.
He was still playing fairly well a month later when he injured a knee and had to miss several games.
By the time he returned, Junkin had lost his job to Eddie Johnson.
Toward the end of the '88 season, Junkin returned to the starting lineup.
However, the lack of impact plays and missed tackles led to another disappointing year.

Trade to Kansas City
In the '88 postseason, the Browns lost a 24-23 heartbreaker to Houston in the Wild Card round.
Only days later, Schottenheimer and owner Art Modell "mutually agreed" that Schottenheimer would step down as coach.
It just so happened that Kansas City was looking for a new coach and they hired Schottenheimer.
With two disappointing and substandard years, Junkin was expendable.
Schottenheimer still believed in Junkin's talent and the Chiefs sent the Browns a 1989 fifth-round pick in exchange for Junkin.
Cleveland's front office quickly justified the decision.
"I'm not going to sit here and tell you we're proud that we took the fifth player in the (1987) draft and had to turn around and trade him for a fifth-round pick," said Browns executive vice president Ernie Accorsi at the time. "Not to demean the man, because I think he'll go someplace and hopefully have a productive career with a fresh start, but we based what we were going to do with him on what our new coaches felt about his chances of contributing. . . . Our coaches now really didn't feel he was going to have much of an opportunity to play so we just had to get what we could out of it."
Junkin's time in Kansas City did not start out well.
Weeks after the trade, reports surfaced that he had taken steroids (provided by a doctor) to treat an ankle injury.
It was also revealed that Junkin had failed a drug test at the 1987 scouting combine because of the steroid treatment.
As the 1989 season dawned, Junkin was in a battle with Walker Lee Ashley for an inside linebacker spot opposite Dino Hackett.
Ashley won the position coming out of training camp.
Junkin appeared in five games before a shoulder injury caused him to miss the rest of the season.
He was released after the season and then retired after no team showed interest in him through the 1990 year.
In three seasons, the fifth overall pick of the 1987 draft had played in 20 total games (starting only seven) and totaled 57 tackles.
54 Days!! Mike Junkin. Described as a "Mad dog in a meat market " by one scout was enough for Marty Schottenheimer to trade up and take Junkin with the 5th overall pick in the 1987 draft. The Mad Dog only played in 20 total NFL games with the Browns and KC. He was labeled a bust pic.twitter.com/jWZp7bL8fM

— Brad Russell (@BradRussell_5) July 16, 2019
What Happened?
Mike Junkin wasn't the first bust in Browns history and he certainly won't be the last.
However, it helps to look back and examine the reasons he was a bust in the first place.
Was it possible for the coaching staff (and Schottenheimer in particular) to have seen Junkin's limitations before he was drafted?
Junkin did sustain a knee injury during his junior year at Duke.
However, he continued to play and still finished the year with 162 tackles.
That particular stat may have emboldened Schottenheimer even more.
Despite having an injury, Junkin played through it and excelled.
As a former linebacker himself, Schottenheimer may have seen a kindred spirit in Junkin and overlooked flaws in his game.
Then, there was the fact that the Browns coaching staff either missed or dismissed Junkin's failed drug test before the 1987 draft.
The drug in question was a steroid for another injury.
However, in the 1980s, steroid use was prevalent and "testing" largely proved to be a joke.
Once again, the Browns did not engage in due diligence to test the severity of Junkin's injury or inquire more deeply into the steroid use.
More than likely, the steroids were a mask to a larger issue that Junkin was prone to injury.
Or, it was possible that Junkin just took a beating and couldn't continue fighting the injury bug.
"I don't think they made a mistake drafting Mike at that spot," said Tobin, who coached Belvidere's receivers and special teams at the time. "Mike just ran into some injuries. Those injuries many times are career ending. Even though Mike could play through them, he never really was the same."

"Michael had a couple of injuries he couldn't come back from," Tom Sternquist, who coached Belvidere's linebackers, defensive ends and offensive linemen at the time. "You can't take a beating like that in the pros. Those people will sniff you out and find you."
Last, but not least, Junkin was likely only one of a large number of players in league history who looked great in college but who don't have the skill set for the pros.
This is nothing new and the Browns have seen their fair share of this anomaly since Junkin (Johnny Manziel, Courtney Brown, Justin Gilbert, etc. etc.).
In hindsight, Cleveland and Schottenheimer would have saved a little face if they had taken Junkin in the second round (Anile's assessment).
It's possible that he would not have been miscast as an outside linebacker and/or the coaching staff may have taken their time and developed Junkin.
However, hindsight is always 20/20 and Junkin may have flamed out no matter where he was selected
After all, there are no guarantees in the NFL.