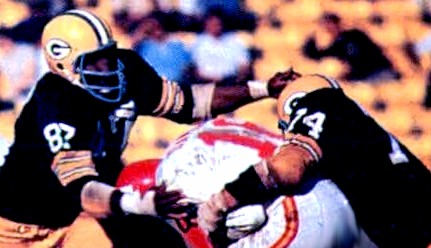 Willie Davis, who started his career with the Cleveland Browns, passed away Wednesday, according to an announcement from the Pro Football Hall of Fame
Hall of Famer and @packers Legend Willie Davis has passed away at the age of 85.

More: https://t.co/zyH0XgGuNi pic.twitter.com/y5kT1uJWUi

— Pro Football Hall of Fame (@ProFootballHOF) April 15, 2020
Davis became a perennial Pro Bowler with the Green Bay Packers.
But he started as a two-way player for the Cleveland Browns.
Davis was also a two-way player at Grambling University.
He played linebacker and guard for the Tigers before the Browns drafted him in 1956.
Willie Davis was a legend at Grambling State University. He became the first player in school history to be drafted. Davis had an extremely successful NFL career. The defensive end won five championships and was inducted into the Pro Football Hall of Fame in 1981. @Grambling1901 pic.twitter.com/Q0xcTWZqWT

— HBCULegacy (@HBCULEGACY1837) August 11, 2018
Like many young men of the age, Davis spent two years in the military before reporting to the Browns.
During the 1958 and 1959 seasons, Cleveland used Davis on both the offensive and defensive lines.
Davis believed he was being groomed to take over the Browns´ starting left tackle position in his third season.
A 15th-round draft pick from Grambling, Davis began his NFL career by playing both offense and defense for the Cleveland Browns. https://t.co/mkRznqwHF1

— KNOE 8 News (@KNOE8) April 15, 2020
But Vince Lombardi pulled off a stunning trade to bring Davis to Green Bay.
When he heard about the trade on the radio, Davis considered retiring.
In a book he authored about his Green Bay experience, Davis wrote,
"At the time, I felt slightly betrayed. I felt the organization didn't care much about me, like I was being thrown away. I also panicked, wondering what this would mean for my future. I absolutely did not want to play in Green Bay.
But Lombardi had big plans for Davis and made sure he didn´t retire.
Lombardi´s Sales Pitch Proved Prophetic
Davis´ book is titled, "Closing The Gap: Lombardi, the Packers Dynasty and the Pursuit of Excellence."
In it, Davis recalls Lombardi explaining his theory that speed, agility, and size are the keys to a good lineman.
He told Davis,
"Give me a man who has any two of those dimensions and he'll do OK. But give him all three and he'll be great. We think you have all three."
But the offensive line wasn´t in Lombardi´s mind.
Davis would go on to play 156 consecutive games at defensive end for the Packers.
RIP to Hall of Fame DE and #Packers icon Willie Davis. We were privileged to excerpt his 2012 book in which he wrote about the racial dynamic of being a black player for Green Bay in the 1960s.https://t.co/labOSf0SYx

— ThePostGame (@ThePostGame) April 15, 2020
In an era when sacks and tackles weren´t tallied, it is widely believed Davis racked up over 120 sacks.
Some former teammates believe the number is much higher, including 40 in just three seasons.
Those seasons were the Packers´ consecutive NFL Championship seasons of 1963-1965.
That includes the first two Super Bowls.
Davis agrees.
"I would think I would have to be the team's all-time leader in sacks. I played 10 years and I averaged in the 'teens' in sacks for those 10 years. I had 25 one season. Paul Hornung just reminded me of that the other day."
Willie Davis´ 22 fumble recoveries over that era remain a Packers team record.
Accolades and Awards Were Abundant
Willie Davis was more than a good player.
In the forward to Davis´ book, Bart Starr recalled how Davis was at his best when the chips were down.
"When it was tough, he rose to the top and took our defensive people right along with him," said Starr.
Kansas City´s Hall of Fame quarterback Len Dawson, in an NFL Films tribute, said of Davis,
"He put as much fear in me, because of what he could do and his abilities, as any defensive end that I had to face."
Willie Davis was a five-time Pro Bowler and All-Pro.
He won a total of five championships under Lombardi in Green Bay.
A sad day in the Packer world. We would like to give our condolences to Willie Davis's Family and friends.
RIP Willie. Packer Nation lost a good one today. #WD87 #RIP pic.twitter.com/7Lolu4caQp

— Pack on Top Podcast (@PackonTopPod) April 15, 2020
The NFL All-Decade team of the 60s lists Davis at defensive end.
Lombardi made Davis the franchise´s first African-American team captain.
He was inducted into the Packers Hall of Fame in 1975 and served eleven years on their board of directors.
The Pro Football Hall of Fame tapped him in 1981.
Rest In Peace Willie Davis…#Packers #ProFootballHOF pic.twitter.com/y5YXCRbIKZ

— ┊radιo corpѕ 🃏 (@radiocorps) April 15, 2020
Davis earned a Master´s Degree in Business Administration from Grambling.
He enjoyed a successful business career after retiring from the NFL in 1969.
Sara Lee Corp, Dow Chemicals, Schlitz Brewing, and Mattel Toys all invited him to sit on their board of directors.
Davis leaves behind a son, the actor Duane Davis, and a daughter, Lori.
His grandson is an All American guard at Ohio State University.
Willie Davis was 85 years old.