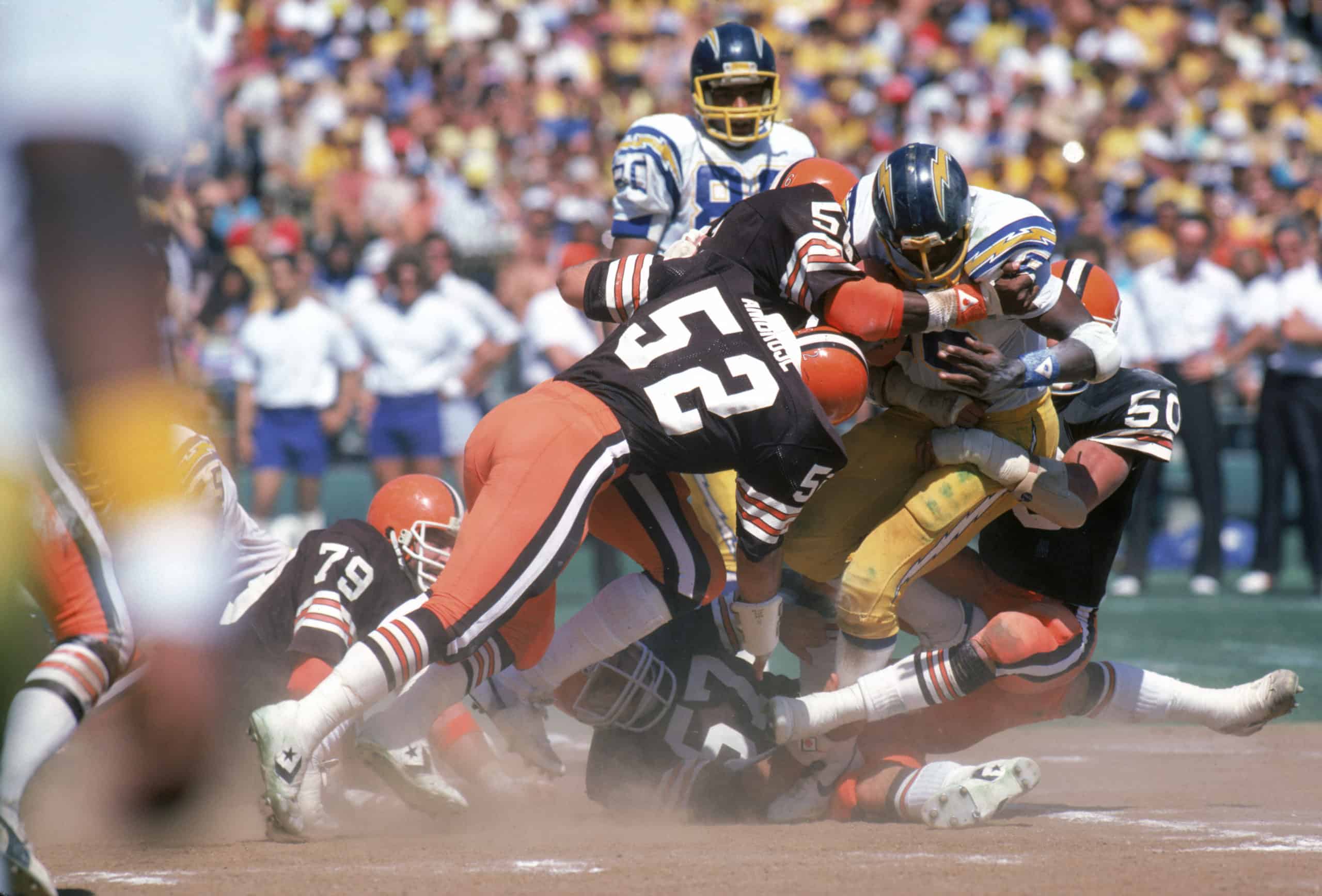 In the early 1980s, the NFL witnessed a new breed of linebacker.
These 'backers had receiver speed, the agility of a running back, and could hit like a truck.
It started with the University of North Carolina's Lawrence Taylor, who immediately turned the New York Giants into contenders.
By the mid-80s, the NFL added similar stars in Carl Banks (also with New York), Mike Singletary, Rickey Jackson, and Kevin Greene.
In the 1982 NFL Draft, the Browns snagged their own game changing linebacker.
Chip Banks was selected with the 3rd overall pick out of USC and he went on to become the NFL's Defensive Rookie of the Year.
However, even with all his talent, Banks' personal life and behavior led to his eventual ouster from Cleveland and a near expulsion from the league.
By the time he retired, Banks had burned bridges with his first two teams as well as numerous teammates, coaches, and team owners.
This is the story of the life and career of Chip Banks.
56 Days: Chip Banks #Browns #BrownsTwitter pic.twitter.com/aW1Fh0MTRI

— Downtown Browns (@DowntownBrowns_) July 16, 2020
High School and College
William "Chip" Banks was born on September 18, 1959 in Lawton, Oklahoma.
Long after the Banks family had relocated to Georgia, Chip became a highly recruited linebacker out of Laney High School in Augusta, Georgia.
The Parade High School All-American was sought after by numerous football factories before he chose USC.
The decision to attend college on the other side of the country did not appear to faze Banks.
He stepped right into coach John Robinson's program as a freshman in 1978.
At the time, the Trojans linebacking core had been decimated by injuries and Robinson had no choice but to start Banks and fellow freshman Riki Ellison.
"If you told me that I'd be starting two freshmen linebackers in the first game, I might not have showed up," Robinson said then. "But with these two kids starting, I will."
Robinson would be glad he stuck around.
That year, Banks gathered 45 total tackles and an interception as USC finished 12-1 and defeated Michigan in the Rose Bowl 17-10.
The following season, USC went 11-0-1 and nipped Ohio State 17-16 in the Rose Bowl.
Banks led the defense with 12 tackles for a loss during the year.
In 1980, Banks led the Trojans in tackles and tackles for loss and added two picks for 49 return yards.
Before the 1981 season, Banks was voted as a team captain.  He was also voted a pre-season Playboy Magazine All-American.
Both choices were validated when Banks put together 137 total tackles and four interceptions during the year.
The Trojans went 9-3 and lost in the Fiesta Bowl to Penn State 26-10.
"If he [Banks] were draftable now and not just as a junior, he'd be taken as one of the top four or five picks," Robinson told the San Francisco Examiner.
For his USC career, Banks totaled 365 tackles (33 for losses), 22 deflected passes, 8 interceptions, 5 fumble recoveries and 1 touchdown.
After Banks graduated from USC in early 1982, Robinson proved prophetic.
With the 3rd overall pick of the 1982 NFL Draft, Banks was selected by Cleveland.
Setting the Tone as a Rookie
The decision to draft Banks paid off immediately for Cleveland.
During the strike shortened 1982 season, the team finished 4-5 yet made the playoffs as the number eight seed in the revamped playoff system.
Banks played very well from his left outside linebacker spot.
He collected 6.5 sacks in nine games and also hauled in a pick.
#51 Eddie Johnson #56 Chip Banks and #57 Clay Matthews #Browns pic.twitter.com/vnXxmaPvTw

— Vintage Browns (@VintageBrowns) October 18, 2020
The Browns played the Raiders in the first round of the playoffs and were dispatched 27-10.
However, Banks became the third Browns player to be named Rookie of the Year by the NFL.
He is the only defensive player in the franchise's history to win the award.
After the season, Banks was voted to the Pro Bowl.
That made him the fourth rookie in Cleveland history to be voted to the Pro Bowl.
Banks Challenges Modell with Contract Demands
The 1983 and 1984 seasons were bittersweet for the Browns.
The team finished 9-7 in '83 but failed to make the playoffs.
The following year, the team went 5-11 overall.
Head coach Sam Rutigliano was fired half-way through the season and Marty Schottenheimer took his place.
Even with the lack of success as a team, Banks played well during this span.
For the 1983 season, Banks was named to his second Pro Bowl and was also named a First-team All-Pro by the Associated Press and the Pro Football Writers of America.
Before the 1985 season began, word reached Banks that the Browns were trying to trade him. In a sly bit of maneuvering, Cleveland attempted to make a deal with Buffalo in exchange for the rights to the supplemental draft pick that would land Bernie Kosar.
Banks was upset with the rumors and went into seclusion in Atlanta until he was summoned by owner Art Modell in May of '85.
"I am accessible and willing to meet with Chip Banks and his representatives," said Modell through Browns vice president of public relations Kevin Byrne.
Banks then tried to renegotiate his contract that paid him $250,000 in 1984 and included a $500,000 loan that was forgiven by Modell.
"Chip is just hurt that the Browns traded him," said a team source. "And, his agent is looking to flex his muscles."
After the 1985 season saw Banks return to the Pro Bowl (on the strength of a career best 11 sacks) and the Browns reach the playoffs, Banks tried to renegotiate his contract again.
In September of 1986, he reached an agreement with the team for $1.3 million over two years.
That made Banks the highest paid defensive player on the team and second overall on the Browns after Kosar.
When the agreement was reached, Banks told the media that the winner in his holdout was, "the city of Cleveland."
"I just want to say first that I'm my own man," said Banks.  "I feel I have to do what I believe is right for me. I'd like to commend Art (Modell, the Browns' owner) and his staff for sticking with me and my people."
In 1986, the Browns went 12-4 and played the Jets in the Divisional playoffs.
During the game, Banks had 1.5 sacks in a taut 23-20 victory.  Cleveland then played in the AFC title game where they were defeated by John Elway and the Broncos 23-20 in overtime.
The game went into an extra session when Elway drove Denver 98 yards to the tying score with time running out.
Banks made yet another Pro Bowl (his fourth) and he played his fifth straight year without missing a start.
Happy 61st, Chip Banks!
OLB, #Browns 1982-86, Chargers 1987, #Colts 1989-92

• 4 Pro Bowls
• 1x First-Team All-Pro
• 1982 NFL Defensive Rookie of the Year
• 1982 NFL All-Rookie Team
• 1983 PFWA All-NFL
• 5x All-AFC
• Led his team in sacks 3x (Browns 1982, 1985; Colts 1992) pic.twitter.com/ag9MsCTN0w

— Kevin Gallagher (@KevG163) September 18, 2020
As the 1987 NFL Draft approached, Browns scouts (and Schottenheimer in particular) were enamored with Duke University linebacker Mike Junkin.
Seeing a way to get rid of a headache in exchange for a young pup, Cleveland traded up to the number five spot in the draft.
The deal with San Diego included Banks and a swap of each teams' first and second round picks that year.
And then we traded Chip Banks for the rights to draft Mike Junkin ! 🤣🤣 pic.twitter.com/vkt2SbDKWC

— Shawnasaurus Rex (@ShawnG927) July 15, 2018
After five years, four Pro Bowls, one Defensive Player of the Year, 27.5 sacks, and five interceptions, Banks was out of Cleveland and on his way back to California.
Another Contract Dispute in San Diego
Shortly after the deal was made, Banks was contacted by the media in San Diego for a comment.
At the time, Banks indicated that he was not happy with the transaction and was deliberating whether he wanted to play for the Chargers.
"I don't know [if he would agree to become a Charger]. I'm busy talking with my agent. I don't have anything right now to tell the media. If I come, I'll have a comment." Banks added that the trade left him "at a loss for words. I'll have something to say if I'm there."
Banks' comments were news to San Diego coach Al Saunders.
"That's the first I've heard of it but I'm going to get on the phone right away to Atlanta (where Banks maintains residence)," Saunders said. "There was no indication from our management that there was a problem. I have to believe our management did a thorough job of researching this before making the deal."

https://twitter.com/DarinHusted/status/1294334810953928704
Chargers director of football operations Steve Ortmayer was optimistic that Banks would be signed and would also contribute right away.
"We're not interested in any compensation; we're only interested in Chip Banks," he said. "I'm sure Chip is going to be an important member of the Chargers for many years to come. I'm not concerned; we don't have anything going on right now . . .We get ready to play somewhere in July and when the bell rings, Chip has always been there."
When the smoke cleared, Banks did report to the team.
That year, the team went 8-7 (shortened by another players' strike) and missed the playoffs.
Banks started 12 games and played well (three sacks and a pick) but not well enough to receive another Pro Bowl invite.
After the '87 season, Banks expected San Diego to give him a big pay raise.
The Chargers had other ideas and demanded that Banks play out his existing contract with the Browns.
When neither side acquiesced, Banks refused to report to the team and sat out the entire 1988 season.
Making matters worse, Banks found himself in the news on charges of drug and sexual abuse.
His off-the-field behavior, coupled with his contract demands, proved too much for San Diego and Banks was gone from his second team in three years.
Trade to the Colts
Because of his drug use, the NFL had Banks on a short leash.
In the midst of sitting out the '88 season, Banks was spending time in an extended care drug rehab program in San Diego.
After being released from the center as an outpatient, the NFL cleared Banks to return to football.
The timing worked out as the Chargers traded the troubled star to Indianapolis in exchange for conditional draft choices.
Banks addressed the media after he arrived in Indy.
"I've been through some personal ordeals. I know nothing happens for no reason," Banks said at the time. 'I've learned a lot. I'm going to make my future life more in tune with the real world. I didn't let the problem turn me around. I did something about it. Somebody out there can see me struggling to get over my problem and that might give them hope to."
Then head coach Ron Meyer and GM Jim Irsay both defended the signing.
"We don't condone anything that occurred in Chip's past. We feel good about his progress," said Meyer. "This gives us a chance to see if he can come back and play. The odds are against people in Chip's situation. There is a risk. There is a gamble, but life's a risk."

"People have the right to rehabilitate themselves and get back to their jobs," Irsay said. "The NFL has said he would be allowed to have this attempt to come back, to try and prove he could remain in this sport. I believe he should have the chance at it."
The Colts finished at 8-8 in 1989 and Banks contributed one sack, a fumble recovery, and two picks (the NFL did not keep a record of tackles until the 1994 season).
In 1990, Banks increased his sack total to 4.5 and added another fumble recovery.
Chip Banks Colts- 1991 TOPPS #340 https://t.co/Z3zIZlgioo pic.twitter.com/s3vAS9k2ft

— Super SportCards (@SuperSportCardT) August 27, 2016
Indy bottomed out in 1991 with a 1-15 record.  Meyer was canned after an 0-5 start and Rick Venturi went 1-10.
Banks had one sack for the year.
Under new coach Ted Marchibroda, the Colts rebounded with a 9-7 record in '92 but just missed the playoffs.
Banks did his part by taking down opposing quarterbacks nine times.
That was the second highest single season total of his career.
Banks was set to return in 1993 but a shoulder injury led to the Colts placing him on injured reserve.
The team officially released Banks in March of 1994 and he decided that it was time to retire.
For his career, Banks had 46 total sacks, 11 fumble recoveries, and nine interceptions for 153 return yards.
Trouble Follows Banks in Retirement
Only three months after his NFL retirement, Banks was involved in an auto accident that claimed the life of a 50 year old woman in Atlanta.
He was charged with second degree vehicular homicide.
In August of 2020, Banks was one of three men shot at an Atlanta area home.
At the time he was in serious condition, but eventually healed from his wounds.
Police: the shooting happened around noon on Thursday, there were 3 victims w/ gunshot wounds, but only two, including former #Browns linebacker Chip Banks were "alert, conscious and breathing" #Browns #BrownsTownUSA #DawgPound #DawgBone #UnderDawgs #OrangeAndBrown #ThisIsCle pic.twitter.com/0s9Spverxh

— BrownsTown USA Podcast 🎧 (@BrownstownUSA) August 14, 2020
After an amazing five year run in Cleveland, Banks' promising career imploded due to his contract demands and off-the-field issues.
Unfortunately, he became a cautionary tale of how even the brightest star can quickly fade into obscurity.