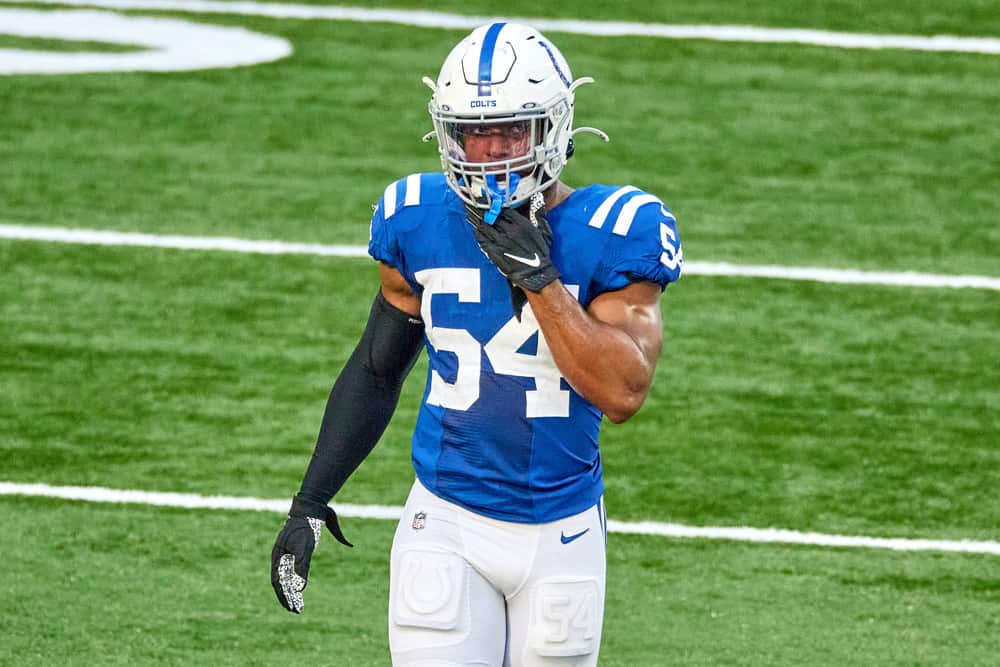 Linebacker Anthony Walker Jr. agreed to a one-year, $3.5 million deal today with the Cleveland Browns.
Walker averaged over 100 tackles per season in his three years as a starter in Indianapolis.
Former Colts' LB Anthony Walker is signing a one-year, $3.5 million deal with the Browns, per @DrewJRosenhaus.

— Adam Schefter (@AdamSchefter) March 19, 2021
But the emergence of Bobby Okereke last season put Walker's starter status in jeopardy.
Former teammate Darius Leonard lamented the loss on Twitter, as did Kenny Moore.
Darius Leonard and Kenny Moore going to miss Anthony Walker. pic.twitter.com/kfzTx3iWnW

— Dan Labbe (@dan_labbe) March 19, 2021
They mentioned not only Walker's on-field prowess but his locker room impact as well.
Coltswire.com writer, Kevin Hickey, describes Walker as,
"An extremely intelligent player and strong asset against the run. Walker Jr. can command a defense easily while being a leader off the field."
But despite 3 interceptions in his resume, Walker is not strong in coverage.
That might explain why Berry did not offer the 25-year-old a multi-year contract.
Cleveland recently re-signed Malcolm Smith to join the linebacker's room.
All of the young Browns linebackers would do well to watch Smith's performance in coverage.
Walker Got Off To a Shaky Start Out of College
Anthony Walker was the 20th linebacker taken in the 2017 NFL draft, picked in the fifth round, 161st overall.
He missed offseason work due to college obligations and entered a 5-way position battle for MLB in training camp.
Head coach Chuck Pagano named Walker a backup inside linebacker behind Joe Bostic and Antonio Morrison.
But Pagano threw him into the season opener early and Walker promptly pulled a hamstring.
Another #Browns Mayfield interception, by #Colts Anthony Walker Jr! pic.twitter.com/UmRbmiJPRl

— Lawrence Owen NFL (@Colts_Law) October 11, 2020
After missing the next three weeks, Walker returned to the field in Week 5 but tweaked the hammy again.
When Joe Bostic missed a December 29th game, Walker got his first NFL start.
The rookie came up with 9 tackles and kicked off a streak of 48 starts in 50 games.
Frank Reich took over in 2018 and the Colts switched to a 4-3 defense with Walker in the middle.
In Week 5 of last season, Walker picked off Baker Mayfield in Cleveland's 32-23 victory.
Over his 4-year career, Walker has 343 tackles (229 solo), 19 tackles for a loss, and a forced fumble.
Along with his 3 interceptions, Walker is credited with 11 passes defended, 3.5 sacks, and 6 quarterback hits.