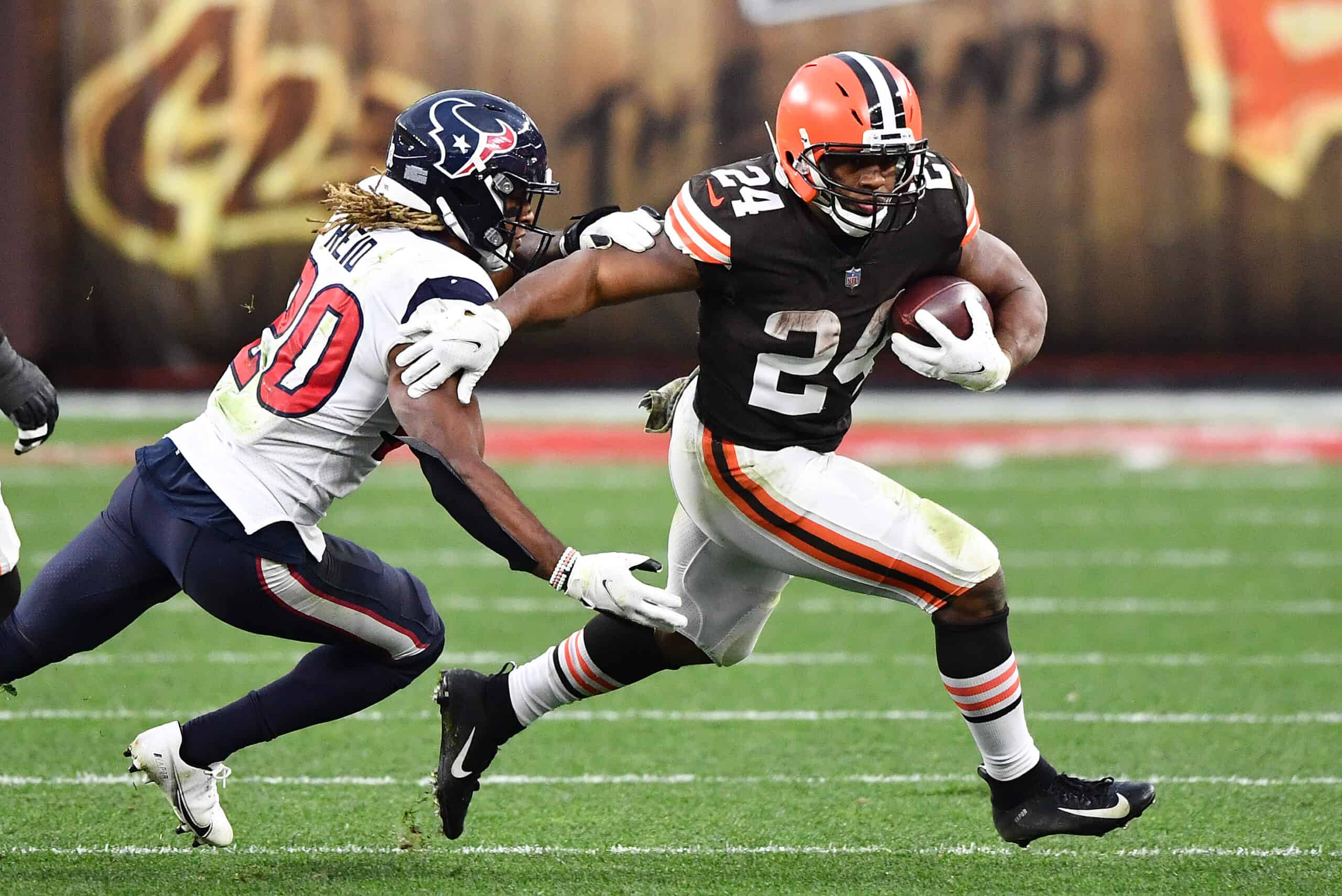 The 2021 Cleveland Browns host the Houston Texans for a Week 2 game that will be played in front of a packed FirstEnergy Stadium for the first time since the 2019 season.
The Texans are not the same team as last season when the Browns barely got by them to secure a 10-7 victory last November.
JJ Watt is gone, and Deshaun Watson is on the bench, but the Texans showed new life in their Week 1 win against the Jacksonville Jaguars with former Browns quarterback Tyrod Taylor.
This marks Taylor's return to Cleveland; he was a member of the 2018 Browns team with then rookie Baker Mayfield.
Mayfield speaks highly of Taylor, and the Browns will not take him lightly.
#Browns QB Baker Mayfield expresses respect & appreciation for #Texans QB Tyrod Taylor & the guidance he offered Mayfield as a rookie "I think people took Tyrod for granted. I think he's an extremely good leader" pic.twitter.com/V3sKf1r36a

— Daryl Ruiter (@RuiterWrongFAN) September 15, 2021
How To Watch Browns Vs. Texans
The game airs nationally on CBS at 1:00 PM EDT on Sunday, September 19, 2021.
The broadcasting team of Greg Gumbel, Adam Archuleta, and AJ Ross (sidelines) will cover the game.
How To Listen Browns Vs. Texans
The four flagship stations for Browns football are:
Note: 97.1 The Fan is a new addition for the 2021 NFL season.
On satellite radio, the Sirius XM Browns broadcast station is Channel 388.
Outside of Cleveland, the Browns radio affiliates are:
Akron
WAKR – 1590 AM
Akron
WONE – 97.5 FM
Canton
WHBC-AM – 1480 AM
Canton
WHBC-FM – 94.1 FM
Columbus
WTOH – 98.9 FM
Corry (Pa.)
WWCB – 1370 AM
Dayton
WHIO-AM – 1290 AM
Dayton
WHIO-FM – 95.7 FM
Dayton
WZLR – 95.3 FM
Dover
WJER – 1450 AM
Erie (Pa.)
WPSE-AM – 1450 AM
Erie (Pa.)
WPSE-FM – 107.1 FM
Fostoria
WFOB – 1430 AM
Geneva
WKKY – 104.7 FM
Jamestown (N.Y.)
WQFX – 103.1 FM
Lima
WWSR – 93.1 FM
Mansfield
WRGM – 1440 AM
Mansfield
WVNO-FM – 97.3 FM
Marietta
WJAW – 100.9 FM
Norman (Okla.)
KREF – 1400 AM
Sandusky
WMJK – 100.9 FM
Tulsa (Okla.)
KAKC – 1300 AM
Uhrichsville
WBTC-AM – 1540 AM
Uhrichsville
WBTC-FM – 101.9 FM
Wooster
WQKT – 104.5 FM
Youngstown
WKST – 1200 AM
How To Live Stream Browns Vs. Texans
Those interested in live streaming the game can access it on the following platforms:
Home Opener With Fans
Time to quiet the crowd over week 1 and move on to week 2. #Browns vs. Texans pic.twitter.com/bCQjdeVy3k

— Vintage Browns (@VintageBrowns) September 14, 2021
This team needs to erase the memories of a bitter Week 1 loss against the Kansas City Chiefs and get the win over the Texans.
The Browns are heavy favorites in this game, but given last year's tight score, the team will need to play error-free football to earn the win.
Having a full capacity FirstEnergy Stadium for the first time in Coach Stefanski's tenure will make this home opener even more exciting.