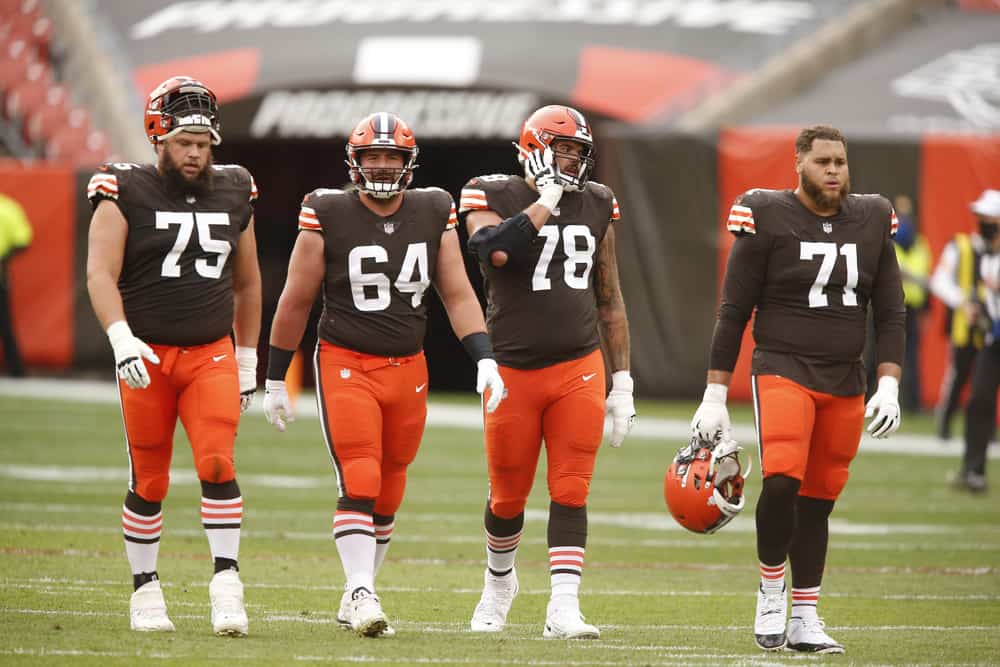 Football is won or lost in the trenches.
Any coach from grade school and up will echo a similar sentiment.
So would Cleveland Browns offensive linemen Joel Bitonio and Jack Conklin.
Those guys are two of the best offensive linemen in today's NFL.
Pro Football Focus has taken notice of their efforts though four weeks and named both to their First-Quarter All-OL.
The NFL's First-Quarter All-OL

LT – Trent Williams
LG – Joel Bitonio
C – Jason Kelce
RG – Zack Martin
RT – Jack Conklin

Full Team here ⬇️https://t.co/Dne6rGXnug

— PFF (@PFF) October 6, 2021
Having talented athletes at the skill positions is important, no question.
However, without anything to show for on the line of scrimmage, an offense is doomed.
The same thing applies for defenses.
For the Browns, talent on the offensive line is not an issue.
The domination for both Bitonio and Conklin picks right up where it left off in 2020.
As long as the pair stays healthy, Cleveland's offensive line play should only get better as 2021 progresses.
Uh-oh, Bitonio
Since being taken by the Browns in the second-round of the 2019 draft, Bitonio has been a staple on Cleveland's offensive front.
Joel Bitonio just keeps on being the same rock solid guy he has been since 2014. He turned in another outstanding game against MIN and PFF gave him a 90.9 overall grade. It doesn't get more reliable and consistent then Joel Bitonio #Browns pic.twitter.com/vJbYVVRbO7

— Jacob Roach (@roachizm13) October 6, 2021
Aside from an injury plaguing his 2016 season, Bitonio has appeared in every regular season game for the Browns since being drafted.
Having talented lineman is a luxury, but a wasted one if they are unavailable.
Bitonio has defined availability since coming to Cleveland.
The ability is certainly there with Bitonio as well.
In addition to PFF's latest honor for Joel, he also entered Week Four as their highest graded pass blocker in the league.
Bitonio is more than able to hold his own as a run blocker as well.
Additionally, he's a guy who understands the bigger picture in Cleveland.
He recently joined the Pat McAfee Show and talked about having a team full of guys who just want to win.
"We gotta bunch of guys that just wanna go out there & win.. it all starts with Baker because his personality can connect with anybody" ~@JoelBitonio #PatMcAfeeShowLIVE pic.twitter.com/nBOyprDyGp

— Pat McAfee (@PatMcAfeeShow) October 1, 2021
Bonkin' and Conklin
Boy do the Tennessee Titans wish they had Jack Conklin now.
Ryan Tannehill was sacked seven times in the Titans' loss to the Jets this past Sunday.
Five sacks on Baker against the Bears threw Clevelanders into a frenzy.
They'd rather not have to witness any more than that in a game.
A big reason why that day may not come is Conklin.
He's been as solid as anyone since coming over to Cleveland from Tennessee before the 2020 season.
In just his first season with the Browns, Conklin earned a place on four All-Pro First-Team squads.
Jack hadn't earned a spot on one since 2016.
A change of scenery helped revitalize his career last season, and it continues into this year.
Similarly to Bitonio, Conklin dominates as far as pass blocking goes.
Best OT Pass Block Win Rate Through Week 4 (ESPN)

Josh Jones: 98%
Patrick Mekari: 96%
Lane Johnson: 95%
Rob Havenstein, Kolton Miller, Ryan Ramczyk: 94%
Jack Conklin, Charles Leno Jr, Morgan Moses, Jedrick Wills: 93%

— Johnny Kinsley (@Brickwallblitz) October 5, 2021
He's been far from perfect overall, as some of his critics will mention.
Jack Conklin has had some big whiffs in critical moments this season.

— Brent Sobleski (@brentsobleski) October 3, 2021
The Browns offensive line as a whole has not been perfect either though.
With both Bitonio and Conklin performing well, their efforts should help lift the performance of others as that unit continues to gel this season.
The Spitzer Shield Shuffle
While professional athletes should absolutely have other interests, these two should stick to football as their day job.
At the very least, picking something other than acting would be advisable.
As long as Baker Mayfield stays upright on the field, fans won't care how many awkward commercials these two film together.