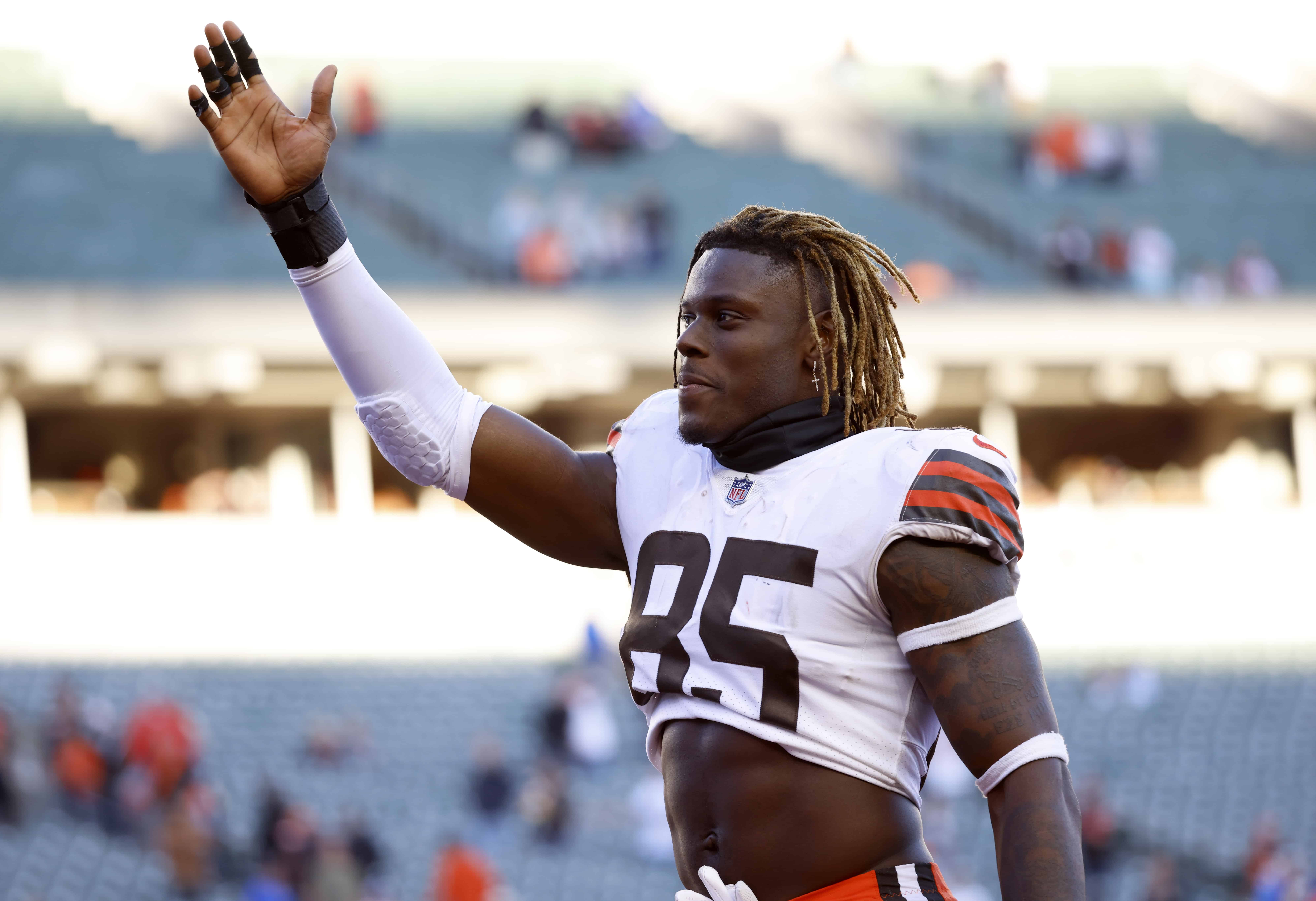 Cleveland Browns fans are relishing this Victory after a much needed and dominating performance by the Browns over the Cincinnati Bengals in Week 9.
The final score was 41-16, and this total team win was perhaps the finest performance by this team the whole season.
Check out my TikTok recap of the game.
Here are the news and notes from the game.
Players React
Wide receiver Anthony Schwartz had 1 target on Sunday.
He caught the pass for 15 yards.
Schwartz applauded the team win.
Great Team Win!!! #Browns

— Anthony Schwartz (@TheRealF1ash) November 7, 2021
Cornerback Greg Newsome II had a great day and kept Bengals rookie wide receiver Ja'Marr Chase out of the end zone.
He took to social media to praise Denzel Ward for the 99-yard pick 6.
Say it with me DENZEL WARD🔒🥶

— Greg Newsome II (@gnewsii) November 7, 2021
Quarterback Baker Mayfield commended the total team effort in his postgame interview.
"I just thought our guys played for each other. When it comes down to it, that will take you a long, long way."

Baker Mayfield shouts out his @Browns teammates after today's W.

🎤 @tracywolfson pic.twitter.com/S6tWjjfBCt

— NFL on CBS 🏈 (@NFLonCBS) November 7, 2021
Team Effort
Fans noticed and appreciated the total team effort that earned the victory.
My favorite pic of the day… This is a "team" coming together.. #browns #BrownsVsBengals #brownstwitter pic.twitter.com/YzW0GhE6h7

— Top Dawg Tailgate (@W3rdAndSummit) November 8, 2021
This #Browns game is the biggest breath of fresh air that this team needed great TEAM WIN….#DaBrowns

— Jared Bates (@IAmThatFattGuy) November 7, 2021
This photo is everything #Browns pic.twitter.com/frF6MQONJQ

— Jeff-LJ-Lloyd (@Jeff_LJ_Lloyd) November 7, 2021
Greedy Williams
While injuries have plagued the Browns, the only notable injury on Sunday was Greedy Williams.
Williams played just five defensive snaps in the Bengals game in relief of Denzel Ward after he ran the 99-yard touchdown.
The full status of his injury is unknown though it is to the same shoulder that he suffered nerve damage in the 2020 preseason which kept him out of the entire 2020 season.
After the game, Coach Stefanski said:
"It's the same shoulder, but I think we'll work through what that means over the next couple of days."
Browns Fans In Cincy For Game
Cincinnati and Cleveland are less than 300 miles apart so it is not a difficult trip for Browns fans to make.
They were a force to be reckoned with in the stadium and gave a standing ovation to Baker Mayfield after the game.
Looking around, there are plenty of Mayfield and Chubb jerseys in the crowd.
Massive ovation for Baker Mayfield coming off the field from the #Browns fans in Cincy pic.twitter.com/hh4JHOhYcE

— Jake Trotter (@Jake_Trotter) November 7, 2021