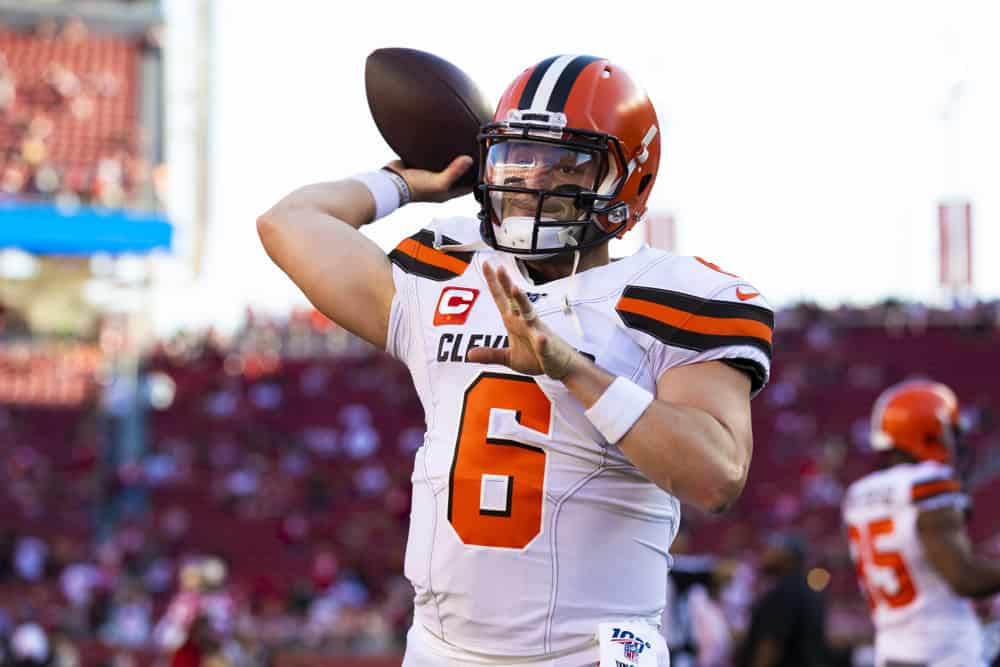 Going into the 2020 season it seemed like make-or-break year for third-year quarterback Baker Mayfield.
There was speculation that the Cleveland Browns might move on, assuming Mayfield didn't improve his play.
However, Mayfield put together an impressive 2020 campaign and earned the trust of the organization.
According to NFL Network's Ian Rappoport, it appears the Browns are all-in on Mayfield being the franchise quarterback in Cleveland.
From @NFLGameDay: #Browns QB Baker Mayfield has spent the season proving to Cleveland that he's exactly what the organization hoped he would be. pic.twitter.com/A1ccqB33i6

— Ian Rapoport (@RapSheet) January 17, 2021
Mayfield has done more than enough to prove that he can be the long-term starter in Cleveland.
Last week, he led the Browns to their first playoff win since 1994.
Mayfield Staying In Cleveland
It sounds like the organization has been impressed by what they've seen from Mayfield this season.
The 25-year-old led Cleveland to a 11-5 record and their first playoff appearance in 18 years.
The organization is clearly confident in Mayfield, but when is the right time for a contract extension?
"As far as a possible contract extension, it could come this offseason, could also come next offseason. There is no rush. There's a lot of other issues at play here, but make no mistake — Baker is their guy in Cleveland," said Ian Rapoport.
In 2018, Mayfield signed a four-year deal worth $32 million with the Browns.
Which means, Cleveland still has another year of control before getting an extension completed with Mayfield.
That being said, this offseason might be the best time to lock up Mayfield long term.
His value is only going to increase, assuming he continues to improve as a quarterback.
Is Mayfield The Answer?
Through two years, Mayfield compiled a 12-17 record as the starter.
He threw 35 interceptions in 30 games, but it wasn't all his fault.
Mayfield went through two head coaching changes during his first two years in the league.
Now-head coach Kevin Stefanski has found a way to get the most out of Mayfield.
In 2020, Mayfield finished with 3,563 passing yards with 26 touchdowns and eight interceptions through 16 games.
He found a way to limit the turnovers and become a leader in the locker room.
"He's learning how to win. He's protecting the football and using the team that they have…their offensive line, their running backs… This has got a chance today to go down to the wire." – @tonyromo on Baker Mayfield and the @Browns vs. the Chiefs pic.twitter.com/pYmRg5v2zO

— NFLonCBS (@NFLonCBS) January 17, 2021
Mayfield still has plenty to improve upon, but has shown he's the best Browns quarterback in quite some time.
He helped lead the team to an upset victory over the Pittsburgh Steelers on Wildcard Weekend.
Mayfield will face an uphill battle against quarterback Patrick Mahomes and the Kansas City Chiefs on Sunday.
However, win or lose, Mayfield has proven that he can be the franchise quarterback in Cleveland.