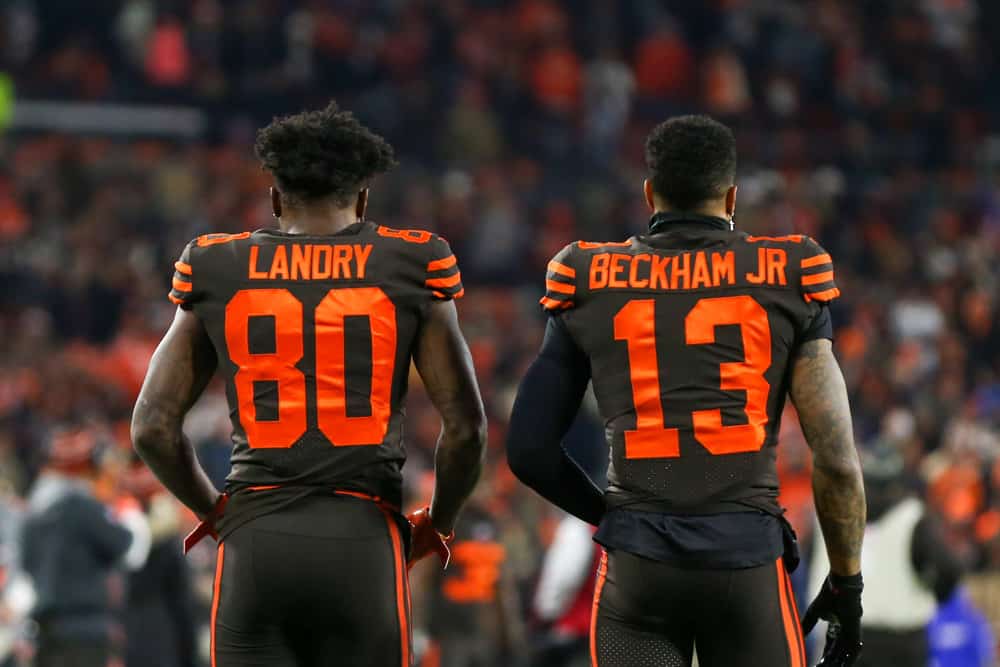 Around this time last year, Cleveland Browns fans were still basking in the glow of their favorite team's offseason moves.
Quarterback Baker Mayfield was given a brand new weapon in Odell Beckham Jr. Paired with former LSU teammate Jarvis Landry, Cleveland appeared to have one of the most imposing wideout duos in the NFL. Complement these two with speedster Antonio Callaway and Mayfield's security blanket, Rashard Higgins, and it made all the sense in the world to assume the Browns would light up the scoreboard all fall.
They did not.
Instead of looking like the sleek sports car fans dreamed of, Cleveland's offense was a junker running on square wheels.
Mayfield's effectiveness cratered after his sensational rookie debut.
Setting aside his injury-shortened campaign in 2017, last year represents the least productive season of Beckham's career.
Higgins only caught four passes. Total.
Callaway had more suspensions than touchdown receptions.
Overall, Cleveland finished 22nd in the NFL in both points scored (335) and receiving yards (3,554). Outside of Landry earning another Pro Bowl nod, the passing offense fell well below expectations.
For the most part, the same group of receivers returns in 2020 looking to put that letdown season in the rear view. While the offensive breakout everyone expected never occurred last year, the table sure appears to be set for it to take place this season.
I'll stop there and note that, yes, we've all learned making extremely favorable offseason predictions for the Browns is a fool's errand. 2019 proved offenses don't succeed just because the wideout depth chart looks imposing on paper.
Still, it's worth noting said depth chart has more than a few things going its way as we head towards the 2020 season.
For one, both Landry and Beckham spent much of last year playing hurt, and have since undergone surgeries to repair their respective ailments. While the former's hip surgery may make him questionable for training camp, that these two are on track to be at full strength this season is quite a boost.
Also helping the cause is the removal of some of the drama this group dealt with in 2019.
Former coach Freddie Kitchens is out of the picture, so one would assume Higgins won't once again find himself benched or ignored for reasons which remain vague to this day.
Meanwhile, Callaway — who should've been the benefactor of defenses focusing on Beckham and Landry — is gone after getting suspended one time too many last year.
Sure, when Beckham's around, so, too, is the threat of unneeded distractions. Still, the aforementioned departures should be a benefit to Cleveland's wideouts.
Additionally, the front office has gone to great lengths to ensure Mayfield is set up to succeed. From bolstering the offensive line to bringing in a coach who operates a run-heavy scheme which opens opportunities for play-action, the Browns have seemingly given their QB everything he needs to recover from last year's flop.
Obviously, Mayfield has to come through on his end. Should he do so, though, it'll mean big years for Cleveland's wideouts.
Toss in the fact the Browns acquired another target for defenses to account for in tight end Austin Hooper, combine it with the fact they still have Nick Chubb and Kareem Hunt in the backfield, and they should have everything they need to ensure the receivers to live up to last year's hype.
All that said, there's still plenty of unknown to account for at this point.
The Browns are operating with yet another rookie coach in Kevin Stefanski. Much of the overall struggles seen last season were the result of their then-first year coach being severely overwhelmed on the job. Should this happen with Stefanski, 2020 could look eerily familiar.
There's also likely to be some clunkiness to deal with in the months ahead, as a pandemic has Cleveland players learning a brand new offense over Zoom meetings.
Still, if there's one benefit from last year, it's that it can serve as a cautionary tale.
Yes, a receivers room featuring Beckham, Landry and Higgins, as well as intriguing draft pick Donovan Peoples-Jones, looks enticing on paper. However, three of these wideouts now know all too well what happens when you show up and assume wins are automatic.
The lack of preparation that plagued the 2019 Browns was hard to watch, but it should only improve the team's focus moving forward.
All in all, Cleveland has spent the offseason addressing many of the issues which turned what should've been a wildly productive season into an inconsistent mess. There's still no guaranteeing everything works out the way it should.
This year, though, there's fewer excuses for it not to.