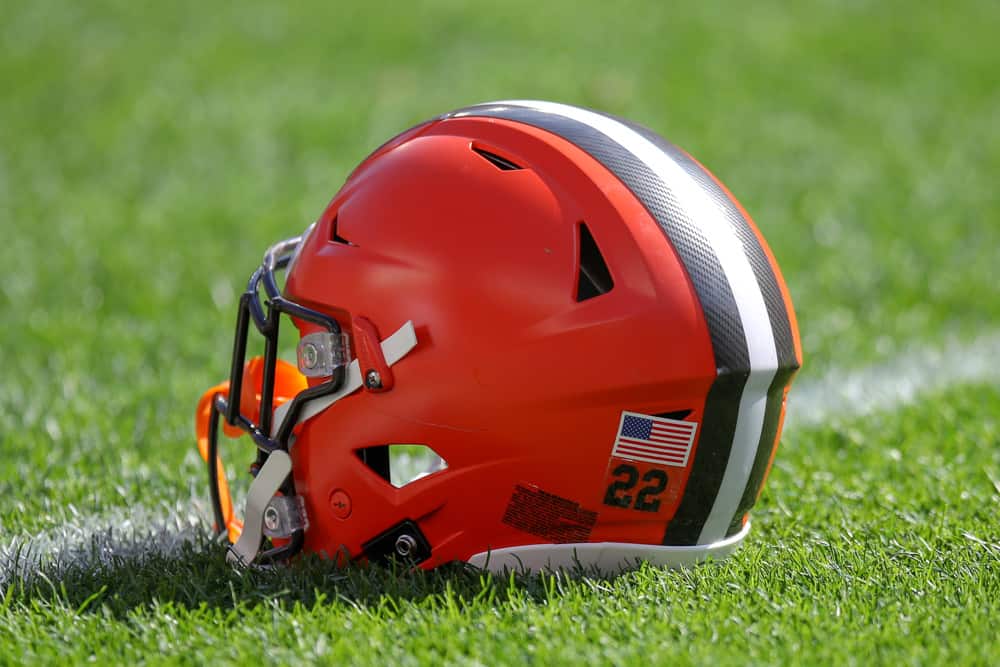 The Cleveland Browns have quite a few guys that played their college ball at LSU.
Their wide receiving duo of Jarvis Landry and Odell Beckham Jr. played together at LSU.
They also invested two picks in the 2020 NFL Draft on LSU defensive players.
SS Grant Delpit and LB Jacob Phillips.
Delpit suffered an injury in training camp that has kept him out of play this season.
But, him and Philips have made the news for wrong reasons.
Both have been named in sexual assault allegations brought against LSU.
LSU Ignored Multiple Sexual Assault Complaints
Ed Orgeron took over the LSU football program as head coach in 2016.
Within his time there, the school has reportedly ignored multiple sexual assault complaints.
Barrett Sallee of CBS reports that the complaints were brought against nine LSU players.
A USA TODAY investigation found LSU mishandled abuse allegations and sexual misconduct complaints against top athletes and other students and subjected victims to further harm. https://t.co/v8FiKZGgat

Thread ⤵️

— USA TODAY Sports (@usatodaysports) November 16, 2020
The main culprit is former Washington half back, Darius Guice.
Multiple complaints were made against Guice in different years, as he has been accused of rape and taking photographs without permission while spreading around the locker room.
Reportedly, LSU ignored it.
LSU responded with a statement, saying the following:
"We are unwavering in our commitment to respond promptly to any reports of misconduct,  investigate these reports in a manner that is fair and equitable, to support victims of sexual assault, and to protect the privacy of our students according to the law. Putting an end to sexual assault is an institutional priority, and we are constantly working to achieve that goal."
Among the other 8 players were Grant Delpit and Jacob Philips of the Cleveland Browns.
"An attorney representing LSU told USA Today that it also received rape allegations against running back Tae Provens, linebacker Jacob Philips and tight end Zach Sheffer, as well as an allegation against safety Grant Delpit in which he allegedly recorded a woman during sex without her permission and shared it with others. Delpit denied the allegations and none of the players were disciplined by the school."
LSU will now be under investigation for violation of Title IX.
Ironically, when LSU won the national championship last year, Odell Beckham was caught on camera giving money to WR Justin Jefferson.
Later, Odell was sanctioned for his wrong doing.
How This Effects The Cleveland Browns
As of right now, this is nothing more than a mere distraction for this team.
With this new report, I'm sure coaches will have to deal with it during their weekly pressers.
Sources are unaware as if the Browns knew of this at the time of the draft.
Based off their draft, it would appear they weren't as Delpit was their 2nd round pick.
Unfortunately, Delpit suffered an achilles injury that has kept him sidelined.
From @GMFB: The #Browns lost a key defender, as rookie starting safety Grant Delpit tore his Achilles yesterday and is out for the season. pic.twitter.com/wWbDqgVNtK

— Ian Rapoport (@RapSheet) August 25, 2020
As for Jacob Philips, he has been seeing playing time during his rookie season.
It is unlikely that the Browns will discipline him, but who knows what will come out of this as an investigation will be conducted.
If anything, LSU will be charged with sanctions.
With Delpit and Philips having promising futures in Cleveland, fans are hoping two things.
One, this isn't true.
Two, that these two young men are able to learn from this experience and exercise better judgement moving forward.
The last thing the Browns need right now is distractions as they are in the middle of a playoff push.