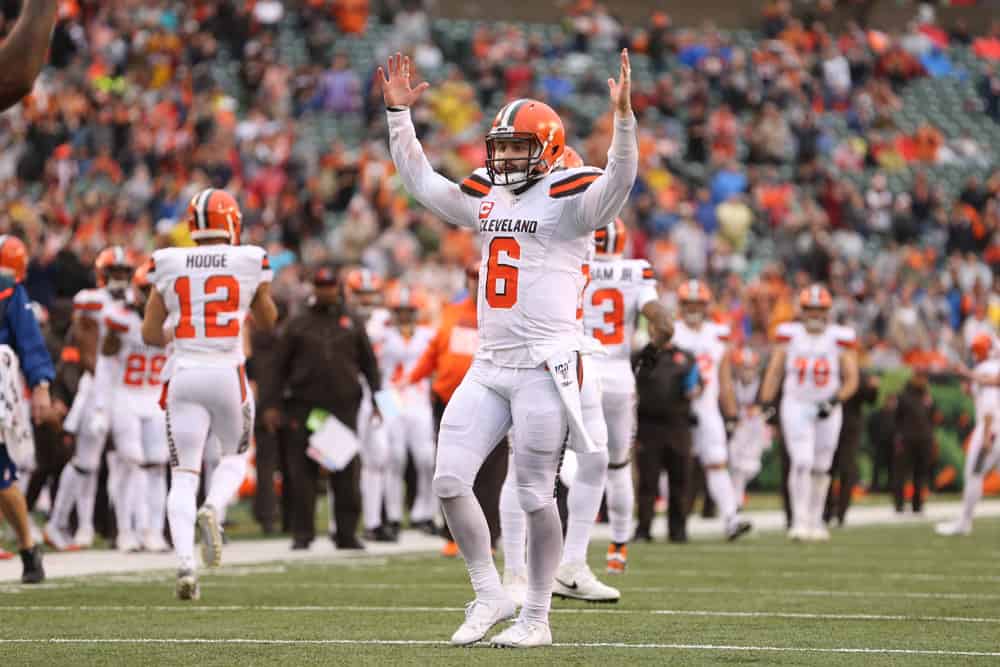 Cleveland is winning the preseason once again.
Miami might make more moves, but it is the Cleveland Browns and Andrew Berry getting the best grades.
The moves leave little doubt Kevin Stefanski will run his offense in Cleveland.
Landing the best tight end and right tackle on the market was a great start.
Not bad for the first day of free agency in Cleveland #Browns pic.twitter.com/kSR2K4wH8a

— 92.3 The Fan (@923TheFan) March 16, 2020
Quarterback Case Keenum will be a good mentor and show Baker Mayfield how to run Stefanski´s offense.
Putting a second-round tender on Kareem Hunt almost assures his return.
But the biggest signals come from some low-profile moves, like the trade for fullback Andy Janovich.
Browns Trade Rumors: FB #AndyJanovich Acquired from Broncos for 7th-Round Pick: The #ClevelandBrowns have reportedly acquired fullback #AndyJanovich in exchange for a 2021 seventh-round draft pick, according to Mike Klis of 9News… https://t.co/9tnrPfTHj9 https://t.co/BlWPPyXa6e pic.twitter.com/BtDJLXxiQa

— StubOrder.com 🎟💺 (@StubOrder) March 17, 2020
As well as the signing of former Vikings practice squad fullback, Johnny Stanton.
And retaining the services of ERFA tight end, Pharoah Brown.
Is there anyone who doubts the Browns will run the ball in 2020?
Of Course, There Are Still Questions
Given their current personnel, Stefanski appears ready to put a Vikings-like offense on the field.
Two running backs, two tight ends, and two wide receivers is Stefanski´s favorite attack formation.
Each of the Browns´ new additions is familiar with Stefanski´s preferred zone-blocking concept.
It sure sounds like Baker Mayfield will line up under center an awful lot.
But… it is still early in free agency.
#Browns Some people really want to trade Odell Beckham, Jr. and I'm bewildered to say the least.

— Cody Suek (@WFNYCody) March 3, 2020
Cleveland needs a left tackle and is rumored to be looking at guards.
Sports pundits can´t decide if Odell Beckham Jr is trade bait or a happy cog in Stefanski´s scheme.
Why is Cleveland pursing Rashaad Higgins again?
Giving up a second-round draft pick and a bunch of cash for Kareem Hunt is not too crazy for some teams.
Andrew Berry seems focused on defense for the moment.
That might mean the draft will provide the rest of his offensive line upgrade.
With the 10th pick in the 2020 Big Blue Center Follower Mock Draft the Cleveland Browns select:

OT Andrew Thomas, Georgia@louis8713 with the selection pic.twitter.com/JwMxIx1tXH

— The Big Blue Center (@BigBlueCenter18) March 12, 2020
With so many variables and possibilities, it is impossible to say with authority what the Browns offense will look like.
But such barriers never stopped us from making predictions before.
And they won´t stop us today.
Here are three bold predictions about the Browns 2020 offense.
1. Nick Chubb, Kareem Hunt top 1,000 yards (each)
Freddie Kitchens turned Hunt into a pass-catching specialist after his midseason return.
But that doesn´t change the fact Hunt is a former rushing champion.
With Chubb on his rookie deal and Hunt on a second-round tender, neither mandates a starring role.
That is why I think they each will be three-down backs in an almost-even snap split.
Duel FB's and TE's…welp. ok! Chubb and Hunt are going to feast! https://t.co/RbfRrK9ZcO

— VanillaChill (@Vanilla_Chill_6) March 17, 2020
Fresh legs, especially on these two running backs, should put fear into opponents´ fourth-quarter defenses.
Fifteen carries each per game gives Cleveland a pair of 1,000-yard rushers.
They will also see about the same number of targets in this offense.
But that number will be low compared to Hunt´s usage in 2019.
Expect each to catch about 25-35 catches next season.
2. Odell Beckham Jr is a Top-10 Receiver… on another team
Odell Beckham Jr continues to say all the right things.
He reportedly has confidence in Kevin Stefanski and Baker Mayfield and is anxious to start another season.
But there might not be room for two standout wide receivers in Cleveland.
ICYMI: HC Kevin Stefanski to meet w/Odell Beckham Jr. today when he comes in for his post-op checkup w/ #Browns trainers. He'll get to know OBJ and lay out how his players should 'conduct themselves' https://t.co/xqPH9QCj7c

— Mary Kay Cabot (@MaryKayCabot) January 23, 2020
Stefanski dealt with a prima donna wide receiver last season.
Stefon Diggs received fewer passes than he wanted, but he set a personal best in receiving yards.
Had Adam Thielen not been injured, Diggs would not have finished as the leading receiver.
Diggs was supposedly happy with his adjusted yards per reception as a consolation prize.
Then he boogied out of Minnesota as fast as he could.
it's time for a new beginning.

— DIGGS (@stefondiggs) March 16, 2020
Stefanski can´t be anxious to deal with such a situation again in 2020.
My prediction is that Cleveland retains Jarvis Landry and makes him their leading receiver.
Austin Hooper, David Njoku, and the running backs might fill out the top five.
But a Rashaad Higgins-type of wide receiver will line up in Beckham´s spot in September.
Bonus prediction: Beckham will be a Redskin or a Raider.
3. Playoff-Bound Browns Put 7 on Pro Bowl Offensive Roster
One year later than the NFL World predicted, Cleveland surges into the playoffs.
As expected after a steller 12-4 season, the AFC´s Pro Bowl roster is filled with Browns.
The year is 2020. Baker Mayfield is leading the 12-4 Browns into the playoffs with Defensive Player of the Year Myles Garrett. Denzel Ward leads the NFL in interceptions and blocked kicks. Nick Chubb has 1,344 yards rushing. The road to the Super Bowl goes through Cleveland.

— Dellavedova Facts (@DellyFact) October 8, 2018
Of course, their Super Bowl appearance will keep them from playing.
But Baker Mayfield leads a troupe of seven Browns on offense.
Mayfield´s 4,100 yards, 29 touchdowns, 5 picks, and a 68% completion rate make him an obvious choice.
Jack Conklin, Joel Bitonio, and JC Tretter earn starting honors, which explains Mayfield´s resurgence.
But fans are miffed that rookie (insert name of #10 overall pick here) was not selected.
Jarvis Landry´s 90 catches for 1300 yards and 10 touchdowns land him on the squad.
Along with Austin Hooper´s 75/1060/8 stat line.
Rapid Reaction: Austin Hooper Signs With Browns (2020 Fantasy Football) https://t.co/HJ3nde5wL1

— Fantasy Sports News (@fantasysportsso) March 17, 2020
But despite finishing the season with a pair of 1,000-yard rushers, not one of them makes the cut.
Nick Chubb and Kareem Hunt cancel each other out.
So who is the seventh Brown to make the Pro Bowl offense?
David Njoku gets some love for his 50 catches and 800 yards.
But it is fullback Johnny Stanton who gets the nod over the Vikings´ CJ Ham.
Besides opening holes for Hunt and Chubb, Stanton snags 15 passes, including a game-winning touchdown.
Browns 2020 super bowl champs

— a sad bettor (@SethCorbin33) March 16, 2020
You heard it here first.
Got something bolder than that?
Post it in the comments section so everyone in Browns Nation can dream big.