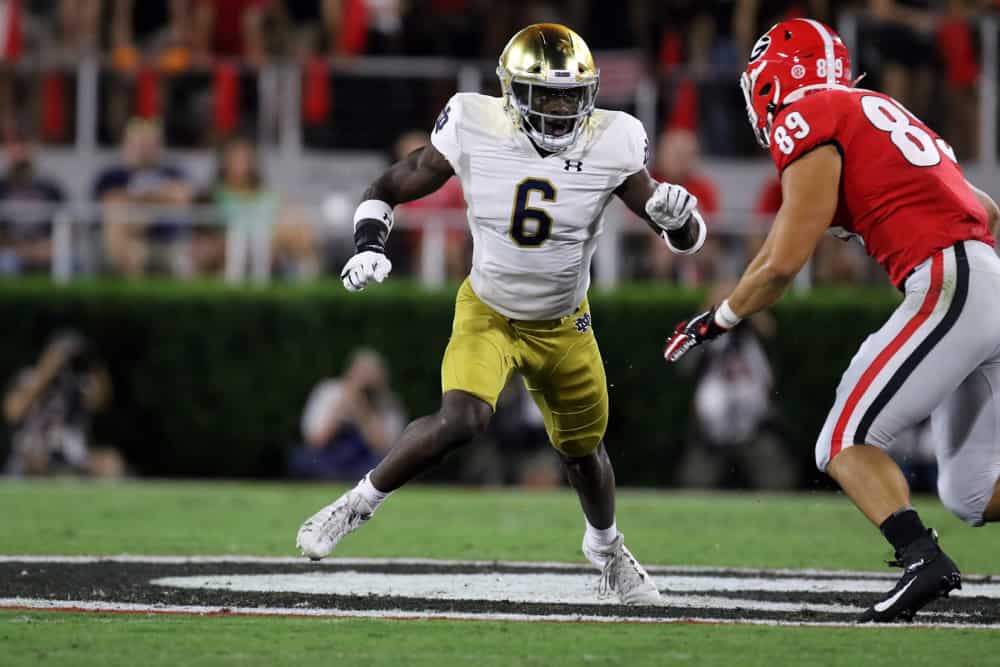 Jeremiah Owusu-Koramoah was one of the biggest mysteries of the 2021 NFL Draft.
In most mock scenarios, Wu was off the board before the Cleveland Browns picked in the first round.
He was one of the most hyped-up linebackers, with some analysts arguing he should be the first drafted.
But fans and pundits watched as Owusu-Koramoah fell down the board into the second round.
Welcome to the family, @j_owuu! 👏 pic.twitter.com/5ujzY5zUFc

— Cleveland Browns (@Browns) May 1, 2021
Finally, Cleveland made a move to stop the fall at the 52nd overall slot.
Most of us crowned Andrew Berry "King of the Draft" for grabbing another first-round player in the second.
But fans were left to wonder what took the luster off a potential top-15 pick?
And they got their answer the next day when Adam Schefter revealed a medical issue had popped up.
Neither the team nor the player released details, but JOK's heart is now known to be the culprit.
Was This a Risky Pick For The Browns? 
Is there a risk Jeremiah Owusu-Koramoah might miss time, or need to cut his career short?
Berry addressed that concern during an interview on 92.3 The Fan on Tuesday.
Cleveland's GM is confident Owusu-Koramoah's heart will not be a problem.
"He's completely healthy. There's really nothing in his background that would suggest he can't have a nice, long career."
#Browns GM Andrew Berry on LB Jeremiah Owusu-Koramoah: "We just thought he was one of the more talented prospects in this year's class. He's completely healthy. There's really nothing in his background that would suggest he can't have a nice, long career"

— 92.3 The Fan (@923TheFan) May 4, 2021
That statement indicates there is neither an acute concern nor a past matter that worries Cleveland.
Owusu-Koramoah did not post anything on his social media about the alleged health matter.
But if it was such a non-issue, why were the Browns the only team to take a shot at the talented defender?
It is not uncommon during a physical exam to find potential heart problems.
Further evaluation and tests rule out serious matters more often than not.
Which leaves the question of whether Cleveland rolled the dice or if they got information faster than other teams?
Putting On The Doctor's Hat 
There are a lot of people, especially athletes, walking around with harmless arrhythmias and murmurs.
Finding them during a routine physical is not uncommon.
While all such matters need to be investigated, further tests and patient history often rule out a problem.
The other way to discover an issue is if a patient has some kind of episode or symptoms.
Jeremiah Owusu-Koramoah had a heart issue that came up late in the process and was a concern for most teams, which is why he fell out of the first round and to pick No. 52 with Cleveland, per sources. Doctors ultimately cleared Owusu-Koramoah but it did contribute to him falling.

— Adam Schefter (@AdamSchefter) May 3, 2021
Someone might go to the hospital and get a cardiac workup for dizziness, passing out, or pain.
In most cases, doctors find another explanation, and cardiac problems are quickly ruled out.
But it seems unlikely Owusu-Koramoah was treated emergently and nobody leaked the incident.
Regardless of what triggered the concern, Berry and Owusu-Koramoah don't seem worried.
And when all is said and done, Wu's heart is likely to be among his strongest attributes.