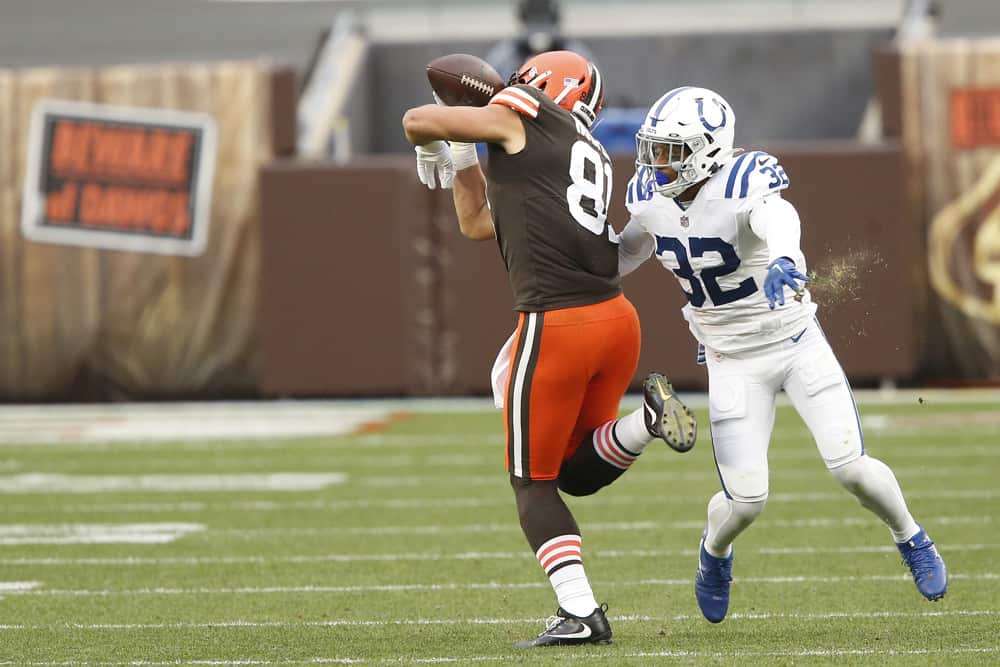 The Cleveland Browns were able to bring in a top-tier free agent this offseason.
The Browns won the sweepstakes for Pro Bowl tight end Austin Hooper.
He signed a massive contract with Cleveland that made him the highest-paid tight end in the league at the time.
The Browns have signed TE Austin Hooper to a 4 year $44 Million contract. pic.twitter.com/nJ3xVhPTxf

— Everything Cleveland (@EverythingCLE_) March 16, 2020
The Browns have been searching for consistency at the tight end position for years, so signing Hooper was quite a big deal.
Sadly, his first year in Cleveland has been a bust, but there is still time for him to turn it around.
Hooper In Cleveland
Obviously, the expectations were fairly high for Hooper since he was coming off two consecutive Pro Bowl campaigns.
Head coach Kevin Stefanski loves utilizing tight ends in his scheme, so this seemed like the perfect fit.
Sadly, Hooper has not played as expected or been heavily involved in the offensive gameplan.
Through his first four games in Cleveland, Hooper looked like an absolute dud of a signing.
The Browns gave Austin Hooper $10.5 mil a year.

Stats through the first 4 games: 12 rec, 96 yards, 1 TD

— Cooley's Controversial Takes (@Cooleystakes) October 10, 2020
Finally, in Week 5 the Browns decided to start throwing his way more often.
Hooper saw 10 targets and hauled in five of them for 57 yards in the win over the Colts.
He came back with another solid performance the following week, but has barely been seen since Week 6.
Hooper had an emergency appendectomy and was sidelined two games.
In Week 10, Hooper returned with one reception for 11 yards in the win over the Houston Texans.
This season, Hooper has only put together two games with 50 receiving yards or more.
Should The Browns Be Concerned?
One of the main reasons why Hooper is not succeeding is the fact he's not getting targeted enough.
Hooper has seen five or less targets in four of his seven games played this season.
It's tough to expect someone to play well if they aren't getting targeted throughout the game.
Hooper saw 85 targets or more each of the last two seasons with the Atlanta Falcons.
He looked like a top tier tight end in that Falcons offense.
Austin Hooper gives you this every week. He's a great fit for Baker Mayfield.pic.twitter.com/CHAZgky7S9

— Mike @ Everything Cleveland (@MikeFromCLE) March 16, 2020
Sadly, the Browns don't look his way enough for him to make a significant impact.
Hooper has seen 35 targets through seven games, so the Browns aren't making much of an effort to get him involved.
It's tough to expect someone to play well when they get two targets throughout the entire game.
The loss of Odell Beckham Jr. should mean that Hooper gets more targets down the stretch.
Hooper is a talented tight end and one of the best tight ends in the red zone in the league today.
Browns fans shouldn't be concerned about Hooper's performance this season.
The talent is still there, but Cleveland needs to make more of an effort to get him involved in the offense.