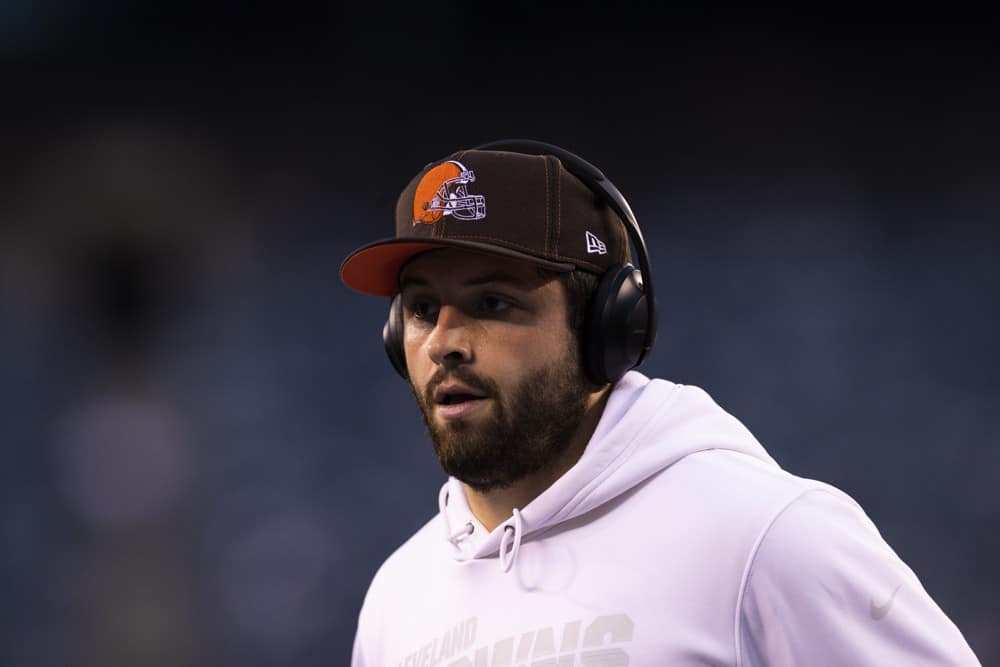 Cleveland Browns quarterback Baker Mayfield broke his self-imposed social media silence on Tuesday night amid all of the drama and rumors circulating about the team's interest in trading with the Houston Texans to acquire Deshaun Watson.
What Mayfield Said
Here is what Mayfield wrote, in its entirety.
He captioned the Tweet:
"With many uncertainties, here is where my head and heart is."
Then he wrote the following.
"The past four years have been nothing short of truly life changing since I heard my name called in the draft to go to Cleveland. This is not a message with hidden meaning. This is strictly to thank the city of Cleveland for embracing my family and me. We have made many memories and shared growing in this process through all the ups and downs. I have no clue what happens next, which is the meaning behind the silence I have had during the duration of this process. I can only control what I can which is trusting in God's plan throughout this process.

I have given this franchise everything I have. That is something I've always done at every stage, and at every level. And that will not change wherever I take my next step. Whatever happens…I just want to say thank you to the fans who truly embraced who I am and the mentality that aligned so well with this city's hard working people.

Cleveland will always be a part of Emily and my story. And we will always be thankful for the impact it has had and will have in our lives.

Sincerely,

Baker Reagan Mayfield"
With many uncertainties, here is where my head and heart is. pic.twitter.com/psipN96cmh

— Baker Mayfield (@bakermayfield) March 16, 2022
What It Means
Mayfield is clear that he does not know what the future holds for him, but it seems as though he is sending a preemptive goodbye to the city and its fans if he is not a Cleveland Brown in 2022.
Reactions Varied
As with all things Mayfield, it was met with a host of reactions.
The Tweet itself had over 68,000 likes in the six hours since it is has been posted.
Gratitude
There was a lot of gratitude shown to Mayfield who led the Browns to the playoffs in 2020.
If Baker Mayfield's time in Cleveland is truly nearing an end, I just want to say thank you for allowing me to see the first Browns playoff win of my lifetime. pic.twitter.com/gUpKCSNTip

— Nick Karns (@karnsies817) March 15, 2022
I fear the final hours of the Baker Mayfield era may be upon us. If so, thank you Baker for:

• first winning season in 13 years
• first playoff game in 18 years
• first playoff win in 26 years
• a total culture change
• charity work in CLE
• and for waking up dangerously pic.twitter.com/XKIIDrgkWu

— AC  (@CavsTypeBeat) March 15, 2022
How Did Things Derail So Quickly?
There was an overwhelming feeling of how did things go so wrong so fast since the 2020 success.
It's amazing the Browns and Baker Mayfield went from a record-setting rookie of the year-caliber season then helping a team get its first playoff win in 26 years to a messy divorce in a matter of about, oh, eight months.

This level of continued dysfunction is staggering.

— Brent Sobleski (@brentsobleski) March 16, 2022
Empathy
There was empathy for the awkwardness of this entire situation.
Imagine your partner is openly going out on a date with another person, and your waiting to find out whether or not they are leaving you for them. That's Baker Mayfield. The shade. #Browns

— Yvette (@yvettemlaboy) March 16, 2022
Message Was Self-Serving
There were some who felt this message was self-serving.
Baker Mayfield posting a breakup letter about what a city and team guy he is sounds like a legit great guy thing until you realize how self serving and narcissistic it is since no roster move was made. He just wants attention

— Dickey Butts (@Stecks7) March 16, 2022
I wonder how many people were in the room to craft this self-serving Tweet? "Make sure you thank the fans, and don't forget to work God in there." #Overrated

Mayfield thanks fans as Browns meet with Watson https://t.co/rblZXujqTx

— Tory Gates (@ToryGates) March 16, 2022
Conclusion
No matter if the Browns get Deshaun Watson or not, it appears that the Mayfield era could be drawing to a close.
Sir Yacht articulates the challenges the Browns face with their management of this entire issue and why Mayfield should request a trade regardless of what happens with Watson.
Baker Mayfield should request a trade from the Browns even if they don't get Deshaun Watson pic.twitter.com/oslLDaUmuZ

— Sir Yacht🛥 (@SirYacht_) March 16, 2022
We do not know if Mayfield has or is planning to request a trade, but Tony Pauline of Pro Football Network has reported that the Indianapolis Colts are a likely destination if it happens.
If Baker Mayfield is traded, his preferred destination is #Colts, per @TonyPauline. pic.twitter.com/UQG4LSw8Jt

— Locked On Colts Podcast (@LockedOnColts) March 16, 2022
Some will look harshly at the Browns front office for how all of this went down, especially after verbally and publicly committing to Mayfield for 2022.
He is not the only lame duck quarterback, but his offseason has been the most tumultuous.
Even if the #Browns don't get Deshaun Watson, the message is out to Baker Mayfield that he's a lame duck QB.

Giants didn't do it to Daniel Jones. Eagles didn't do it to Jalen Hurts. Browns did it with Baker.

— Ari Meirov (@MySportsUpdate) March 16, 2022
This story is far from over so stay tuned.