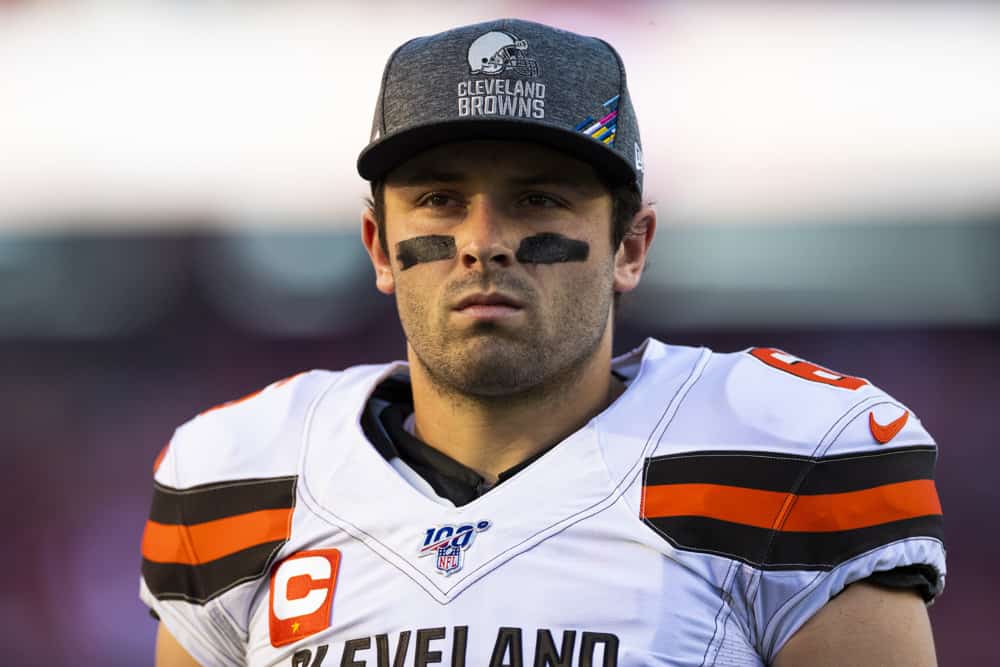 Cleveland Browns quarterback Baker Mayfield has broken his social media silence once again.
Last we heard from him, he wrote a letter to the city of Cleveland when he and everyone else thought the Deshaun Watson trade was a no-go.
This time, Mayfield is looking relaxed and putting on a happy face while talking about professional golf.
Thanks @PGATOUR & @DellMatchPlay for having me. I picked Scottie Scheffler to win it all.
Join my group and compete against me here —> https://t.co/ZzBlyJhd1E https://t.co/T5EHwu0mI5

— Baker Mayfield (@bakermayfield) March 23, 2022
Mayfield is no stranger to golf-related endeavors.
Recently, he helped his friend and champion professional golfer Brooks Koepka make a kid's day with a Facetime call to his favorite Oklahoma quarterback.
UNBELIEVABLY COOL…..any smack talk about @BKoepka stops now and forever …..the PGA "Dark Knight" shows true humanity and generosity here….kudos to @bakermayfield as well….congrats Ethan…..keep fighting
if u don't love this and cry you're not human https://t.co/LT6gJg9QCf

— David Camarata (@davecamarata1) March 12, 2022
Prior to that, he was interviewed during The Match coverage last summer between Tom Brady and Aaron Rodgers.
#Browns Baker Mayfield with a guest appearance during the Match

Said his golf game isn't great

But said his swing is still better than Chuck's

Also interesting shirt choice pic.twitter.com/eCf2aYSoA1

— Matt Fontana (@MattFontana83) July 7, 2021
Indirectly References His Football Limbo
Calling it, "the news you've all been waiting for", Mayfield talks about his PGA Match Play Pick 'Ems.
He talks about his March Madness bracket not going well so he takes us through his golf bracket.
Mayfield interrupts his bracket analysis to ask a passerby fan if he is going to the spring game which is referring to the Oklahoma game in April where Mayfield's Heisman Trophy statue will be dedicated.
Oklahoma to hold its public dedication of Baker Mayfield's Heisman Trophy statue on April 23 #Browns https://t.co/2R9LrliUPY

— Jake Trotter (@Jake_Trotter) March 7, 2022
Asked To Compare His Final 4 Golfers To Football Players
He compares Scott Scheffler, a hometown guy everyone cheers for, to Joe Burrow.
Justin Thomas who Mayfield calls "consistent" and "always at the top of the top" is like Nick Chubb.
Brooks Koepka's spark that everyone wants to watch is like Davante Adams.
The pure mechanics of Louis Oosthuizen are comparable to Aaron Rodgers.
Conclusion
He picks Scheffler to win the whole tournament.
This was most likely a planned experience prior to all of that transpired in the last week.
The Dell Technologies Match Play tournament starts today at Austin Country Club.
Mayfield looks well and jokes about picking University of Texas golfers.
Whatever Mayfield's future holds, most Browns fans wish him luck and success except perhaps if he ends up facing the Browns.