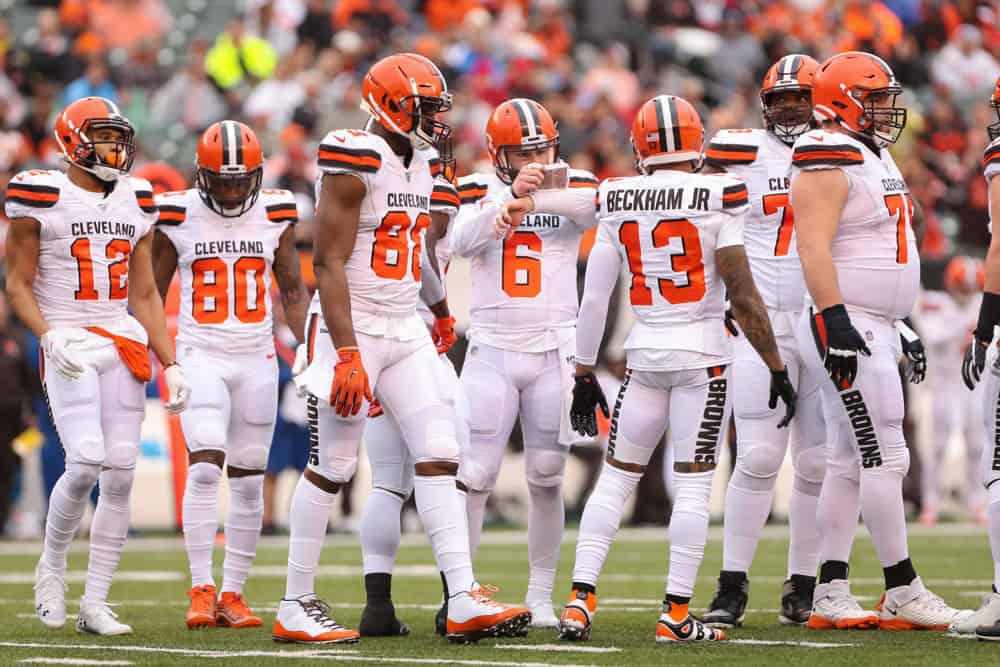 This is reality; you cannot make up stuff like this.
A bettor, who is definitely not a Cleveland Browns fan, placed a $700 wager that the Browns will finish the 2021 season with the worst record in the NFL.
If he or she is correct, the payout is $175,000.
Well here's an interesting bet…

A @FDSportsbook bettor just put down $700 on the Cleveland Browns to have the worst record in the NFL this season

It would payout $175K 😅 pic.twitter.com/1JFe9ADluO

— br_betting (@br_betting) May 22, 2021
An Unlikely Scenario
Maybe this bet would have been a likelier result a few years ago, but it is clear this bettor has not been paying attention since 2020.
Coach Kevin Stefanski arrived, and the Browns began the comeback.
Finishing 11-5 and winning a wildcard playoff game against AFC North rival Pittsburgh was a surprise development during a pandemic that limited the rookie coach's interactions with his team in the preseason.
Stefanski finished as NFL Coach of the Year.
Andrew Berry is doing an outstanding job signing rising talent as the Browns GM; this is his second season of landing the right players for the right price.
Could The Browns Regress in 2021?
The Cleveland Browns will win the AFC North in 2021, pass it on #Browns pic.twitter.com/quYjp8aZ0r

— CleWest (@erjmanlasvegas) March 12, 2021
While all indications are positive that 2021 can and will be even more successful than 2020, of course, there is a possibility of a regression.
Injuries and players not performing as expected are common occurrences on all NFL teams.
However, it really does not appear that the Browns will be 32nd in the league in wins and losses.
Early Indication Of Where The Browns Are Comes In Week 1
118 days until the Cleveland Browns season starts. 🥺🧡 pic.twitter.com/9OWb79cYUx

— Bri Alyssa (@brie_alyssa) May 17, 2021
The Browns travel to Arrowhead to take on the AFC Champion Kansas City Chiefs in Week 1.
A retooled Browns defense will battle with an improved offensive line that is charged with doing a better job of protecting Chiefs quarterback Patrick Mahomes in 2021.
We will learn a lot about where the Browns are after this Week 1 game.
While most are predicting a Browns loss, the Browns could come out and shock everyone and finish the job they almost accomplished in that 2020 divisional playoff game in January.
Win or lose, we can calibrate where this team is for the expanded 17 game regular season starting in 2021.
Then again, maybe we won't know.
The Browns got dominated by the Ravens in Week 1 of the 2020 season but continued to relentlessly work and improve as the season wore on.
There are few things we can predict with near certainty, but the likelihood of the Browns finishing worst in the NFL is one of them.
It is not going to happen.