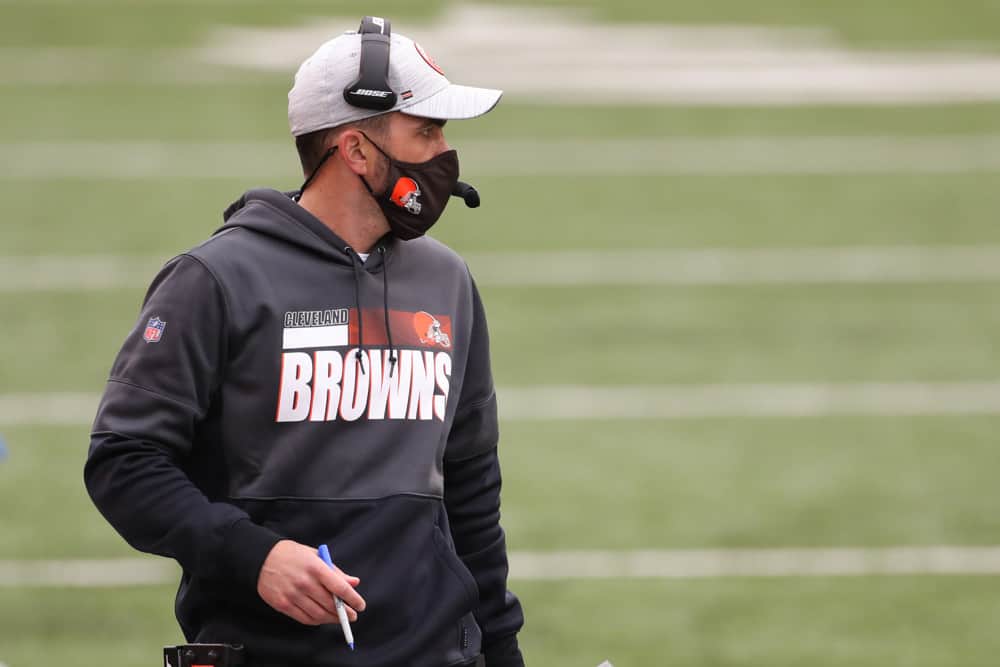 This is great news.
Three days before the Cleveland Browns take on the Kansas City Chiefs at Arrowhead Stadium, Coach Kevin Stefanski returned to the practice facilities and began in-person coaching.
Only in 2020/2021 would this qualify as big news, but it is.
Stefanski has been quarantined at home since January 5 when he tested positive for COVID-19.
He participated in virtual meetings and walk throughs, but this is the first time he saw his players in person since they pulled off the big victory over the Pittsburgh Steelers on Sunday, a game he watched from his basement.
When asked how it felt to be back, Stefanski was obviously thrilled.
"Those walls were closing in on me. So I'm enjoying this big building."
The Players And Staff Welcomed Coach Stefanski Back
Of course, the players were happy to see him too.
Case Keenum, in particular, wanted to welcome him back in a humorous way.
"Case Keenum told me he hid something in my office, and he asked if I smelled it yet. But I don't because I lost my sense of smell."
Last week's acting head coach Mike Priefer was glad to turn the reins back over to Stefanski.
"Anytime your leader comes back to the building and is going to lead us into battle this weekend, I think it's a great thing for our football team."
Offensive coordinator and play caller for the Pittsburgh game, Alex Van Pelt, added:
"It's huge. He's such a presence around the guys. He was greatly missed while he wasn't here, so having him back is big for us."
This is the second day in a row that a coach was back in the building after being sidelined with COVID-19.
Bill Callahan
Offensive line coach Bill Callahan was back onsite Wednesday.
OL coach Bill Callahan back in the team facility today.

— Andrew Gribble (@Andrew_Gribble) January 13, 2021
Callahan missed both Pittsburgh games (Week 17 and wildcard playoff) because of the virus.
Scott Peters, the assistant line coach remains out with COVID-19.
Pass game coordinator/defensive backs coach Jeff Howard and tight ends coach Drew Petzing are also still out.
Player News
#Browns activated WR KhaDarel Hodge from Reserve/COVID-19 leaving LG Joel Bitonio as the only member of the active roster still on the list.

— Daryl Ruiter (@RuiterWrongFAN) January 14, 2021
Everyone is eagerly awaiting news of Joel Bitonio's return.
Bitonio, also sidelined with COVID-19, missed the wildcard playoff game last week.
He is the longest-tenured Browns player (since 2014) so he has definitely been with the Browns through the rough times, and all hope he can take the field during the playoffs.
Denzel Ward, Kevin Johnson, and KhaDarel Hodge have been reactivated this week.
Preparing For The Chiefs
A collective sigh of relief has emanated from the building since the team and coaches can practice and meet.
The Browns will need as many healthy players as possible, as well as the entire coaching brain trust, to figure out how to dethrone the defending Super Bowl Champion Kansas City Chiefs.
Kansas City is favored by 10 points in a game that will feature Arrowhead Stadium filled to about 20% capacity with approximately 17,000 fans in attendance.
Though a sea of red is expected, don't count out ample representation by the Dawg Pound.
Watch the Chiefs vs. Browns, Sunday January 17 at 3:05 EST on CBS.