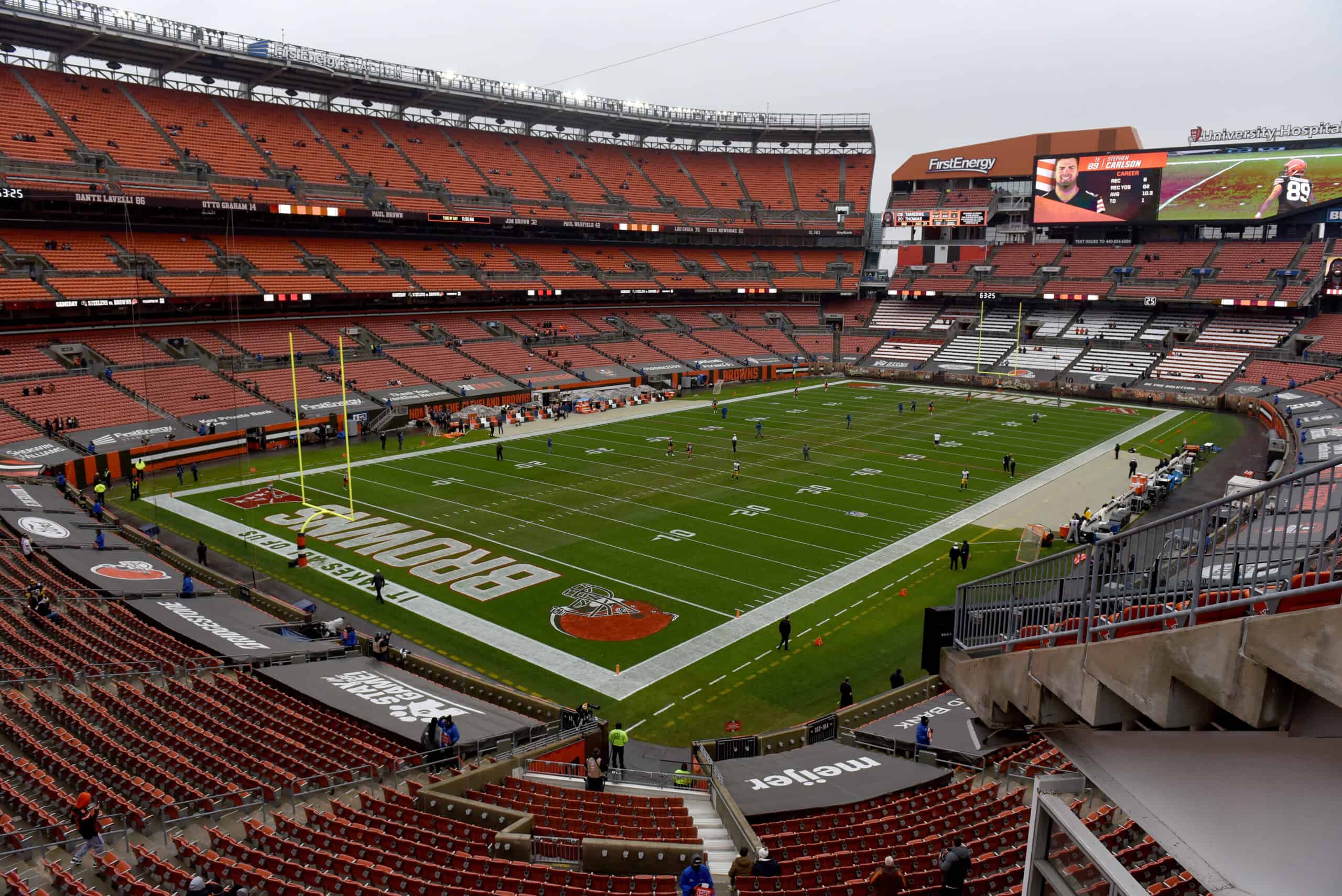 Happy Sunday Browns Fans!
It is Super Bowl Sunday, and there is a mix of disdain and relief that it is finally here.
There is a genuine conflict on who Cleveland Browns fans want to see win the game.
This type of coverage adds to all of the feelings fans are experiencing.
Odell Beckham Jr. will have ____ receiving yards in the Super Bowl

(📸 @RamsNFL) pic.twitter.com/g8fLt7J5mi

— PFF Fantasy Football (@PFF_Fantasy) February 13, 2022
This fan has the right idea.
Anyone else wearing full BROWNS gear tomorrow? I am, in protest of both teams!🤣😂 That's how I do!!!#browns pic.twitter.com/rpacGbHf7g

— Kerry (@kerry__kat) February 12, 2022
Here are the other Browns Nation news and notes for Sunday, February 13, 2022.
1. Bill Willis And Marion Motley To Be Honored At Super Bowl Pregame
This is a reason to be happy about the Super Bowl 56 festivities today.
Browns legends Bill Willis and Marion Motley were Pro Bowlers and Hall of Famers who were among the first African Americans to break through the segregated barriers and play pro football in the 1940s.
Willis's sons, Bill Willis Jr. and Clem Willis, and Motley's grandson Tony Johnson Motley will be part of the pregame moment celebrating their loved ones' legendary careers at SoFi Stadium today.
Willis Jr. conveyed their emotions about this moment.
"We're all very excited…We just hope the spirit of our fathers and grandfathers are with us as we take this journey and do them proud."
Bill Willis and Marion Motley will have their legacies honored before Super Bowl LVI with a pregame moment of recognition with their family members

— Cleveland Browns (@Browns) February 12, 2022
The Willis and Motley relatives last gathered on January 9 and acted as honorary Dawg Pound captains for the Browns vs. Bengals game.
Motley is happy to reunite with the Willis family for this event.
"We've never been on a stage such as this. This is like the top of the mountain, so to speak. It doesn't get any better than this, and it's totally awesome and gratifying that we all have an opportunity to share it together."
2. A Few Words From Vince Lombardi
"Old Days"Coach Vince Lombardi and QB Sonny Jurgensen watch from The sidelines during A 1969 Redskins-Browns Game in Cleveland.#NFL  #Cleveland #Redskins #Browns  #WashingtonDC #1960s pic.twitter.com/s9RJVaafvB

— Tom's Old Days (@sigg20) February 6, 2022
There is no better way to conclude the Super Bowl edition of today's news and notes than by quoting the man for whom the esteemed Super Bowl trophy is named after.
"After all the cheers have died down and the stadium is empty, after the headlines have been written, and after you are back in the quiet of your room and the championship ring has been placed on the dresser, and after all the pomp and fanfare have faded, the enduring thing that is left is the dedication to doing with our lives the very best we can to make the world a better place in which to live."
In the spirit of Vince Lombardi, make it a great Sunday Browns fans!