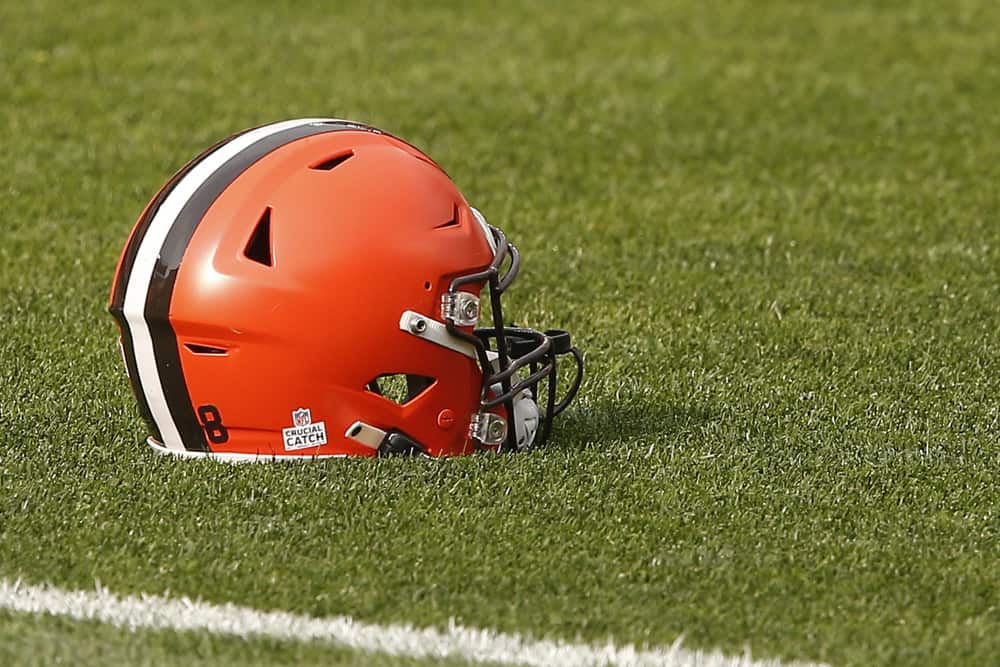 Andrew Berry pared down the Cleveland Browns' extensive list of free agents this week.
The Cleveland GM placed tenders on exclusive rights free agents (ERFA) Stephen Carlson and Porter Gustin.
Both players are expected to sign the tenders and suit up for the Browns in 2021.
ERFAs are players with less than 3 accrued NFL seasons and an expired contract.
We have tendered exclusive rights free agents TE Stephen Carlson and DE Porter Gustin

📰 » https://t.co/3sYGqXcKqL pic.twitter.com/5uX3hohthY

— Cleveland Browns (@Browns) March 5, 2021
Such players who do not receive a tender become unrestricted free agents immediately.
But the players otherwise have no option of negotiating with other teams.
Carlson and Gustin can accept the tender and play for the league minimum or sit out the season.
Berry showed he values their small, but vital roles in the Cleveland attack with the tenders.
Cleveland has 3 more exclusive rights free agents on the roster.
Offensive linemen Michael Dunn and Colby Gossett, and defensive lineman George Obinna await tender decisions.
According to Spotrac, Cleveland also has 20 unrestricted and 1 restricted free agent on their roster.
What to Expect of Stephen Carlson
Stephen Carlson played sparingly in Kevin Stefanski's offense.
He was primarily a blocker, catching 1 of his 2 pass targets on the year.
Carlson caught a touchdown as a rookie in 2019, the highlight of his 6 career receptions.
THE ROOKIE 😱 Stephen Carlson with an incredible catch for the touchdown! pic.twitter.com/NhKZXeidrY

— Everything Cleveland (@everythingcle_) November 15, 2019
On special teams, Carlson racked up 9 tackles on coverage, including 7 solo tackles for Stefanski.
He also secured the onside kick that sealed the Browns' Week 17 win against the Steelers.
Carlson was an undrafted free agent signed out of Princeton in 2019.
He started that season on the practice squad but has been on the regular roster since November 1 of that year.
Cleveland signed another practice squad tight end, Kyle Markway, to a 2-year contract earlier in 2021.
They join Austin Hooper, David Njoku, and Harrison Bryant in the tight end room.
What to Expect From Porter Gustin 
Porter Gustin was another undrafted free agent in 2019, originally signed by the New Orleans Saints.
Cleveland signed him to their practice squad before promoting him to play against the Miami Dolphins in late November.
Gustin recorded his first sack in that game, taking down Ryan Fitzgerald.
Former Salem Hills QB Porter Gustin reaching for his first career NFL interception like he's @laurengus10 reaching for a rebound.

🎥 @Browns pic.twitter.com/91XOuMQc0A

— Sean Walker (@ActuallyDSW) January 11, 2021
He played in 6 games as a rookie and started 3 of the 14 games he played in Joe Woods' 2020 defense.
Among his 30 tackles, Gustin recorded 2 quarterback hits and 2 tackles for a loss.
Pro Football Reference credited him with 5 quarterback hurries this season.
But he saved his highlight moment for the Browns Wild Card game in Pittsburgh.
That is when he recorded his first career interception, adding to the misery of Ben Roethlisberger.
Gustin proved to be a valuable backup with a full-revving engine behind Myles Garrett.