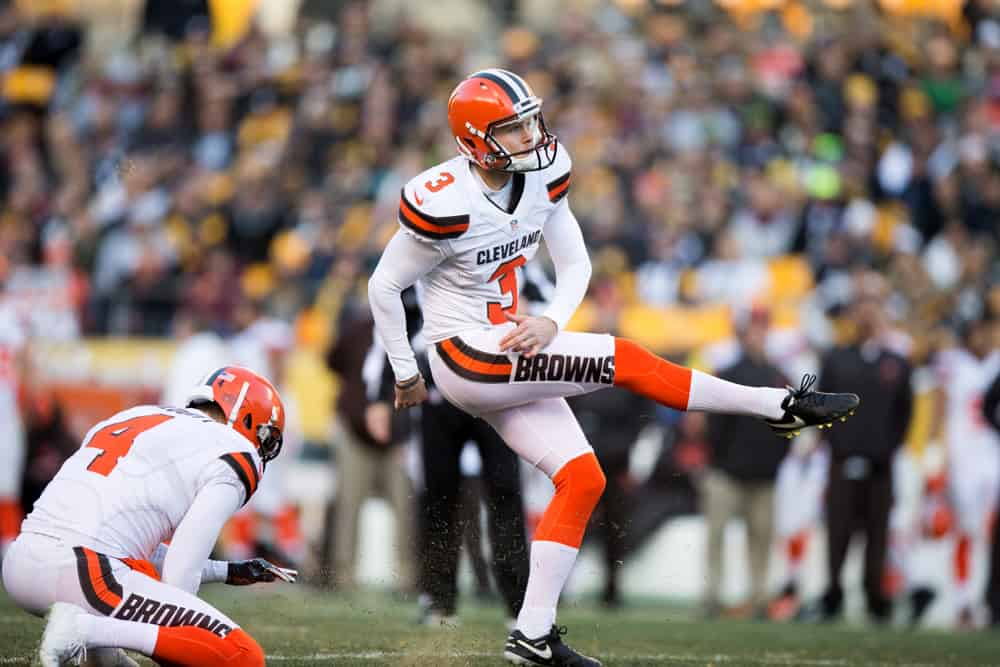 Like many kickers around the NFL, Cody Parkey gave his team some anxious moments in 2020.
But his overall performance and perfect postseason convinced the Cleveland Browns to bring him back on a one-year deal.
The #Browns are re-signing kicker Cody Parkey to a one-year deal, per source.

— Tom Pelissero (@TomPelissero) March 19, 2021
After all, it's not like he double-doinked a kick or anything in Cleveland.
Parkey hit 19 of his 22 field goal attempts and went 43/47 on extra points in the regular season.
His overall 90-percent success rate makes him a reliable NFL kicker.
But 4 of his missed kicks came as the Browns fought for their playoff lives late in the season.
In 3 weeks spanning Weeks 14-16, Parkey hit just 7 of his 10 extra-point tries.
Kevin Stefanski sent him out for only 2 field goal attempts in that stretch, and he missed one of those, too.
And we have a Cody Parkey doink on NBC. #Bears fans look away.

— NFL Update (@MySportsUpdate) December 21, 2020
And that miss conjured up one of the most disappointing moments of Parkey's career.
But like everybody else on the Browns team, Parkey pulled it together in time to pile on the Steelers.
In the playoff-clinching finale and the Wild Card game at Pittsburgh, Parkey was perfect on 12 kicks.
He tacked on another field goal and a pair of extra points in Kansas City to earn another season in Cleveland.
What To Expect From Cody Parkey 
Cleveland signed another kicker, Matthew McCrane to a futures/reserve deal after the 2020 season.
With the risk of last-minute Covid exemptions, most teams kept a kicker available on the practice squad.
In fact, that is where Parkey was while Austin Seibert missed two kicks in the Browns' season opener.
By Week 2, Parkey was the full-time kicker in Cleveland.
McCrane will be in camp and it is not unreasonable to think another kicker might provide competition, too.
Despite many having doubts about Cody Parkey, he was a perfect 11/11 in the playoffs when it mattered most. pic.twitter.com/gwJOA1s3px

— Nick Karns (@karnsies817) March 19, 2021
One of the main concerns about Parkey is his range.
Stefanski did not ask Parkey to kick a single field goal from 50 yards out or longer.
The kicker nailed 10 of his 11 field goals from beyond 40 yards.
His other two missed field goals were from the 30+ range, similar to his 4 missed extra points.
As a rookie, Parkey connected on all 4 of his long-range kicks.
But since coming back from a second-season injury, Parkey only attempted 6 more 50-yarders for 4 different teams.
He hit 4 of those attempts, making him a career 80% kicker from beyond 50.
Kevin Stefanski is not the most notorious risk-taker on fourth-down.
But with a power running game and other weapons, it is not surprising Parkey was not called upon for long field goals.
Details of his contract are not yet available.