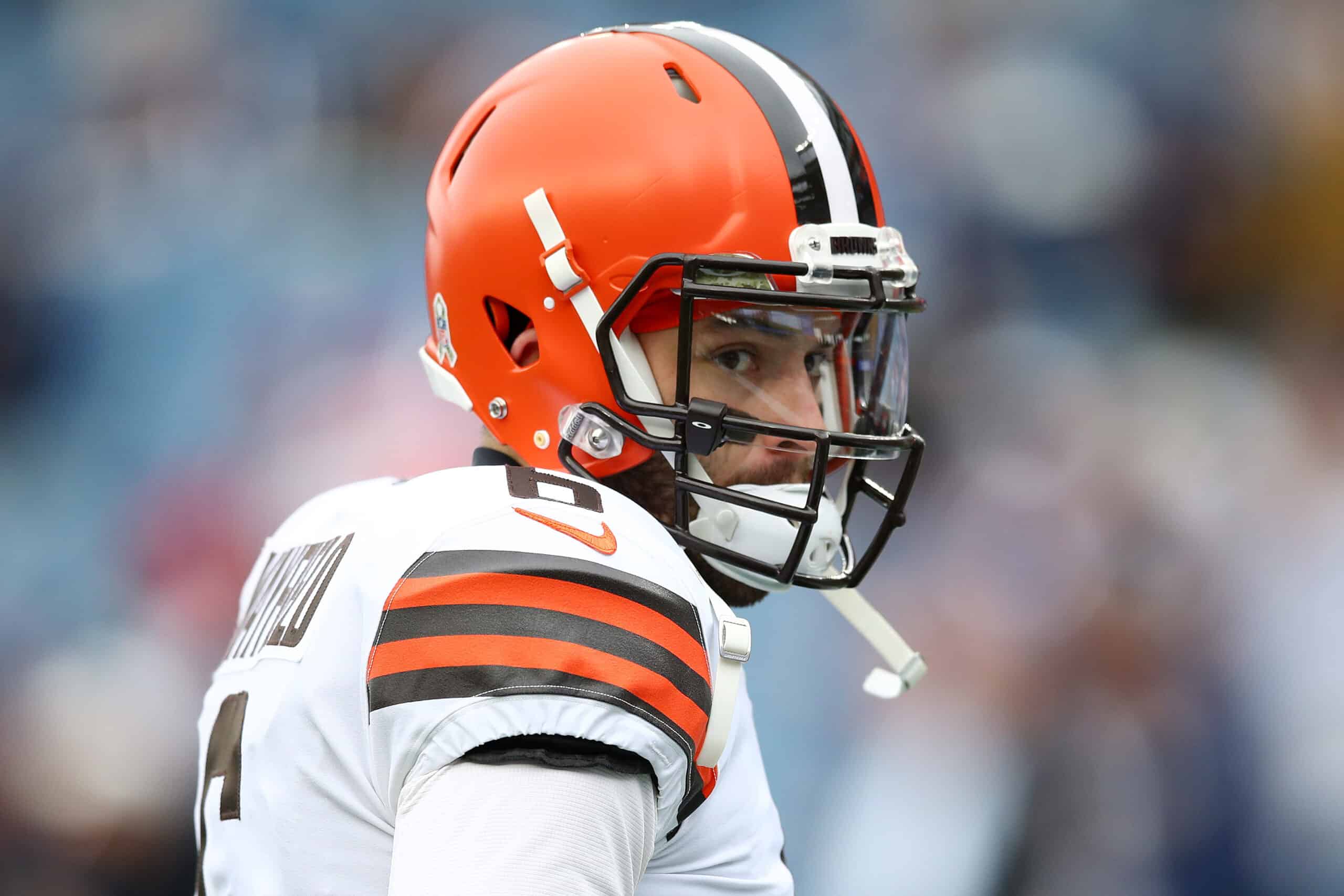 Well, the Cleveland Browns started the week in hot pursuit of Houston Texans quarterback Deshaun Watson, and the team finishes the week with a quarterback problem.
Watson is not happening, and Baker Mayfield wants a trade.
Despite wanting Watson in lieu of Mayfield, the Browns have rejected Mayfield's trade request.
In spite of that, and putting aside the real possibility that the Browns could start the 2022 regular season with a lame-duck and potentially disgruntled quarterback in Mayfield, ESPN's Dan Orlovsky weighed in on what is now the Mayfield sweepstakes.
Where could Mayfield play in 2022?
Orlovsky does not pose a simple move or trade from one team to another.
Instead, he is proposing a blockbuster switcheroo of quarterbacks that could make fans' heads spin.
Given that it is NCAA March Madness season, his scenario feels a bit like a bracket challenge for quarterbacks.
What Orlovsky Said
Orlovsky has four quarterbacks changing teams.
He projects Deshaun Watson will go to the Atlanta Falcons.
Presumably, because the Texans could not handle Matt Ryan's contract, he has Ryan headed to Indianapolis.
Mayfield would head to Houston, and Cleveland would get Jimmy Garappolo.
I'll preface this by saying I'm a big Jimmy G fan and would gladly support him if he came to Cleveland, but that's basically just paying more to replace Baker with Shiny Baker.

— Samantha Bunten (@samanthabunten) March 16, 2022
The only quarterback not changing teams in Orlovsky's scenario would be Jameis Winston who would stay with the New Orleans Saints.
My gut I guess as of now???

Watson to ATL
Ryan to Indy
Baker to Hou
Jameis to NO

Browns left to Jimmy G?

— Dan Orlovsky (@danorlovsky7) March 17, 2022
It Is Possible
Orlovsky's scenario is possible should Watson choose Atlanta.
We still do not have confirmation of what team he is selecting; it is between the New Orleans Saints and Atlanta Falcons.
The only news update regarding Watson is that he has eliminated the Carolina Panthers from consideration.
Carolina has been informed it is out on Deshaun Watson, per source.

— Adam Schefter (@AdamSchefter) March 18, 2022
What About Seattle?
The Seahawks need a quarterback after trading Russell Wilson to the Denver Broncos.
No one really believes the Seahawks are operating with an all systems go approach to Drew Lock being QB1 this season.
Josina Anderson is reporting that Seattle is considering its options; one of which is a trade with Cleveland for Mayfield.
I'm told the #Seahawks have discussed exploring acquiring Baker Mayfield at quarterback, per league sources.

— IG: JosinaAnderson (@JosinaAnderson) March 17, 2022
Conclusion
It is anybody's guess right now how this thing will turn out.
Remember in 2021 when we thought our worlds were rocked when Matthew Stafford and Jared Goff switched teams?
That was mild in comparison to what could be coming if Orlovsky is correct.
Stay tuned.