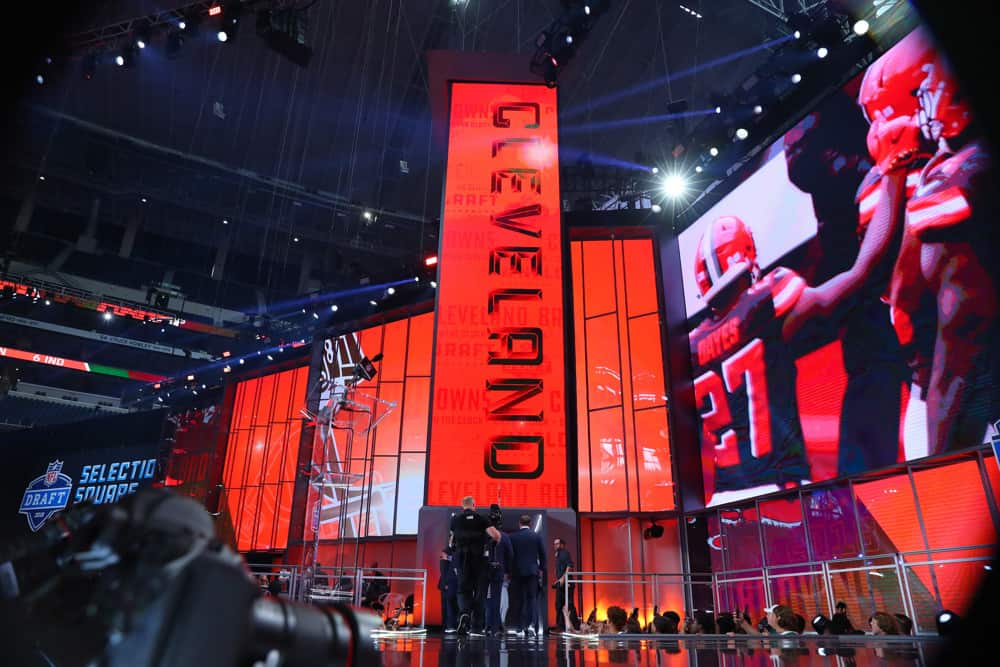 During the current COVID-19 pandemic, people seem to gravitate towards just about any piece of good news out there.
On Tuesday, Cleveland Browns fans were made very happy.
Dates, and a location, for the 2021 NFL Draft have been announced.
Dates are now set: the 86th NFL Draft will be held April 29 – May 1, 2021 in downtown Cleveland.

— Adam Schefter (@AdamSchefter) April 28, 2020
The 2020 Draft was not as fun as it was supposed to be in Las Vegas with selections being brought on stage via boat among a flurry of other activities.
Instead, it was done virtually through video conferencing.
We did get some inside access to the homes of a number of draft picks, coaches, and front office members.
Still, it definitely felt like something was missing, and fans will be eager for a hopeful return to normalcy next April.
Big Chance For Cleveland
The 2021 NFL Draft will have an extra bit of meaning to it.
Again, the hope is that things will be back to normal by the time next April rolls around.
Every event from here on out, at least the first time it happens, will be the first time it happens since the outbreak and suspension of a number of sports leagues.
The first NBA, NFL, NFL, MLB, etc. games will be the first steps towards returning to normal.
Because of that, fan investment into these events will be greater than ever before.
The same applies to the NFL Draft.
Since it will be the first draft since COVID-19 hit the United States, eyes will be locked in on Cleveland come April of 2021.
What will be the new "norm" with the NFL Draft?
Will the event see drastic change?
Will the state that birthed professional football put on an extra show?
The media headlines begin to write themselves, and it's easy to see why the 2021 draft will be such a big one.
Dave Jenkins, the team's Executive Vice President and Chief Operating Officer, shared his thoughts on the event per the Browns' website.
"The NFL Draft is an international celebration for our entire league and all sports fans, and we look forward to hosting the event, highlighting our city and continuing to share Northeast Ohio's passion for football in 2021," said Dave Jenkins, Cleveland Browns Executive Vice President and Chief Operating Officer. "Throughout the process, our local partnership and the NFL have focused on providing an exceptional experience for everyone in Cleveland, and prioritizing everyone's safety and well-being is always a core component to achieving that goal, no matter the event or circumstance."
The Perfect City
Truthfully, is there a better city fit to host what should be the first normal NFL Draft since COVID-19?
Interest in the 2020 Draft was certainly strong across the county.
In Ohio, however, it meant just a little more.
NFL Draft TV Numbers:
Top three markets for the draft are all Ohio:
Columbus: 16.7 rating/32 share
Cleveland: 15.9/29
Cincinnati: 15.6/28

— John Ourand (@Ourand_SBJ) April 24, 2020
The fact that the top three TV markets for this past draft ALL fell in Ohio is a little absurd.
Sure, Ohio native Joe Burrow, who temporarily played college ball at Ohio State, was set to be drafted by the Cincinnati Bengals.
Two Buckeyes also went right after Burrow.
There was plenty of Ohio interest to begin with.
However, those that live in Ohio know just how bright the fire and passion for football in the state burns.
The energy that Northeast Ohio will bring in April of 2021 will be one that would be unmatched by any other city.