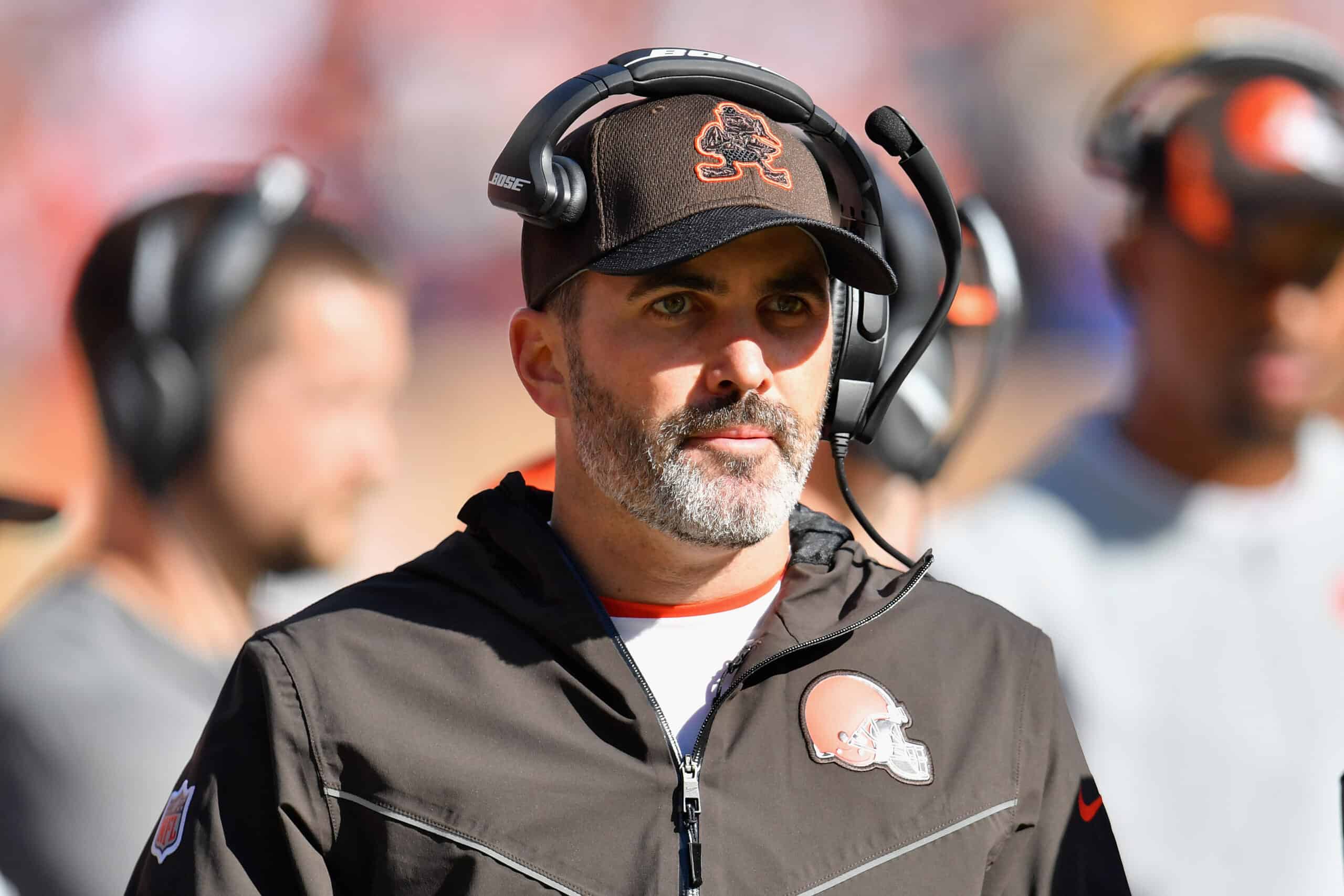 There aren't too many members of the Cleveland Browns that fans are thrilled with right now.
That's justified following the team's disheartening 16-10 loss in Baltimore to bring Cleveland to 6-6 on the season.
Head coach Kevin Stefanski is one of those facing criticism as the team hits the bye week.
It's a bad time to be in the spotlight, as the team has to wait two weeks to rebound from the loss.
Perhaps the negativity aimed at Stefanski after Sunday is a tad overblown.
Or, maybe it's not enough.
Let's take a look at his overall coaching performance in Sunday's loss.
Abandoning the Run… or is He?
Most of the criticism aimed at Stefanski is in regards to his play-calling.
Truthfully, it brings back bad flashbacks to the Freddie Kitchens days.
It seemed like every day it became a question of whether Kitchens could handle both the play-calling duties and head coaching responsibilities.
While this is nowhere near the poor levels the team reached under Kitchens, it's not trending in the right direction.
The biggest gripe stems from fans wanting Stefanski to run the ball more.
NFL Network reporter Aditi Kinkhabwala noted some of her issues with the Browns' offensive gameplan on Sunday.
From everything I've been told, Kevin Stefanski genuinely loves calling plays on game day. But when you're down only three and six points ALL GAME, why are you getting away from your butter: the run game. Is it fair for the HC to be CEO and Alex Van Pelt to handle plays? #Browns

— Aditi Kinkhabwala (@AKinkhabwala) November 29, 2021
However, it's not always that simple.
Cleveland has a dominant offensive line and arguably the best running back tandem in the NFL.
Other teams know this though.
They stack the box to force an injured Baker Mayfield to throw the ball, something he didn't do well against Baltimore.
The Ravens had a gameplan to load the box, and it worked.
#Browns Kevin Stefanski is not the problem with this offense. There is a concerning lack of execution (missed opportunities, drops, etc.)

And for the "run the damn ball crowd," the #RavensFlock continuously put 8+ defenders in the box. -0.27 EPA/play and 2.4 YPA.

— Cody Suek (@CodySuek) November 29, 2021
Stefanski's scheme was far from perfect in the loss.
The trick play with Jarvis Landry, among other play calls, were questionable.
37 passing attempts compared to 17 rushing attempts is certainly not ideal.
Cleveland only managed 40 yards on those 17 attempts though.
Credit Baltimore for preparing well.
That doesn't give Stefanski a full pass for the lack of offensive production.
Undisciplined
I'm not a huge proponent of immediately placing blame for every penalty on the head coach.
At a certain point, individuals need to be held accountable who are committing infractions.
However, there is a role the head coach plays in this.
Ronnie Harrison getting beat, committing pass interference, and still allowing the completion isn't on Stefanski.
That's Harrison making a bad play.
The whole 12 men on the field debacle, however, can be aimed more towards Kevin.
The #Browns called a TO…and still had 12 men on the field.

That's on coaching.

— Brad Stainbrook (@BrownsByBrad) November 29, 2021
Those types of penalties result in confusion across both the coordinators and players.
Personnel doesn't know where to be, coordinators aren't correcting the issue, and the head coach isn't of much help either.
It's those types of penalties that can quickly anger fans, especially one's with thinning patience.
Overall Grade: D
An F could also be appropriate, but there have been worse coaching performances before.
However, the regression on display from this team on Sunday is alarming.
For a guy who won NFL Coach of the Year last season, the offensive struggles and lack of discipline are justifiably concerning.
It's too early to say he is on the hot seat.
But as we know in the NFL, those coaching chairs get warm in a hurry.