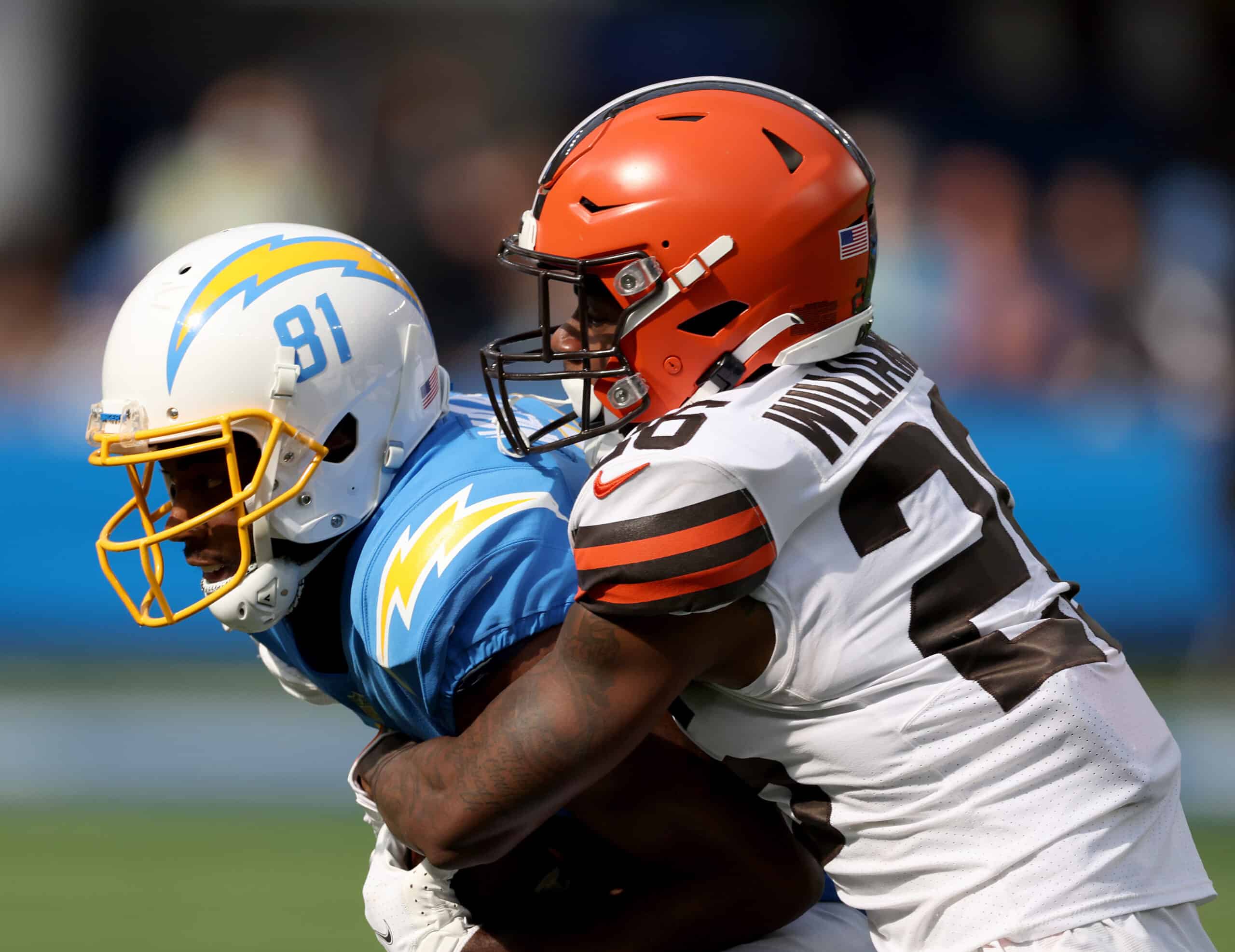 Injuries can derail any team's season in the NFL.
If enough starters go down, a Super Bowl contender can turn into a .500 team in a hurry.
Having quality backups on the depth chart is crucial to success.
For the Cleveland Browns, cornerback Greedy Williams is exactly that.
Cleveland drafted cornerback Greg Newsome II in the first round of this past NFL Draft.
This slid Williams, a former second-round pick who has struggled to stay on the field, into a backup spot.
A calf injury in Week Three has sidelined Newsome the past couple of weeks.
Williams has taken his starting spot for now and has excelled in doing so.
He's been one of the best cornerbacks in the NFL in the early stages of this season.
Through five weeks, #Browns Greedy Williams is the NFL's second-highest-graded CB at 85.8. pic.twitter.com/T5UvSZTT1R

— Sam Penix (@Sam_Penix) October 11, 2021
Showing Up and Showing Out
Fans hoped for this kind of play from Williams when the Browns drafted him in 2019.
A bad shoulder injury kept him sidelined for all of 2020 and hindered his development.
Now, with a chance at consistent snaps in Newsome's absence, Greedy is showing the league what he can do.
His first career interception helped secure a win in Week Four over the Minnesota Vikings.
Of course, Greedy plans on racking up some more of those this season.
More to come ✍🏾 https://t.co/SgNWluc9NL

— Greedy Williams ™️ (@Greedy) October 5, 2021
Even though the Browns defense isn't at a high point following Sunday's loss, Williams continues to be an impressive member of that unit.
Highest-graded #Browns through five games (min. 125 snaps)

1️⃣ Myles Garrett, EDGE- 90.1
2️⃣ Joel Bitonio, OG- 89.9
3️⃣ Greedy Williams, CB- 85.8
4️⃣ Jeremiah Owusu-Koramoah, LB- 85.3
5️⃣ Kareem Hunt, RB- 83.0 pic.twitter.com/Dwt8RQMBUx

— PFF CLE Browns (@PFF_Browns) October 12, 2021
Williams' ability in coverage this season has certainly stood out.
However, he's also been impressive as a tackler as well.
In the win over Minnesota, Williams finished with six total tackles in addition to his interception.
In this past Sunday's loss to the Chargers, he tallied ten total tackles.
A forced fumble against Los Angeles is also showing Greedy's ability to hunt for turnovers, something that can greatly help a struggling defense.
Greedy Williams with the strip. That's two takeaways from 26 the last two weeks.

— Hayden Grove (@H_Grove) October 10, 2021
Staying On the Field
Perhaps the biggest concern with Williams now will be his ability to stay on the field.
In Sunday's loss, Greedy banged up his shoulder, the same one that sidelined him for all of 2020.
Fortunately, per Mary Kay Cabot, it doesn't appear to be of serious concern.
#Browns  CB Greedy Williams shoulder, the same one he injured last year, "is okay" and he "shouldn't miss time" via @MaryKayCabot

— MoreForYouCleveland (@MoreForYou_CLE) October 11, 2021
Injuries have already plagued the Browns defense here in 2021.
As evident in Sunday's loss, missing just a few starters can be a detriment.
With high caliber quarterbacks and receivers throughout the league, having corners on the field who can hold their own is crucial to a defense.
Newsome, Williams, and Denzel Ward are all guys who can do that.
However, they've all also had injuries to deal with in their young careers.
Again, that happens in the NFL. It's a violent, unforgiving league.
When healthy, the Browns have some of the best cornerbacks in the NFL.
The emergence of Greedy Williams this season helps solidify that unit.
This upcoming Sunday will be another test for the former LSU Tiger as Kyler Murray and the undefeated Arizona Cardinals come into town.
Murray hurts defenses with both his arms and his legs.
Not only will Greedy be needed in coverage, but he may have to come up and stick Kyler in the turf a few times as well.