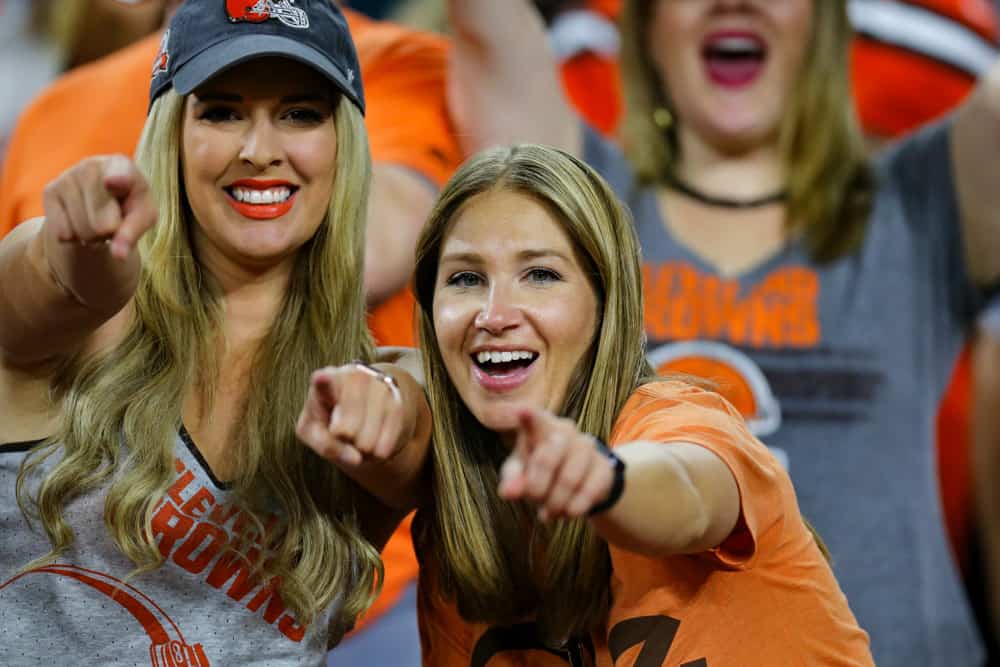 The 7-3 Cleveland Browns travel to Jacksonville to take on the 1-9 Jaguars.
This is a must win game for the Browns to stay in contention for a playoff berth in the AFC North.
Currently, they are in sole possession of 2nd place in the division.
Let's go @Browns .. this should be a gimmie win and get you one game closer to the playoffs. Make it happen. #Browns #brownstwitter #BrownsNation #clevelandbrowns
Cleveland Browns vs Jacksonville Jaguars https://t.co/8R2WYWpB2l via @YouTube

— Underdog Sports TV (@TheUnderdogTV) November 24, 2020
However, the Browns' AFC North rivals, the 10-0 Pittsburgh Steelers play the 6-4 Baltimore Ravens on Sunday.
How To Watch
Fans can find the game on CBS at 1 pm.
The CBS broadcasting team covering the game is Spero Dedes, play-by-play and Adam Archuleta analysis.
How To Listen
The three flagship stations for Browns football are:
On satellite radio, the SiriusXM Browns broadcast station is Channel 388.
Outside of Cleveland, the Browns radio affiliates are:
Akron
WAKR – 1590 AM
Akron
WONE – 97.5 FM
Canton
WHBC-AM – 1480 AM
Canton
WHBC-FM – 94.1 FM
Columbus
WTOH – 98.9 FM
Corry (Pa.)
WWCB – 1370 AM
Dayton
WHIO-AM – 1290 AM
Dayton
WHIO-FM – 95.7 FM
Dayton
WZLR – 95.3 FM
Dover
WJER – 1450 AM
Erie (Pa.)
WPSE-AM – 1450 AM
Erie (Pa.)
WPSE-FM – 107.1 FM
Fostoria
WFOB – 1430 AM
Geneva
WKKY – 104.7 FM
Jamestown (N.Y.)
WQFX – 103.1 FM
Lima
WWSR – 93.1 FM
Mansfield
WRGM – 1440 AM
Mansfield
WVNO-FM – 97.3 FM
Marietta
WJAW – 100.9 FM
Norman (Okla.)
KREF – 1400 AM
Sandusky
WMJK – 100.9 FM
Tulsa (Okla.)
KAKC – 1300 AM
Uhrichsville
WBTC-AM – 1540 AM
Uhrichsville
WBTC-FM – 101.9 FM
Wooster
WQKT – 104.5 FM
Youngstown
WKST – 1200 AM
How To Live Stream Browns vs Jaguars
Those interested in live streaming the game can access it on the following platforms:
Browns Players Not Playing
The big story for the Browns is who is not playing against the Jaguars.
This week, DE Joe Jackson and LB Sione Takitaki tested positive for COVID-19 and are inactive for Sunday's game.
For the second straight week, DE Myles Garrett and FB Andy Janovich are out with COVID-19.
If that's not bad enough, CB Denzel Ward has a calf strain and will miss multiple games.
The Browns continue to find a way to win and fight through the adversity.
Coach Kevin Stefanski keeps them focused and aware that they are not the only team dealing with significant COVID-19 and injury losses.
Jaguars Coaches Won't Be On The Field Either
At game time, the Jacksonville Jaguars will not have defensive coordinator Todd Wash and defensive line coach Jason Rebrovich on the field.
Both are forced to work virtually due to COVID-19 protocols.
Safeties coach Joe Danna will call the defensive plays, and head coach Doug Marrone and special teams assistant coach Mike Mallory will serve as defensive coaches for the day.
Jags QB Change
In other Jaguars' player news,
More QB plot twists: The #Jaguars plan to start Mike Glennon at QB this week, coach Doug Marrone said. While Gardner Minshew nears full health, it'll be Glennon and not Minshew or Jake Luton.

— Ian Rapoport (@RapSheet) November 25, 2020
The Jaguars are benching rookie QB Jake Luton in favor of veteran QB Mike Glennon.
Glennon has been in the league since 2013, and Sunday's start against the Browns will be the 22nd of his career.
If the Browns want to stay in the playoff conversation and keep pace with their AFC North rivals, they must win this game on Sunday.