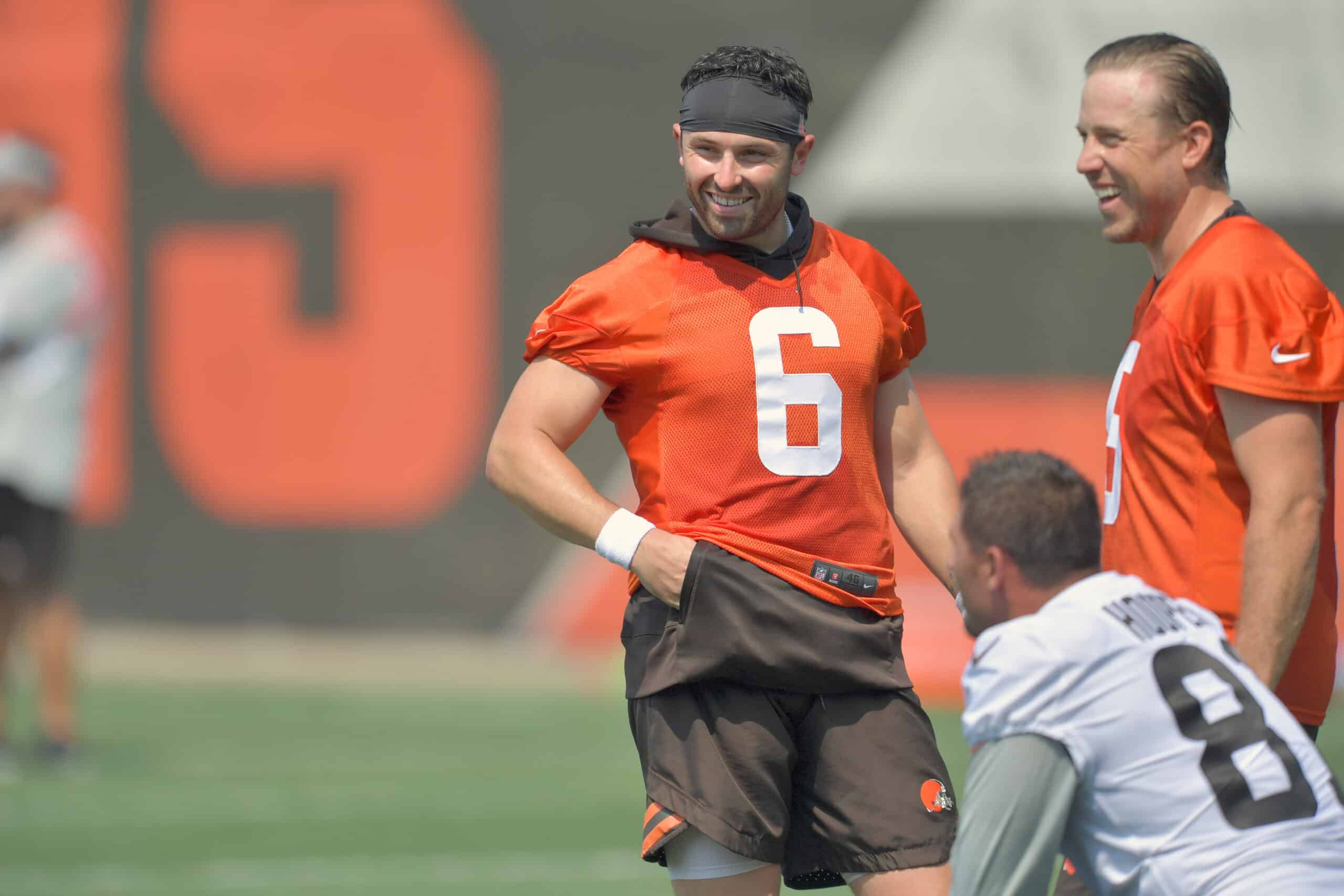 There are a lot of uncertainties surrounding the 2022 Cleveland Browns, but one thing is not.
That is the united support of quarterback Baker Mayfield.
Both GM Andrew Berry and Coach Kevin Stefanski have said that Mayfield is the Browns 2022 starting quarterback.
Can Baker Mayfield return to last half of 2018 and 2020 Glory? pic.twitter.com/XrqSOHY3ez

— cleveland fan in Pittsburgh (@216fanin412) March 2, 2022
Kevin Stefanski says he believes in Baker Mayfield?

What could It possibly mean???

WE RIDE WITH 6 pic.twitter.com/4o8epJeDvw

— Nick Karns (@karnsies817) March 2, 2022
Mayfield is a divisive figure so opinions vary on whether this is a good decision.
Is starting Mayfield in 2022 a mistake?
The answer is no, but there are a couple of underlying conditions that must be in place to proceed with Mayfield.
They are as follows:
1. Mayfield Must Be 100% Healthy
Mayfield should not take one snap in a regular-season game unless he is completely healthy.
That is without exception.
This means in September if he is not ready to go, he should not play.
It also means if there is an aggravation to that injury during the season, he should not play.
This is one of the painful lessons learned in 2021.
What could have been if Mayfield had been on IR and Case Keenum given the opportunity?
He is only effective if he is healthy.
What healthy Baker Mayfield does. Reminder. https://t.co/MJxbrdd8yA

— Mayfield Garrett Stefanski Era 🐶 (@MylesOffTheEdge) March 4, 2022
2. Switching To A Backup Must Be Done Swiftly If Necessary
If a healthy Mayfield has issues or falters, switching to the backup must be done swiftly.
Weeks cannot pass and a successful season cannot get out of reach while the Browns are actively waiting for Mayfield to perform better.
Mayfield is playing out the last year of his contract.
If it appears the wheels have fallen off the Mayfield bus, the Browns cannot let a great roster and competitive team be robbed of an opportunity to get to the playoffs because they are steadfast on playing Mayfield.
Bench him.
3. Play Calling Must Be On Point
A healthy Mayfield needs better play calling in his arsenal.
He's playing in the pocket 75% of the time (should be 55%) on a team that has had health issues at the OT positions. Baker Mayfield can't play under pressure and yet we scheme him to play under distress.

— Browns Bot 🤖 ➐ (@Browns_Bot) March 4, 2022
Coach Stefanski needs to be a lot smarter with the play calling in 2022.
Reverting to a 2020 approach that got the team to the playoffs and gave Stefanski NFL Coach of the Year honors is highly recommended.
That means using the run game consistently throughout the game and not abandoning it without a good reason.
Conclusion
Mayfield should not lose his job because he was injured from Week 2 in 2021.
If he is healthy, he should have a chance to do what he did in 2020.
Is Baker Mayfield due for a big year with the #Browns in 2022???

2018: 27 TDs, 3725 yards, 83.2 PFF
2019: 22 TDs, 3827 yards, 74.4 PFF
2020: 26 TDs, 3563 yards, 81.6 PFF
2021: 17 TDs, 3010 yards, 63.5 PFF pic.twitter.com/oed8XZaHw8

— Down With The Browns Podcast (@DWTB_) February 28, 2022
The Browns need to see this through and know for sure what type of quarterback Baker Mayfield is.
Is 2020 as good as it gets for him, or was that the beginning of his growth and maturity into the role of a franchise quarterback?
A healthy offensive line and Kareem Hunt will certainly help him in 2022.
If things are not going well, the Browns need to have a Plan B ready and execute it before weeks of losses and disappointment compound.