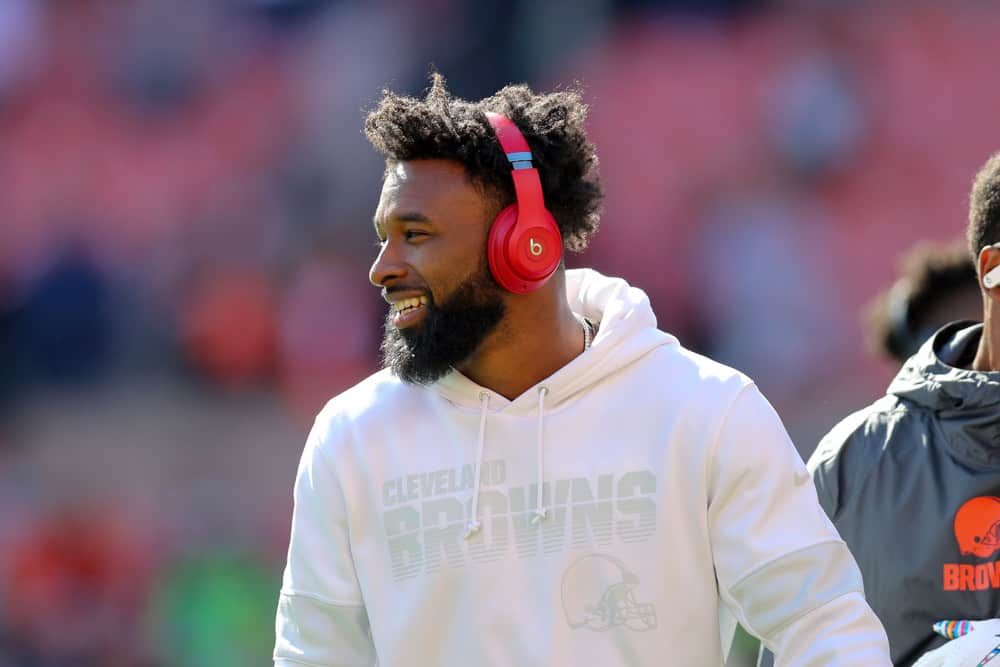 Much has been said and written about how busy Cleveland Browns wide receiver Odell Beckham Jr. has been this offseason with his rehab and recovery from the ACL injury.
However, he is not the only WR working hard this offseason.
His teammate and friend Jarvis Landry has been busy this offseason also.
Here's what Landry has been up to.
1. Hired A New Trainer
We've heard about the Browns players training at House of Athlete in Weston, Florida.
That was not a randomly selected meeting place.
The gym is owned by former NFL player Brandon Marshall.
Landry hired a new trainer during the offseason from HOA.
His name is Mo Wells.
Coincidentally, he is rookie Anthony Schwartz's trainer also which explains how Landry and Schwartz began working out together before they knew they would be teammates.
New #Browns WR Anthony Schwartz said he's already gotten to know Jarvis Landry a little bit because they both work out at House of Athlete in Florida, same place Jarvis, Baker Mayfield and other Cleveland players trained early this week

— Nate Ulrich (@ByNateUlrich) May 1, 2021
2. Cut Weight
Landry in his recently released first episode of the YouTube documentary "Just Juice" talked about losing weight in the offseason.
Jarvis Landry said this off season he cut his playing weight from 213 to 197lbs.

"When I was bigger I did feel stronger…. but at the same time I ain't been 197 since year two… when I was really shaking guys."

2015 was the best year Jarvis had as a Dolphin. pic.twitter.com/45dFJckbrR

— Nick Karns (@karnsies817) July 7, 2021
To be fair, Landry is a great player at 213 pounds or 197 pounds, but his best statistics are from the 2015 season when he was 197.
In 2015, he had 1,157 receiving yards and 4 touchdowns, 113 rushing yards and 1 touchdown, 321 yards on kick returns, and 356 yards on punt returns with 1 special teams touchdown.
He is the Nick Chubb of the wide receiving room, a team-first guy who is consistent, steady, and always working hard to improve himself.
Jarvis Landry is everything Cleveland football is about. I have no idea how anyone could be a fan of the team and not a fan of Landry.

No stat can measure his importance to this team. 🤷‍♂️

— ChadP71 6elieve (@chadp71) July 7, 2021
I really hope Jarvis Landry and Nick Chubb retire a Cleveland Brown

— Kub€i ¥agyu (@KevL3E) July 1, 2021
3. Hosted His Celebrity Softball Game
.@God_Son80 brought out the big names for a great cause at his Celebrity Softball Game!

For more information on The Jarvis Landry Building Winners Foundation, visit: https://t.co/3FgupHDl6l pic.twitter.com/G4l7Guksh5

— NFL (@NFL) June 14, 2021
Landry found time to host his celebrity softball game, an annual event he started in 2019 but was cancelled due to the COVID-19 pandemic in 2020.
The 2021 event was a success with the proceeds going to charity.
Jarvis Landry noticed the diehard #Browns fans that showed up to his Celebrity Softball Game.

"I don't expect nothing less here in Cleveland." pic.twitter.com/VLoePfHC6q

— Nick Pedone (@NickPedone12) June 12, 2021
Landry in 2021
Landry, 28, enters the fourth year of his five-year contract that potentially puts him on the free-agent market in 2022.
He embarks on his eighth NFL season after having the lowest number of receiving yards in 2020 (840) since his rookie season.
Just like the rest of us know, Landry must realize that 2021 is his best opportunity to win a Super Bowl.
The Browns team is young, and free agency in the coming years could wreak havoc on its core.
Let's hope 2021 is a season for the ages for both the Browns and Landry.