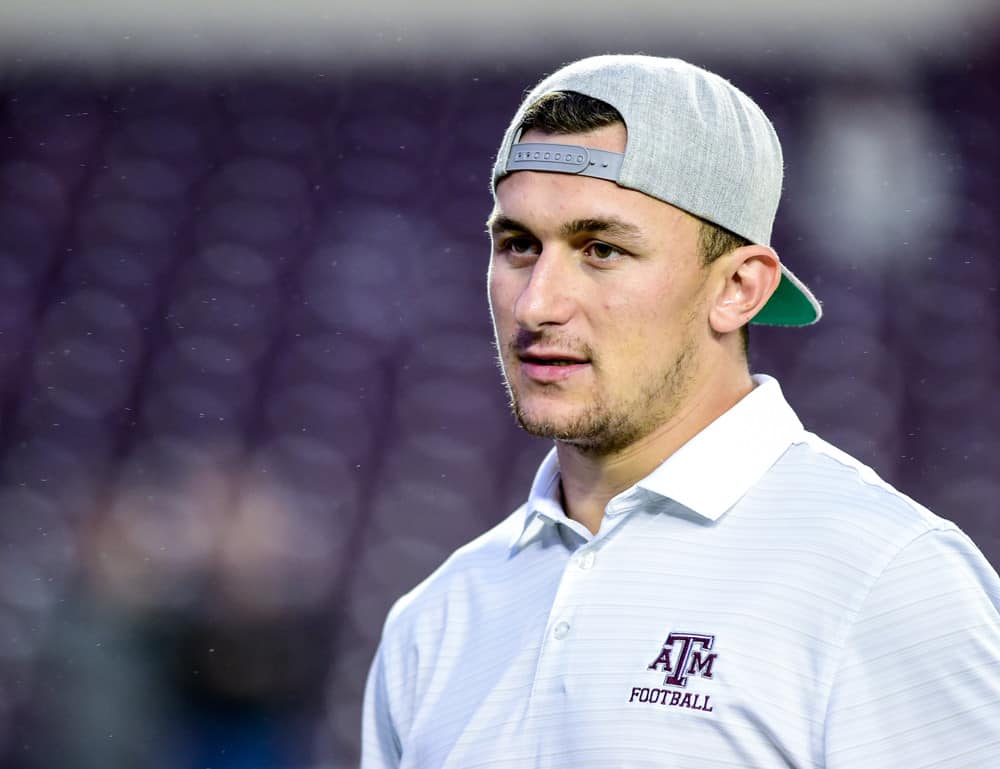 File this under the headline that hindsight is 20/20.
Former Cleveland Browns QB Johnny Manziel has apparently gained perspective about his flash-in-the-pants NCAA and NFL careers.
Among his revelations is how he wasted 2 years of legendary Browns OT Joe Thomas's best years.
What Manziel Said
As a guest on the YNK Podcast, Manziel specifically spoke about Thomas.
"I don't appreciate going to Cleveland for two years and impacting and wasting two years of Joe Thomas' career, who's a guy that's going to be a 12-time Pro Bowler and going to be in the Hall of Fame. And I regret not going and being closer with these guys and being distant into the other life that I was living. And it's nuts, and to sit back and look at it now, it's a shameful thing and something that I have to look back, and at the end of the day, I can only say 'Yo' to those guys.

"And I feel like I've told them over the past couple of years. I've got to the point where I've hit like clarity, and I went and did Joe's podcast. I still talk to Joe Haden, some of these guys that were like foundation members of the Browns during this time. Cause I think we had the talent to do it, but we had a young—a bad mix of people and a point to where I got to where I didn't give it everything I had to everybody else. I didn't have the grind in my mind like I did to be great in college like I did in Cleveland, and I feel disrespectful to the guys who were there, being legends because they worked their f–king ass off."
Wasted Talent
Every now and again I watch Johnny Manziel Browns highlights just to remind myself what I've lived through.

— Tyler Corbit (@TylerCorbit) November 23, 2020
Not only did Manziel waste Joe Thomas's talent during those 2 years, Manziel wasted his own talent by never getting his professional career off the ground.
#Browns LT Joe Thomas at Home and Garden Show IX Center on Johnny Manziel: "I think it's a sad ending to the story"

— Mary Kay Cabot (@MaryKayCabot) February 12, 2016
The Cleveland Browns selected him in the first round of the 2014 NFL Draft (22nd overall).
Almost from the beginning, Manziel was a distraction to a Browns team trying to turn the tide after 6 consecutive 11+ loss seasons.
Sadly, Manziel finally gets it at 27 years old.
"Looking back on it now, I would say I absolutely, 100 percent lost their respect. Why wouldn't you? If I was one of them looking back at what I was doing, and your decisions that you make off the field impact if I put food on mine, yeah I'd feel some type of way, a hundred percent. I would say we wasted a draft pick to go get this guy who doesn't give a f–k. And that's my only thing in life that I haven't been able to look back and like fully have closure on. … It's probably one of the only things that I haven't looked back on and been able to be like super, super OK with what happened."
His success came early and often, winning the Heisman Trophy as a freshman in 2012 and finishing as a finalist for the Heisman in 2013.
To this day, it's unclear what caused Manziel to burn out so young.
Did he achieve too much too fast?
Was he surrounded by enablers who did not try to divert his unproductive habits and behaviors?
Only Manziel knows the full story, and any way you look at it, it's a sad one.