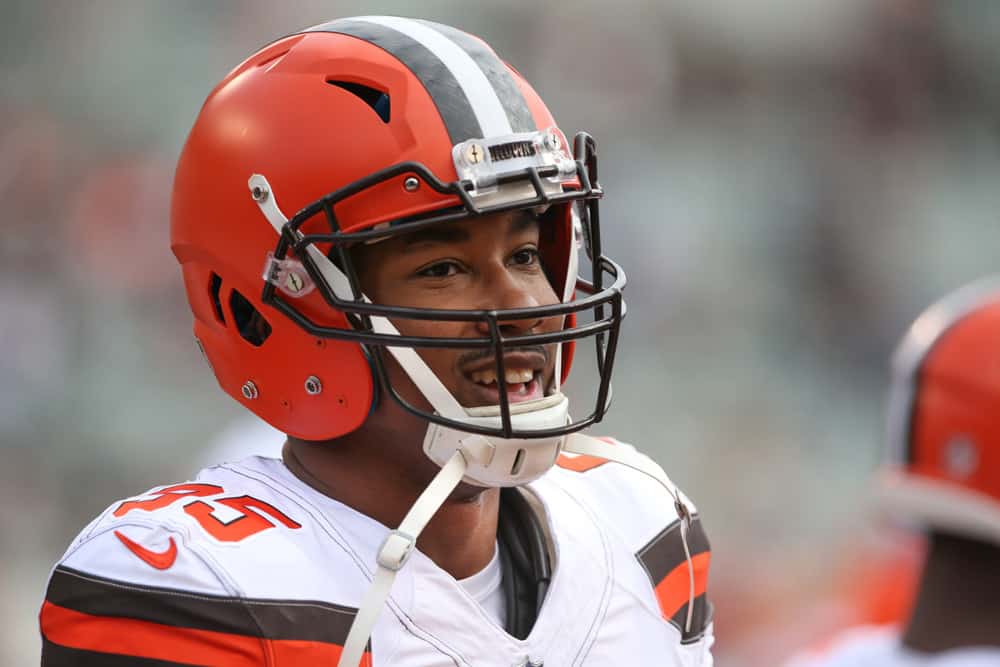 How do you top off breaking the franchise record for quarterback sacks in a single game?
If you are Cleveland Browns defensive end Myles Garrett, you do it by unveiling a mural in downtown Cleveland.
He commissioned the mural to honor his late grandmother, Juanita Garrett.
This is not the first time he paid homage to his grandmother.
He talked about her prior to being selected first overall by the Browns in the 2017 NFL Draft.
At that time Garrett was asked who was the most influential person in his life; without hesitation, he said his grandmother.
"She raised me until I was 8, 9, maybe 10. She's the reason I have my morals, my values, and how I could end up with such great friends and why I'm here today."
Juanita Garrett died in 2014 from Alzheimer's Disease.
The Mural
Garrett's mural is inspired by a picture taken when he was a child.
In the picture, a three or four-year-old Garrett is seated beside his grandmother celebrating his birthday.
That picture is now immortalized in a mural located in Playhouse Square in Cleveland.
#Browns star Myles Garrett is honoring his late grandmother Juanita Garrett today with the unveiling of this mural in PlayHouse Square in Cleveland. Lauren Pearce is the artist. I've talked to Myles a few times about his how tremendously influential his "Gran" was in his life. pic.twitter.com/n4oAo1Slty

— Nate Ulrich (@ByNateUlrich) September 28, 2021
Garrett Surprised His Father
Garrett surprised his father, Lawrence, with the mural.
His father did not know about it until shortly before the formal unveiling.
"It was so special. It's probably one of the greatest things he's ever done…For him to do this is just his heart just pouring out because of the bond and the relationship they had. It's special to me. It really is. It actually brought a tear to my eye just seeing it 'cause I had no idea what was happening today."
Garrett's Reaction
Garrett told himself not to cry when the artist Lauren Pearce showed him the finished mural.
"That's a special woman right there. "My family members know it, my dad knows it and just real honored to have her put up there and placed in front of everybody…The way I conduct myself … how I'm able to share who I am, the person I want to be and how I want others to treat me, I think that's all been her influence kind of just passed through me."
#Browns DE @Flash_Garrett talks about the first time he saw the work of art honoring his late grandmother in downtown #Cleveland. @DowntownCLE @playhousesquare @SpectrumNews1OH #VoicesofCLE pic.twitter.com/Mx96Dw9PzN

— Ryan Schmelz (@rschmelztv) September 28, 2021
Kindred Spirits
With both of their parents working, "Gran" looked after the Garrett children in Dallas, Texas.
Myles' sister Brea talked about the bond between Gran and Myles in 2017.
"They were thick as thieves. They did everything together. She was a very quiet-natured woman. She was always in the kitchen. She was reading or hanging out with us…She never said a lot, but you could always feel her energy and her actions. That's how Myles is. He might not say much, but you can feel his energy, his actions, his smile. You feed off the energy of his personality, not just what he says to you."
Though Garrett has been involved in other philanthropic art projects in Cleveland, this is by far the most personal.
It shows not only his love for his grandmother, but also for the city of Cleveland.