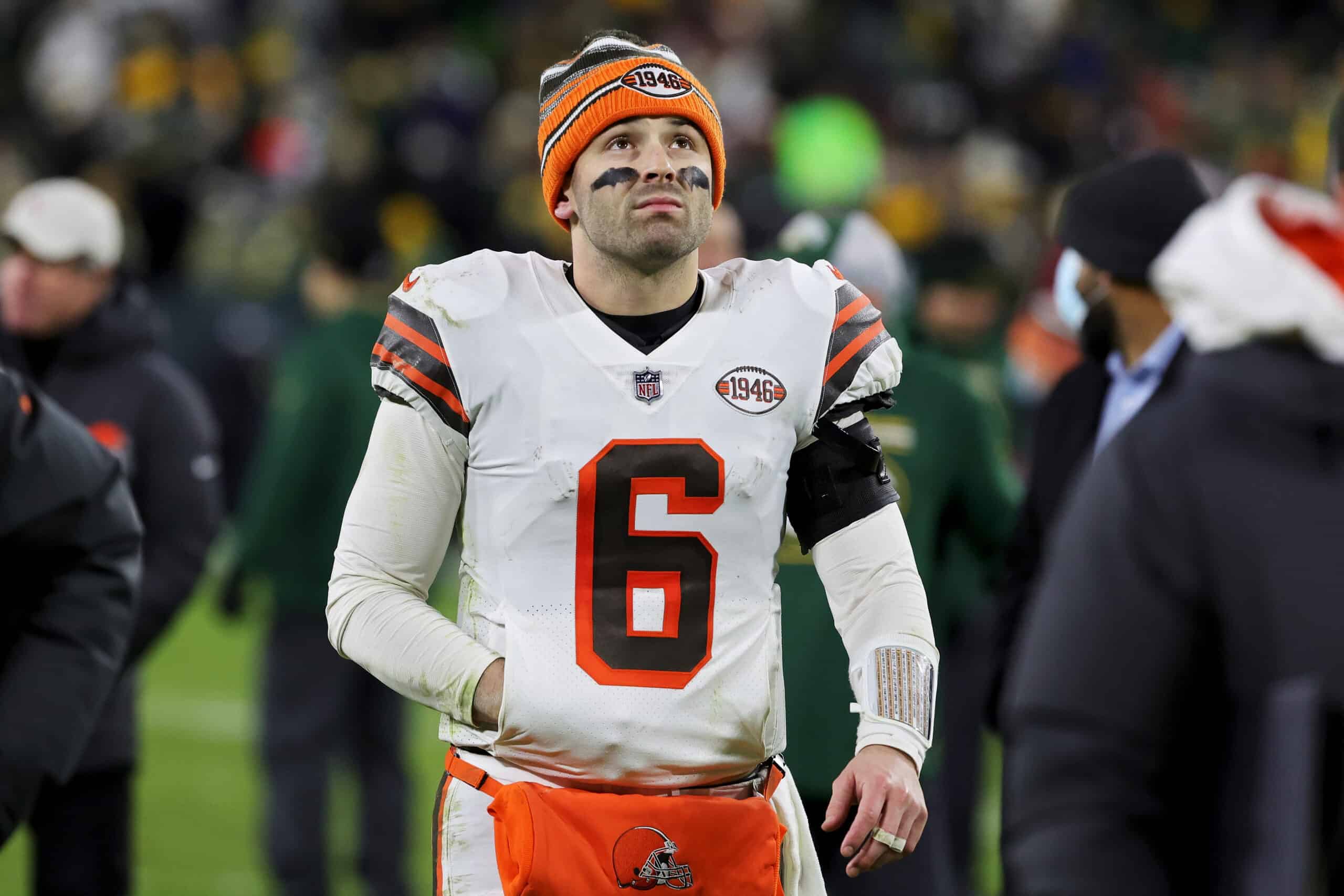 The Cleveland Browns nearly got their Christmas miracle.
They were 8 point underdogs but were within 2 points and driving the ball down the field at the end of the game.
Then, this week's edition of the Browns heartbreaking loss occurred.
Here is how the NFL world reacted to the Browns' loss to the Packers by the score of 24-22.
1. Baker Mayfield's Interceptions
A big storyline of this game was Baker Mayfield's four interceptions.
Those passes were bad decisions that changed the course of the game.
Fans were on the edge of their seats watching one after another.
Me watching Baker throwing INT after INT #Browns pic.twitter.com/Q1fOlqlgTG

— Dr. Nicole (@DrNicole1908) December 25, 2021
Unfortunately, Mayfield has not been good in the late stages of games at all this season.
The stats don't lie.
Baker this year in the last 4 minutes of one-score games: 11/26, 74 yards, 0 TDs, 2 INTs. Passer rating of 17.8.

Stats from @Sportradar pic.twitter.com/NvFvuGWqK7

— Jason Lloyd (@ByJasonLloyd) December 26, 2021
2. Bad Officiating
One of the prevailing themes in a very inconsistent NFL season is bad officiating.
Teams cannot rely on the officials to make the correct call or any call.
They have to figure out ways to win regardless.
Wyatt Teller's offsides call was blatantly wrong, but sadly it is what it is.
That did not stop his mother from getting on Twitter to vent.
She even asked for an apology from the officials.
While she is not wrong, we have seen far too much of family members being too outspoken on social media.
My son deserves an APOLOGY from the refs in tonight's game…called for offsides and clearly didn't move. In fact, it was the GBDef who moved. Frankly if that was the only poor call I might let it go but how many DPI calls did we have especially at the end.

— Cheryl Teller (@teller_cheryl) December 26, 2021
Ya know what's worse than a kicker missing extra points and field goals? Referees missing blatant and obvious holding/PI and illegal contact downfield penalties. It's a sham #Browns

— CleWest (@erjmanlasvegas) December 26, 2021
All I want for Christmas is for the referees to stop missing blatant penalties #browns

— Kelsey (@kelseydyoung) December 25, 2021
Zebras. Ridiculous. What a bad look for the league. #Browns

— Tony Rizzo (@TheRealTRizzo) December 26, 2021
3. Coach Stefanski
In addition to the officials and Mayfield, Coach Stefanski got the rest of the wrath/blame for the loss.
His play calling seemed to irritate many.
That is on #Stefanski and #Baker. Absolutley horrible play calling @Browns Stay with whats working not what isn't. Its that simple. So much potential wasted. So much defensive talent wasted. Stop the analytics and develop your understanding of the game.

— Christopher Blake Carver (@cbcarver5) December 26, 2021
Though some disagreed that Stefanski's play calling was a problem.
I'm continuing to hear criticism about Kevin Stefanski's playcalling on the final drive. It was a freaking 2-minute drill. You have to put the ball in the air at least a few times. And they ran it 3 times. 2 of the 3 runs only got 4 yards.

Stefanski was awesome today. #Browns

— Ed Greenberger (@EdGreenberger) December 26, 2021
Conclusion
Browns Twitter was not as angry as expected.
The Christmas holiday could be part of the reason.
Or perhaps the fans are just mentally exhausted from these close games.
They are now expecting the last minute letdown so the hurt is a little bit less since they saw it twice in the past 6 days.