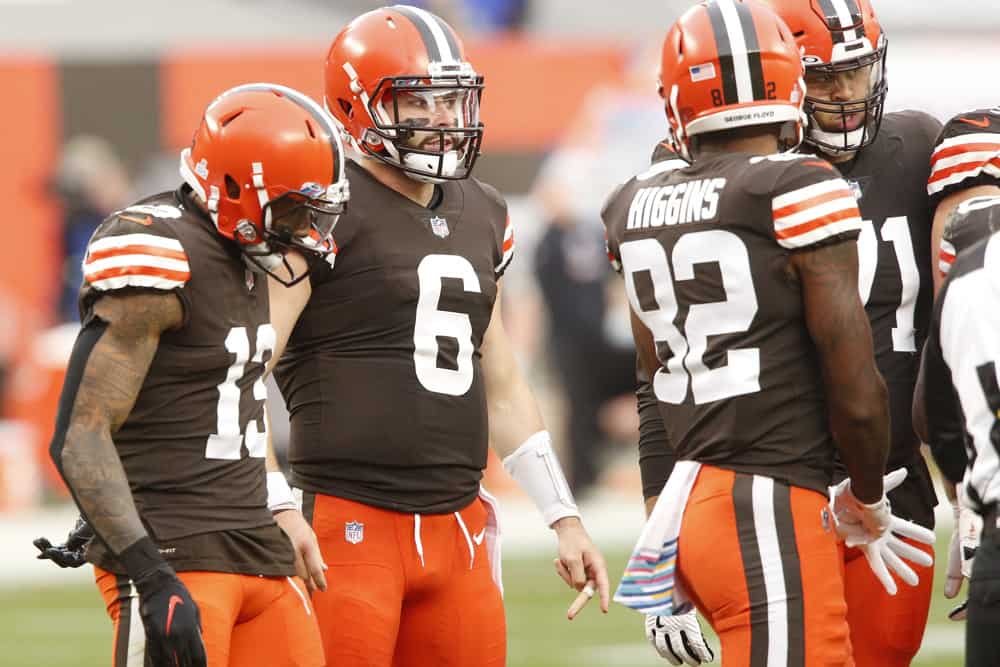 Cleveland is in an unfamiliar position as the NFL trade deadline approaches.
With a 4-2 record, they are a legitimate playoff contender.
While fans are eager to put 1-31 behind them, the Cleveland Browns need some more pieces to put them over the top.
After 6 games, @Browns have a winning record, are undefeated at home and would make the playoffs if the season ended today. Losing stinks, but let's keep it in perspective for a team that was 0-16 three years ago, 1-15 the year before, but now is headed in a positive direction.

— Eric Mansfield (@ericmansfield) October 19, 2020
It is great to still have playoff hope when Clevelanders turn on the heat for the first time this Autumn.
But Andrew Berry and the rest of the front office aren't thinking about the Super Bowl in 2020.
Their plan is to patiently build a perennial winner for Northern Ohio.
Berry's past history shows him to be a willing participant in deadline deals.
But the goal is to improve the team beyond this year without spending much draft capital.
Many teams are already looking ahead and should be willing sellers.
Several of those teams are in the NFC East, but there is one in particular that Berry knows well.
Multiple Player Deal With Philly Helps Everybody 
Philadelphia has been a playoff contender for the past few seasons.
But they are about to run into problems with salary cap issues for 2021.
Ten Eagles carry 2021 salary cap hits of over $10 million, including Carson Wentz at $34 million.
Expect Philly to start working the phones after this week's Thursday night game, especially if they lose to the Giants.
And don't pay attention to Eagles GM Howie Roseman.
The Eagles *should* be sellers ahead of the 2020 trade deadline but it sounds like Howie Roseman is going to be a buyer instead: https://t.co/fpLLT6TOq7

— Brandon Lee Gowton (@BrandonGowton) October 18, 2020
Berry's primary interests are to bolster the Browns' linebacker and defensive backfield positions.
He would do well to land Eagles cornerback Nickell Robey-Coleman and safety Jalen Mills.
Robey-Coleman was expected to be a highly sought-after free-agent last year as a premier inside corner.
Instead, he took a late, one-year, $1 million offer from Philly.
Mills has always been regarded as a non-spectacular, but better-than-average safety.
Both of those players are not only free agents after the season, they are potentially inexpensive free agents.
Berry will have to overpay for them or offer some other method of easing Philadelphia's salary cap issues.
How Can Berry Make the Deal Attractive to Both Teams? 
Philadelphia has to shed some of its high 2021 salaries.
If Berry wants Philadelphia to trade expiring contracts, he probably has to take on the salary of another player.
The best bet for Cleveland is edge rusher, Brandon Graham.
Graham leads the Eagles with 5 sacks, but he is in the middle season of a 3-year $40 million contract.
Cleveland would be on the hook for a $13 million salary and a $17 million cap hit, even if Philadelphia pays his 2021 roster bonus.
Brandon Graham is 4th in the NFL with 5.0 sacks. That's the most by any Eagle through five games since that fraud Jason Babin had 7.0 in 2011.

BG's career high is 9 1/2 in 2017.

He's playing really well.

— Reuben Frank (@RoobNBCS) October 19, 2020
At 32 years old and with a high cap hit, Graham does not fit the Browns target parameters.
But Berry might be willing to pay his 2021 salary with inexpensive youngsters Porter Gustin and Joe Jackson backing him up.
Berry would be more prone to take on that contract if Philadelphia took Olivier Vernon and/or Andrew Sendejo in return.
And of course, Paul DePodesta might find a trick to alleviate some of Graham's cap hit.
Even still, losing the free agents in this deal after 2020 would be disastrous for Berry.
Philadelphia would have to let Berry feel out both about extensions.
So Here Is The Deal: 
Philadelphia signs Robey-Coleman and Mills to reasonable, one-year extensions with a team option for 2022 with the understanding they are about to be traded to Cleveland.
The Eagles send the pair of defensive backs, edge rusher Brandon Graham, and a 6th-round 2021 draft pick to Cleveland.
Cleveland sends Olivier Vernon, Andrew Sendejo, a 2021 4th-round draft pick, and a 2022 6th-round draft pick to Philadelphia.
here's what the 2020-2021 NFL playoffs would look like based off 538's projections before week 6 pic.twitter.com/Vk5DIBev5J

— John Sigler (@john_siglerr) October 16, 2020
The salary dump offsets any physical status concerns about Vernon.
The 2022 draft pick can be conditionally upgraded or downgraded based on the performance and re-signing of Robey-Coleman and Mills.
Cleveland's defense gets better instantly and Philadelphia opens a chunk of future salary-cap space.
Of course, there are other possibilities.
Cleveland can easily fix the Eagles' salary cap issues with one more big deal.
But what are the odds Philly agrees to swap Carson Wentz for Baker Mayfield?