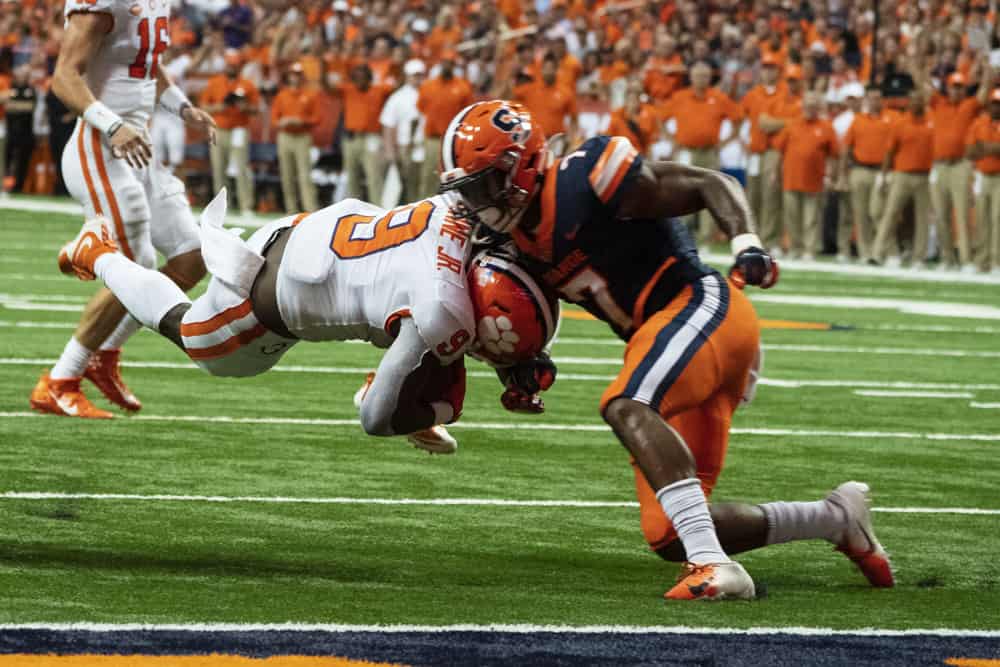 The 2021 NFL Draft is quickly approaching, which means you'll find mock drafts all over the place.
It's always an entertaining time attempting to predict what your favorite NFL team is going to do on draft day.
Recently, Pro Football Focus made a mock draft, which includes the Cleveland Browns taking Syracuse safety Andre Cisco in the second round.
PFF:
"Cisco was one of the biggest boom-or-bust players we have seen in our seven years of grading college football, and he's going to be in that same category as a prospect. He was the definition of a playmaker at Syracuse, notching 26 combined pass breakups plus interceptions in his three years. That's the second-most at the position over that span, and Cisco only played two games in 2020 due to a torn ACL. At the same time, he gave up 48 catches for 692 yards and eight touchdowns.

He's going to be a coaching project. Cisco has the potential to be one of the best safeties in the class if he can fix the way he sees the game in real time."
An interesting move by a team that took LSU safety Grant Delpit in the second round the year prior.
It's not exactly a terrible fit, but Cisco might be the biggest boom-or-bust player in this draft class.
Getting To Know Cisco
It didn't take long for Cisco to make an impact at the college level.
He recorded 60 tackles, seven interceptions, and six pass defended during his first year at Syracuse.
Cisco ended up winning ACC Defensive Rookie of the Year for his performance during the 2018 campaign.
He showed no signs of slowing down and put together another outstanding season during his sophomore year.
In 2019, Cisco finished with 65 tackles five interceptions, and five passes defended in nine games.
No one is questioning his ability after leading the ACC for two straight years in interceptions.
Absolutely love Syracuse's Andre Cisco. Ballhawking safety with 13 picks in 24 career games. Has a forced incompletion rate of 34.6 per cent! pic.twitter.com/kaic4u9Qv1

— Jack Brentnall (@Jack_Brentnall) February 23, 2021
Cisco is an absolute ball hawk and a gifted playmaker with fantastic natural instincts.
Sadly, he was only able to play in two games during his junior campaign due to a torn ACL.
That is obviously a big blow to Cisco's value, but his football knowledge and IQ are off the charts.
There is a chance Cisco loses a step or two physically, but that shouldn't hurt his draft stock by much.
Honestly, there are not a whole lot of things Cisco does on the football field that should be concerning to NFL teams.
Andre Cisco: #5 Safety in the NFL Draft

(📹 @theACCDN)

— PFF Draft (@PFF_College) February 19, 2021
The biggest problem in his game is that he often times gets fooled easily on fakes.
Quarterbacks at the professional level are going to look to exploit this flaw and it could be costly if Cisco doesn't clean it up.
Another issue for Cisco is his inability to make strong tackles, which often leads to big plays for the opposing teams.
Sometimes, Cisco tackles too low and the opposing player is able to easily shake it off for a big gain.
These are issues that can be fixed with the right coaching adjustments, so Cisco still remains an elite prospect heading into the draft.
Should The Browns Take Cisco?
Honestly, there aren't any obvious No. 1 safeties in this draft class.
All of them are a bit of a project, but Cisco might have the most upside out of everyone in his position.
He put together incredible numbers through 24 games at the college level, so it's tough to ignore his potential.
Writing a report on #Syracuse safety Andre Cisco — 6-foot, 209 (e). Junior.

High-traits prospect. Play-making ability + range in the post/deep half (13 career INTs). Urgency to the ball vs. in-breakers/crossers. @NFLMatchup pic.twitter.com/vURy0kKm5B

— Matt Bowen (@MattBowen41) February 16, 2021
As mentioned before, Cisco is a boom-or-bust type of prospect, which might be a tough sell for Cleveland.
This roster is ready to compete and needs production immediately.
Cisco has shown an ability to be a big-time playmaker, but is also coming off a significant injury.
It seems like a risky move to put two young safeties in the secondary together who are coming off major season-ending surgery.
The Browns might be better off bringing in a veteran to play alongside Delpit in 2021.
Cisco put together incredible numbers, but might not be exactly what the Browns need right now.