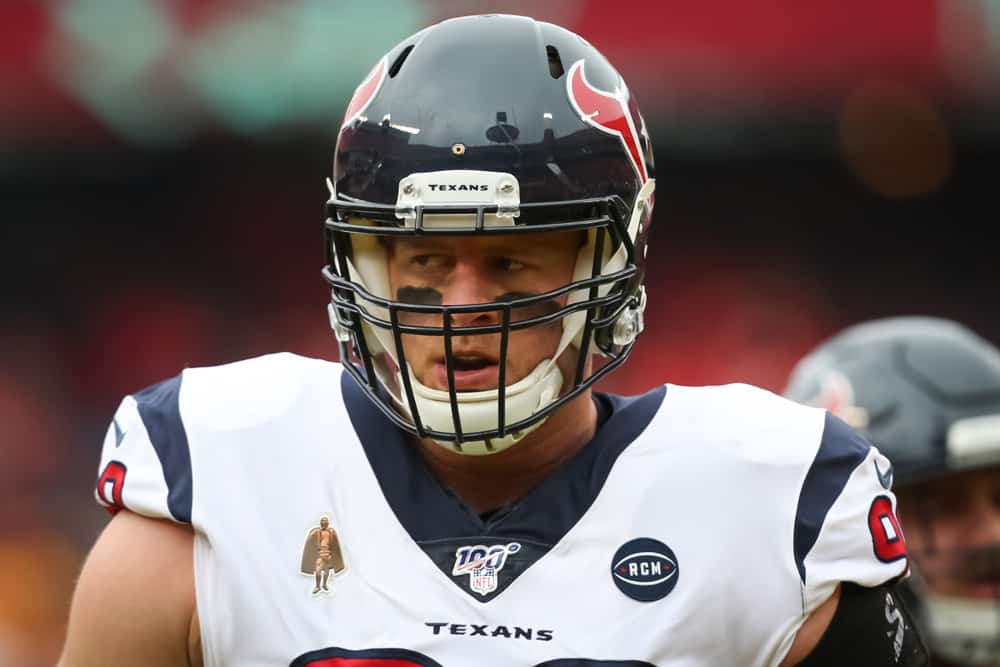 Former Houston Texans defensive end J.J. Watt is reportedly fielding lucrative offers.
According to ESPN's Dianna Russini, Watt has received several offers from teams in the past two weeks at $15-16 million per year.
JJ Watt has received several offers from teams. The best offer he has received right now is between 15-16 million per year, per sources.

— Dianna Russini (@diannaESPN) February 25, 2021
At this point, we do not know if the Cleveland Browns have extended one of these offers.
The Browns do have the money, but we know he is being sought after by many.
News on this story evolves daily.
Yesterday's Reports
There was a misinterpretation of ESPN analyst John Clayton's initial report about the pool of teams in the Watt race.
He initially said that Watt would choose between the Green Bay Packers, Tennessee Titans, Buffalo Bills, and possibly the Las Vegas Raiders.
Many read this to indicate that the Cleveland Browns were out of the running.
Clayton himself took to Twitter to clarify.
People are misinterpreting what I said on radio today. I said Tennessee, Green Bay and Buffalo were the leading teams for J.J. Watt but not the final three. Watt hasn't narrowed his list. The Cleveland Browns are still in. So are the Raiders. He has a dozen teams after him.

— John Clayton (@JohnClaytonNFL) February 24, 2021
Most intriguing about Clayton's clarification is that there are a dozen teams after him including potentially the Cleveland Browns.
Watt's Contract, Priorities, And Timeline
The Texans released J.J. Watt at his request.
He was in the final year of his contract and was expected to make $17.5 million.
Watt's priority is to win a Super Bowl, sooner rather than later.
He does not want to go to a team that is rebuilding.
It is also reported that one of his factors is the team's quarterback.
That is both interesting and ironic given the fact that he played with one of the best in Deshaun Watson, but the Texans were not built to win.
J.J. Watt does not need to rush to a decision.
He can sign with any team before March 17 since he was released by the Texans.
Players who are free agents cannot sign with new teams until March 17.
In essence, Watt holds all the cards.
He seems to be enjoying his current position.
When asked on Twitter, if he was signing somewhere, he answered.
"I scroll through DoorDash for like an hour before I pick a restaurant, man. You're gonna have to give me a second to choose a new team and city."
I scroll through door dash for like an hour before I pick a restaurant man…

You're gonna have to give me a second to choose a new team and city. https://t.co/eQXD3eNVFJ

— JJ Watt (@JJWatt) February 22, 2021
Should The Browns Be Pursuing Watt?
That depends who you ask.
He will be 32 years old and has suffered significant injuries.
Does he have enough in the tank to learn a new system, go through preseason, play 17 regular season games, and hopefully play in multiple playoff games?
Judging by the daily rumor mill surrounding Watt, NFL teams certainly believe he does.
Money is probably secondary to Watt at this point in his career, but if he is being offered $15-$16 million, that is not far off from what he would have earned playing with the Texans.
It is a win-win for Watt, and a big gamble for the dozen teams pursuing him.
A Parting Thought
Given the offer information is coming from unidentified sources, and no one is really speaking publicly about their pursuit of J.J. Watt, maybe this information is coming from members of his camp.
Could they be eliciting a bidding war among interested teams?
No one really knows for sure, but we will eventually find out.