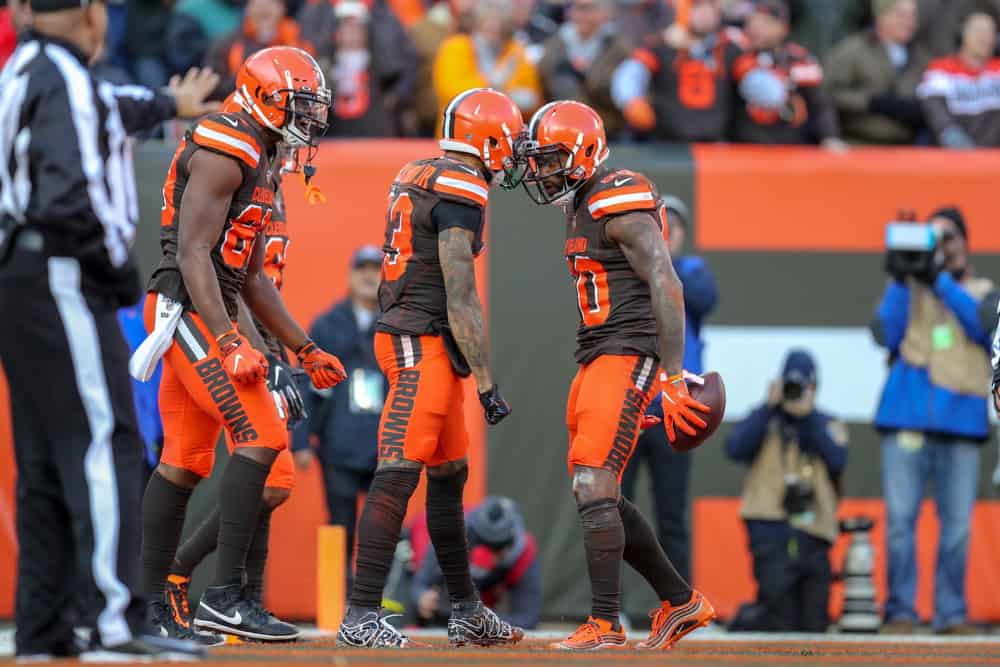 We feel like we have been waiting forever for football but we finally made it.
The NFL returns on Sunday.
More importantly, the Browns open up their season in Baltimore.
There are players to monitor and Pro Football Focus has their eyes on these players on Week 1.

1. Ravens Blitz vs. Browns Offensive Line
"There is a strong case to be made that no team improved its offensive line as much as the Browns did this offseason, adding Jack Conklin and Jedrick Wills to replace Greg Robinson and Chris Hubbard at tackle. Both are players who profile better as run blockers than they do as pass blockers, but it's hard to imagine Cleveland gets worse in pass protection at those spots, even with Wills swapping sides from right tackle to left tackle. They'll face a tough Week 1 test against Baltimore, which blitzed at by far the highest rate in the NFL last season (55.5%) while trusting its talented secondary to hold up on the back end."
What We Say: The Browns have a lot to prove, especially after taking steps to bolster the offensive line. Conklin cost a three-year contract, while Wills was a first-round draft pick. It's hard to think the Browns got worse. However, the Ravens defense was that good last year. The team was fourth in yards allowed and third in points allowed per game. It's going to be a real challenge to hold the blitz back.
"Those two are really amazing."

Coach Harbaugh on the immediate culture impacts both @markingram21 and @CalaisCampbell have had: pic.twitter.com/Y23PWafpF0

— Baltimore Ravens (@Ravens) September 1, 2020
2. Baker Mayfield
"Mayfield has a lot to prove in 2020. Expectations were high for the former Heisman winner after performing like one of the top rookie quarterbacks in the PFF era in 2018 (83.2 overall grade), and that only made the results of this past season that much more disappointing for Browns fans. With two new tackles and a new tight end to go along with a coaching staff that just brought the best out of Kirk Cousins in Minnesota, the excuses are dwindling. Mayfield will need to get back closer to what he showed at Oklahoma and as a rookie while cleaning up some of the accuracy and pocket presence issues that plagued his second season."
What We Say: For similar reasons to the Ravens defense and the offensive line, Mayfield is going to have a difficult game one. The Ravens gave up just 3,315 passing yards in 2019, which was sixth-best in the league. This is a defensive unit that is strong across the board. With Mayfield's atrocious season last year, all eyes are going to be on him right off the gate. It's really unfortunate that everyone's first impression of Mayfield's growth is a game against a Super Bowl contender. However, the Browns are on the hype that they will contend for the playoffs. If Mayfield really wants to prove that motto, then it's time to prove he's elite against an elite team.

3. Marquise Brown
"There was talk about Baltimore adding another wide receiver this offseason, but there weren't any prominent free-agent signings or draft selections that give any indication Brown isn't the clear-cut No. 1 option at the position heading into 2020. Now healthy after battling some injuries as a rookie, there's no reason to believe Brown can't thrive in that role. Looking at all wide receivers with 50 or more targets in 2019, Brown's 134.4 passer rating when targeted led the way — he was a big play waiting to happen in the league's most efficient offense. He'll likely see a lot of Denzel Ward in this matchup, which should be a good battle."
What We Say: The last sentence says it all because if Denzel Ward takes the next step he will be knocking on the door on All-Pro status. His coverage in 2019 was nasty. Brown has a lot of upsides, so for Ravens fans this is a player they should watch. However, for Cleveland watchers, there will be more eyes on Ward and his progression. Can Ward become the next generation's Stephon Gilmore, Jalen Ramsey, or Tre'Davious White? It all starts here on game one.
Denzel Ward in coverage in 2019:

🔸 69 targets
🔸 45% catch rate (2nd best among all CBs)
🔸 58.0 passer rating allowed (10th) pic.twitter.com/3XNqIG6gR5

— PFF (@PFF) September 6, 2020