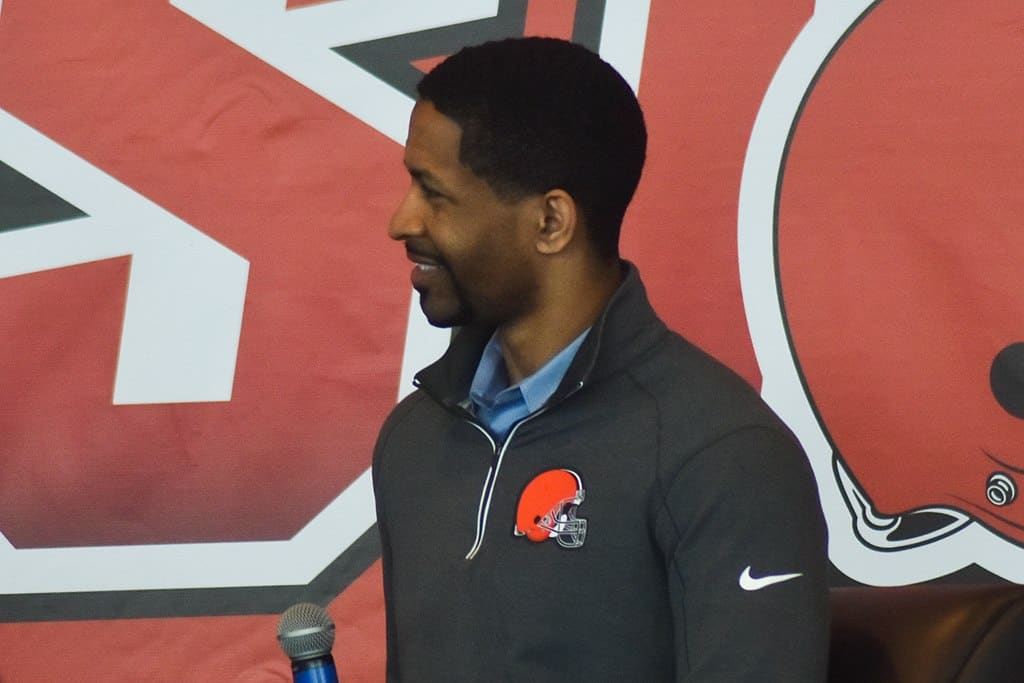 What a difference a year makes, especially if you are the Cleveland Browns.
Hopes were high entering the 2020 season, following a solid free agency and draft performance.
But those hopes were tainted by memories of the previous Spring, and the shattered expectations that followed.
There is no such taint on the enthusiasm Andrew Berry and Kevin Stefanski brought to Cleveland for 2021.
The Cleveland #Browns are the only team with an A+ NFL Draft grade in both 2020 & 2021 pic.twitter.com/RtG3G7Wg1n

— PFF Draft (@PFF_College) May 4, 2021
Berry addressed all the Browns' biggest concerns and reinforced all the soft spots exposed last season.
NFL analysts across the country call Cleveland one of the most improved teams and a real division title contender.
Andrew Berry gets most of the credit for putting together a legitimate contender in Northern Ohio.
Of course, it is way too early to know how long Berry and the Browns can keep this rolling.
And we don't want to jinx anything by predicting greatness for any particular player.
But here are Andrew Berry's 3 best moves as the Browns GM… so far.
1. Signing Jack Conklin (With Apologies to Austin Hooper) 
The Cleveland Browns were still the old Cleveland Browns before the 2020 season.
NFL players had the same reservations as Browns fans after the disappointing Freddie Kitchens season.
None of the top free agents were willing to take less money to play in the sixth regime of the Haslams era.
So Andrew Berry set to work proving the Browns were serious about turning things around quickly.
As other teams are trying to move expensive O-line contracts, the Browns' signing of Jack Conklin becomes even more impressive. Top available lineman on last year's market, who garnered a first-team All-Pro nod, is tied for the 13th-highest salary-cap charge among OTs in 2021.

— Brent Sobleski (@brentsobleski) March 6, 2021
It wasn't enough to sign Austin Hooper to a big contract right out of the gate.
In fact, there were questions if he overpaid for the position, even with a tight end-loving coach on board.
That's why the Jack Conklin signing was even better.
Left tackle might have been a bigger need, but right tackle is where the free-agent talent was.
Jack Conklin appreciation tweet. Dude gets no where near the credit he deserves pic.twitter.com/p8PSZOQA8x

— CLE SPORTS WORLD (@Browniestalk) February 26, 2021
And Berry did more than make other free agents and teams pay attention by grabbing the best offensive lineman.
Conklin's contract was among the first to use voidable years to minimize its salary cap impact.
It is also timed to end just as the potential Mayfield and Denzel Ward contract extensions kick in.
And it becomes team-friendly (meaning they'll save cap space) if Conklin is released after the 2021 season.
2. Quickly Extending Myles Garrett 
Berry and the rest of the front office team are recognized as an analytics-minded unit.
And there were lingering suspicions that meant saving money was more important than signing the best players.
Memories of the Sashi Brown era roster purge did nothing to diminish concerns.
Signing Garrett to an extension was a no-brainer for any general manager.
The #Browns want to sign Myles Garrett to contract extension and the deal could be huge. pic.twitter.com/3Juaf1P5kx

— Everything Cleveland (@everythingcle_) May 5, 2020
But Cleveland had their star edge rusher under contract through 2021.
They could have hedged their bets and let him play out that contract and used the franchise tag for additional years.
Analytically speaking, that was the best "Moneyball" maneuver.
But Berry made his best defender the highest-paid edge rusher in the league instead.
Myles Garrett needs just 20 sacks to pass Clay Matthews as the Browns all time leader.

Through 4 weeks Garrett was on pace for 20 sacks in a single season. pic.twitter.com/EtKR21JPW6

— Nick Karns (@karnsies817) April 7, 2021
In doing so, he showed the rest of the NFL that Cleveland's analytics approach doesn't mean not paying talent.
Fast forward to the 2021 free agency period, when players sought deals and even took lower offers from Cleveland.
Along with the Browns' up-and-coming status, defensive players cited playing alongside Garrett as a reason to sign with the team.
And for those worried about long-term deals, Garrett's contract turns team-friendly after 2023.
3. Everything About the JOK Draft Day Trade 
Andrew Berry passed on Jeremiah Owusu-Koramoah in the first round of the 2021 NFL draft.
At the time, it seemed unlikely JOK would drop to 59, but it also seemed unlikely he would fall to 52.
But the early favorite for "Steal of the Draft" did fall, and Berry made his move to make him a Brown.
Cleveland moved up from their 59th spot in a trade with the Panthers at 52.
No JOK: Browns trade up to select top remaining prospect Jeremiah Owusu-Koramoah in second roundhttps://t.co/tmmZ8FqcZl pic.twitter.com/B9jDDq9Sn2

— Around The NFL (@AroundTheNFL) May 1, 2021
Giving up the 89th (3rd round) pick in the swap seemed like a fair price to land the highly-ranked defender.
But Berry convinced Carolina to throw in the 113th pick in the deal, effectively swapping his 3rd for an earlier 4th.
Berry got his man without losing a pick and then used that fourth-rounder in another excellent deal.
When Detroit wanted to move up, Berry gave up the 113 and a 7th-rounder for Detroit's 153 and a 2022 fourth.
Jeremiah Owusu-Koramoah plays like he's shot out of a cannon 💥💪

Who will land PFF's LB2? 📈 pic.twitter.com/7DYKmgSfDk

— PFF (@PFF) April 28, 2021
Cleveland landed another LB/safety with the 153rd pick, drafting Tony Fields II.
But with the 2022 draft expected to be stacked, the early 4th rounder from Detroit could be more valuable.
To recap, Berry drafted one of his highest-rated players in the second round by aggressively trading up.
He did not give up a pick in the process, adding another linebacker and an extra 2022 draft pick along the way.
Time will tell if his players work out, but for now, Berry has to be an Executive of the Year candidate.