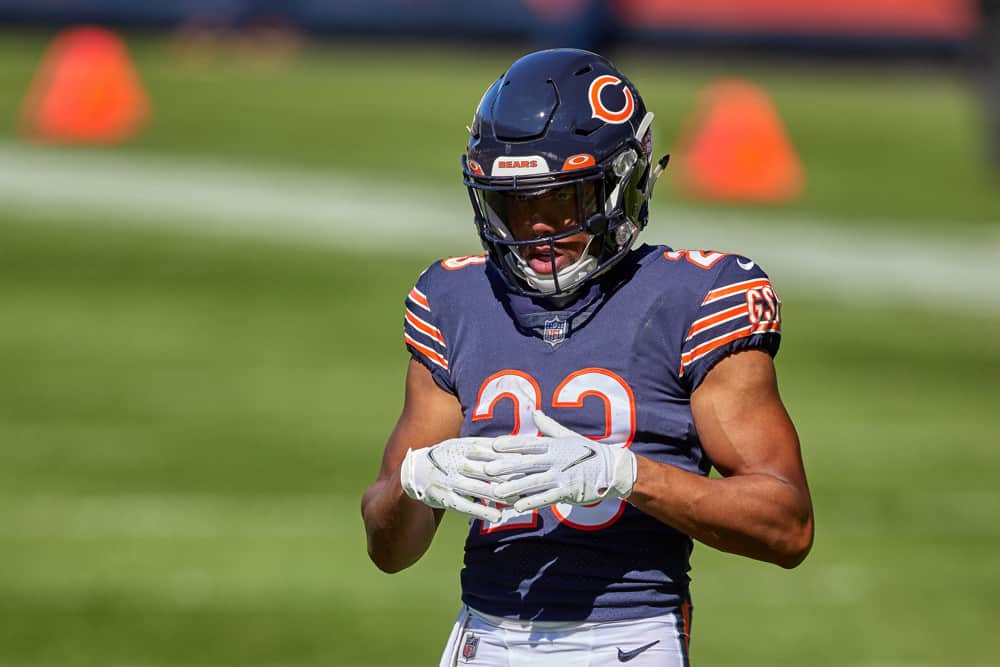 A crazy NFL free agency period continues to be, well, crazy.
Some of the top names around the league have found new homes.
You can soon add another name to that list in the form of former Bears cornerback Kyle Fuller.
The #Bears are releasing veteran CB Kyle Fuller, sources say, a cap casualty. In a tough 2021 offseason, this is Chicago's only cut due to cap space. A former All-Pro corner now hits the market.

— Ian Rapoport (@RapSheet) March 18, 2021
As one of the best cornerbacks now available on the market, teams will be taking a look at Fuller in the coming days.
Should the Cleveland Browns be one of those teams in on Fuller?

Why Ditch Fuller?
It's an interesting decision from the Bears to move on from Fuller.
They're in a rebuilding phase, but they were still under the salary cap even before cutting Fuller.
If the #Bears cut or trade Kyle Fuller, they will save $11 million in cap space for 2021.

You know what would've made it easier for them to keep Fuller? Not signing Andy Dalton for $10 million!

— Jacob Infante (@jacobinfante24) March 17, 2021
The tweet above raises a good point about Dalton.
Things didn't work out with Mitchell Trubisky and it was time for a change. $10 million is an expensive short-term change, however.
Regardless, shedding Fuller does help the Bears out financially. It certainly hurts them defensively though.

Fuller's Past
While the Bears have had their struggles defensively, Fuller was someone who shined in their secondary.
Broncos are expected to make a "strong push" for CB Kyle Fuller, per @MikeGarafolo

Fuller: PFF's 16th highest-graded (84.5) CB when Vic Fangio was his defensive coordinator from 2015-2018 pic.twitter.com/cnXj0DdMS1

— PFF (@PFF) March 19, 2021
However, it may be fair to say his game has regressed.
Chuck Pagano didn't do a great job in Chicago as their defensive coordinators the past two seasons, and that might be putting it generously.
While Pro Football Focus grades should not be the only deciding factor when evaluating someone, their grades reflect a bad trend in Fuller's play.
Kyle Fuller's @PFF grades over the last four years

2017 – 77.0
2018 – 81.4
2019 – 62.5
2020 – 64.0 pic.twitter.com/4ju4Yg0zDI

— PFF CHI Bears (@PFF_Bears) March 18, 2021
Fuller's best season came in 2018. He led the NFL in pass deflections (21) and interceptions (7) and was one of the most forceful defensive players in the league that season.
Another big plus about Fuller is that he has always been available for the Bears defense.
Literally. He did not miss a single game in his entire six-year Bears career.
In today's NFL, with injuries as common as they seem to be, that's worth quite a bit. Fuller also earned Pro Bowl honors in 2018 and 2019.

Should the Browns be in on Fuller?
Cleveland is in a great position to sign Fuller.
Financially, they are more than capable of making a deal work.
And after some disappointing seasons in Chicago, Fuller may be eager to play for a contending team.
Fuller will likely be looking at an annual salary north of $10 million.
With about $15 million in cap space left, this could be one last free agency splash from Andrew Berry.
Placing Fuller opposite of Denzel Ward would instantly give the Browns one of the toughest cornerback duos in the league.
Greedy Williams is expected to be back next season, but Fuller is an obvious upgrade.
Bears defense with another takeaway setting the offense up with 1st & goal. KYLE Fuller with the great interception and return off Phillip Rivers 🔥🔥 pic.twitter.com/wYAmZWgUPi

— Alex Leak (@freakaleak1209) August 4, 2020
Signing Fuller long-term could potentially present financial issues in the coming years as other guys will need signed or extended.
Still, the chips would be all in on the table for this upcoming season.
If doing so equates to bringing a Lombardi Trophy to northeast Ohio for the first time, fans will live with some frustrating departures down the road.
Berry has been aggressive so far in free agency.
He just may have to crank things up a notch and land Fuller.