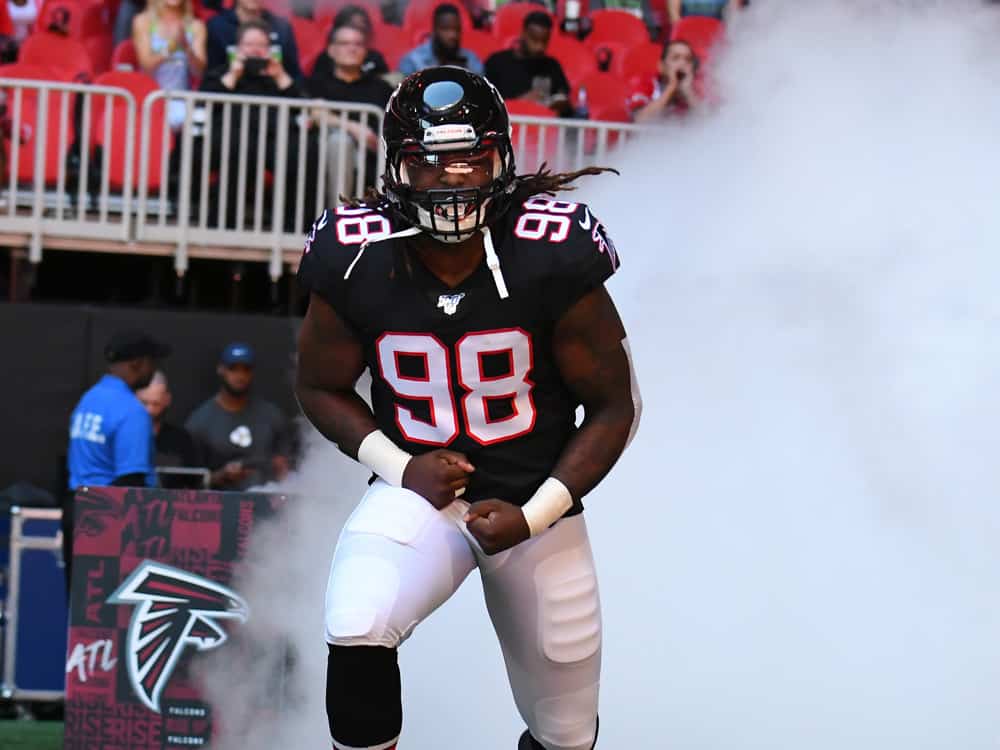 It doesn't take a rocket scientist to see that the Cleveland Browns need to upgrade their defense.
Surprisingly, the front office did not make a trade at the deadline.
Although, just because Cleveland didn't make a trade doesn't mean the team is done adding talent.
On Monday, the Atlanta Falcons cut defensive end Takkarist McKinley.
Falcons waive former first-round DE Takkarist McKinleyhttps://t.co/wrIDOF0dfV pic.twitter.com/1CN83ba1h4

— Around The NFL (@AroundTheNFL) November 9, 2020
The former first-round pick was waived by the team after calling them out for failing to trade him at the deadline.
The 25-year-old is now a free agent and eligible to sign with any team he wants to.
McKinley's Misfortune
It's not surprising that the Falcons decided to move on from McKinley.
He was given high expectations after being taken as the No. 26th overall pick back in 2017.
Sadly, McKinley never played up to the Falcons standards during his four seasons in Atlanta.
It didn't help that McKinley went to social media to talk about how the Falcons declined offers for him at the deadline.
These @AtlantaFalcons turned down a 2nd round draft pick when I requested to get traded last year.

The same @AtlantaFalcons turned down a 5th and 6th round draft pick from multiple teams when I requested to get traded this year. I only have 17.5 career sacks.

🤡🤡🤡

— Takkarist McKinley (@Takk) November 4, 2020
His below-average performance and poor attitude got him kicked off the team.
Despite that, McKinley does have potential, assuming he can get his act together.
A change of scenery could certainly do him some good at this point in his career.
McKinley To Cleveland?
Cleveland could use more depth and McKinley might be the best option available.
Through four seasons, McKinley has 79 tackles, two fumbles forced, and 17.5 sacks with Atlanta.
Decent numbers, but his performance dropped off significantly in 2020.
This season, McKinley has eight tackles, one sack, and one pass defended through four games.
He was clearly frustrated in Atlanta, so maybe a new organization could get a better performance out of him.
The Browns could certainly use the help down the stretch of the season.
Honestly, McKinley might not be a huge upgrade, but it's better than nothing.
It's worth the risk, assuming McKinley is willing to take a cheap one-year prove it deal.