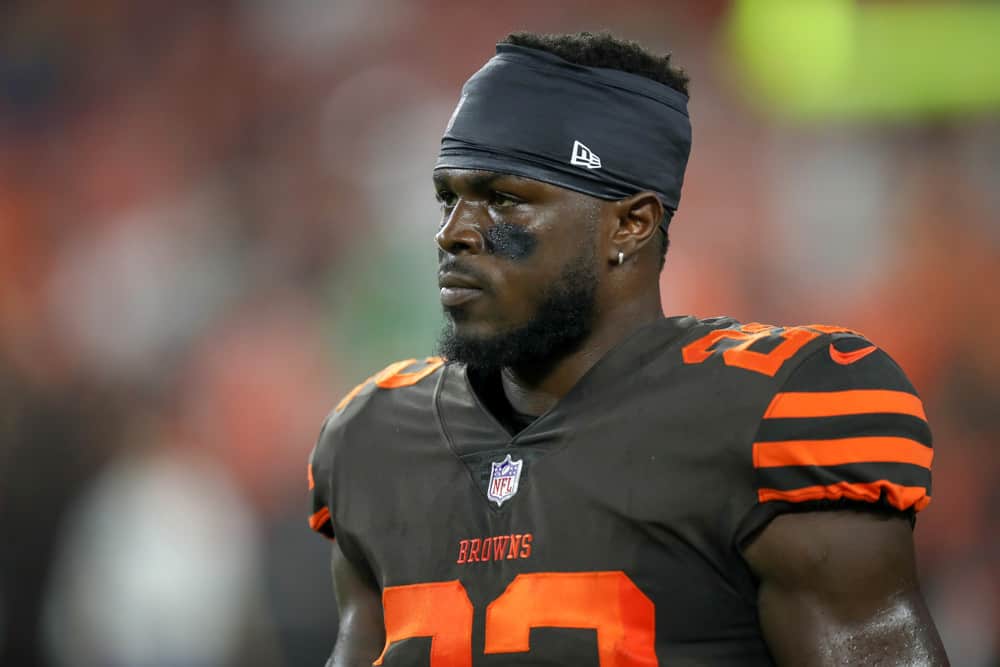 With the 25th overall pick of the 2017 NFL Draft, the Cleveland Browns selected University of Michigan linebacker Jabrill Peppers.
Peppers lasted only two years with Cleveland before he was traded to the Giants in March of 2019.
Since then, the fate of both franchises has changed.
This is a look at how Peppers has fared in his season and a half with the Giants and how both sides have fared after the trade.
I really liked Jabrill Peppers at @UMichFootball but he played so many different positions I think it cost him some development with the #Browns. I still think he has a chance to be a really good player and he's still improving. Explosive. #MondayNightFootball @2020NYGIANTS #NFL pic.twitter.com/2lXA8HKlwe

— NOTC JohnnyG🎙🎧 (@JohnnyGNOTC) November 3, 2020
Highly Regarded out of Michigan
As a football athlete with the Wolverines, Peppers entered the 2017 Draft as one of the most highly respected defenders in college football.
In three years with Michigan, Peppers racked up an impressive list of accolades.
Amongst the hardware he collected: Two-time First-team All-Big Ten, Big Ten Freshman of the Year (2015), Rodgers-Dwight Return Specialist of the Year (2016), Big Ten Linebacker of the Year (2016), Big Ten Defensive Player of the Year (2016), Paul Hornung Award (2016), Lott Trophy (2016), and Heisman Trophy finalist in 2016.
My all time U of M favs and if yours different then I'd have to question you! @OfficialBraylon @DesmondHoward @CharlesWoodson @JabrillPeppers pic.twitter.com/GgRUHoHUUW

— Daymond Hamler sr (@DamondHamler) October 30, 2020
In his collegiate career at Michigan, Peppers was both a defensive and special teams demon.
As a linebacker, he was responsible for 125 total tackles, 18.5 tackles for a loss, 4 sacks, 11 passes defended, an interception, and a forced fumble.
As a punt returner, Peppers accounted for 510 return yards, a 13.1 punt return average, and one score.
And, as a kick returner, he had 483 career return yards for a 25.42 yard average per return.
After attaining such lofty heights, Peppers decided to forego his final two seasons of collegiate eligibility and enter the draft.
Career with the Browns
Shortly after being drafted by Cleveland, Peppers was moved to Free Safety.
Hue Jackson, then the Browns coach, installed Peppers into the line-up right away.
Peppers didn't disappoint during his rookie year.
He started 13 games and put together a season that included 58 total tackles, one tackle for loss, three passes broken up, one interception, and one fumble recovery.
He also saw time on special teams with 30 punt returns for 180 yards and 14 kick returns for 318 yards.
Player of the Game – Jabrill Peppers
2int 1tfl 1defl 4tak #Browns pic.twitter.com/R5ahgnMaNL

— Baltimore Ravens (@Botds_Ravens21) January 7, 2020
In 2018, Peppers switched positions again, this time to Strong Safety.
From his new position, Peppers started all 16 games and improved his tackle total to 79.
He also had five tackles for loss, one pick, five passes defended, and three fumble recoveries.
During a Week 15 game against Denver, Peppers had a monster game, finishing the day with six tackles, an interception, and a game-sealing sack on fourth down.
For the season, Peppers continued to contribute on special teams, netting 15 punt returns for 219 yards and 408 kick return yards on 19 returns.
Trade to the Giants
After his first two years in the league, Peppers appeared to be a star in the making.
That's why it was shocking for Browns fans to learn that he had been traded on March 13, 2019.
In an attempt to bring life to their offense, Cleveland traded Peppers and guard Kevin Zeitler to New York for superstar receiver Odell Beckham Jr. and Olivier Vernon.
WOW!

One of the most stunning trades in recent NFL history, as the Giants fleece the Browns and acquire Jabrill Peppers. Rarely do you see a star player like this change teams.

*Note: the Giants will also receive a couple of draft picks, and will send a WR to the Browns. pic.twitter.com/xi7eV8OQ5v

— Cover Zero Podcast (@coverzeropod) March 13, 2019
Peppers began his time with the Giants in fine fashion.
During Week 4 of the 2019 season, he picked off Washington quarterback Dwayne Haskins and ran 32 yards for a pick-six.
That play led to a 24-3 New York win.  A month later, New York played the Cowboys on Monday Night Football.
Peppers was more than ready for prime time as he made a team-high 12 tackles and forced a fumble on Dallas receiver Randall Cobb.
During a Week 11 game against Chicago, Peppers suffered a transverse process fracture of his spinal column.
That injury led to his placement on season-ending injured reserve.
For the year, Peppers started 11 games and totaled 76 tackles, five tackles for loss, three forced fumbles, one interception and a touchdown from the interception.
2020
After finishing 2019 with a 4-12 record, the Giants hoped to right the ship in 2020.
That has not happened.
New York has compiled a paltry 1-7 record at the halfway point of the season.
Peppers remains a valued member of the team and has become a leader.
Your 2020 #Giants Team Captains

Daniel Jones
Saquon Barkley
Jabrill Peppers
Nate Ebner
Dalvin Tomlinson
Blake Martinez pic.twitter.com/KYDkFoBAF1

— Joe McManus (@McManusDesign) September 8, 2020
After the Giants picked up his fifth-year option on April 29 of this year, Peppers has contributed despite the poor team record.
He has started nearly every game and racked up three passes defended, 37 total tackles and two tackles for loss including a sack on Philadelphia's Carson Wentz in Week 7.
The Giants have limited Peppers' role on special teams since his arrival.
In just over a season and a half, he has only seen 11 returns total.
So, Who Won the Trade?
After any blockbuster trade, fans of both teams become eager to debate who benefitted the most.
On the surface, it is easy to point out the Browns and Giants records of the past season plus and say the Browns hold the edge in the trade.
But in terms of value received, that would be oversimplifying things.
Jabrill Peppers comes up big for Browns in win over Broncos https://t.co/RaMCKxCWAb pic.twitter.com/3bZgriXM9O

— CantonRep.com (@CantonRepdotcom) December 16, 2018
First, Olivier Vernon put up low numbers in 2019.
In 10 games last year, Vernon had 26 total tackles including 11 quarterback hits.
He picked up a forced fumble and 3.5 sacks.
So far this year, Vernon has 15 total tackles, 2 sacks, one pass defended, and one forced fumble.
According to the NFL, the Browns currently rank in the bottom half of the league in defense.
Particularly, the team has given up 2,117 total passing yards for a 264.6 yards per game average.
The Giants, meanwhile, are ranked six spots above Cleveland.
They have given up 2,022 passing yards for a 252.8 yards per game average.
For defense against the run, Cleveland has given up 854 total yards to New York's 816.
Given the sorry state of the NFC East, these stats could be dismissed by the casual fan.
(Of course, it would then be pointed out that the Browns have one of the easiest schedules in the league this year).
Or, one could look at the contributions of Vernon and Peppers side-by-side for the past two seasons, regardless of the difference in position (Vernon is a defensive end and Peppers is a safety).
On paper, the edge goes to Peppers based on a slightly larger body of work.
Also, there is the fact that Peppers brings a special teams element to his ball club when he is used in that capacity.
As for Zeitler and OBJ, the clear winner is Zeitler.
Since his arrival in Cleveland, OBJ has had difficulty meshing with quarterback Baker Mayfield and is out for the rest of 2020 with a torn ACL.
Zeitler has started every game with New York and continues to be a linchpin of their offensive line.
In Summary
As of this moment, the Browns sport a winning record for the first time in years.
However, the rest of the season could see difficult stretches, especially with games against the Titans, Steelers, and Ravens looming.
Cleveland began the year with a fairly stingy defense but has since regressed.
Would Peppers have helped the Browns if he was still with the team?
Given the current state of affairs with their secondary, the answer has to be "yes."
Sendejo is giving me Jabrill Peppers in Greg Williams Defense flashbacks #browns pic.twitter.com/iSBVqunUTI

— Blair in Lakewood (@blairinlakewood) October 5, 2020
So far, it looks like Cleveland got the short end of the stick in last year's trade.