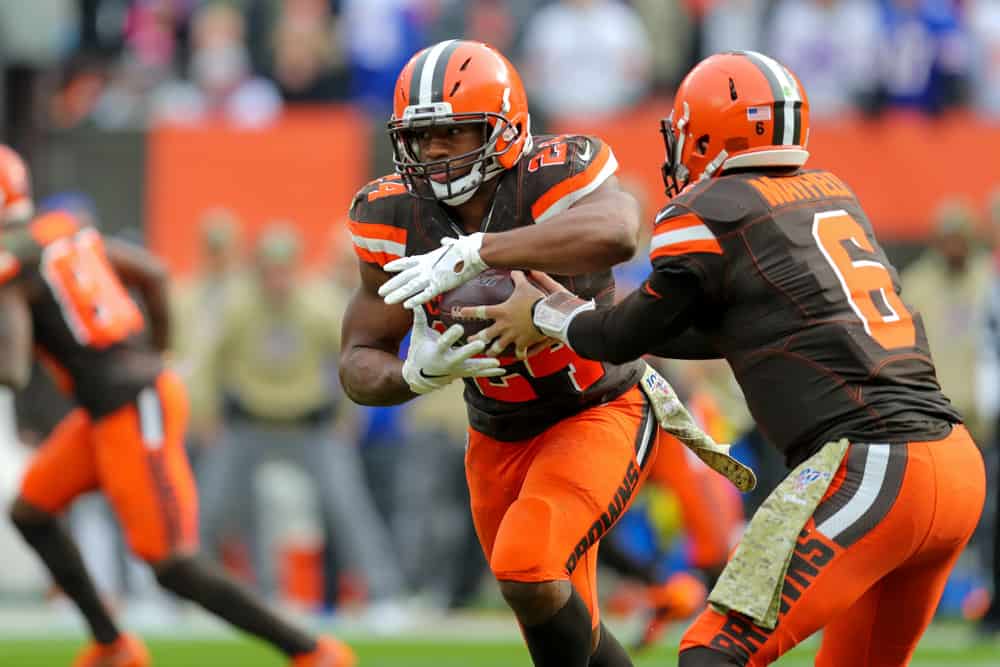 If the Baker Mayfield can't figure it out, the Cleveland Browns have Plan B.
In this case, it would be Plan R and that is rushing the football.
The Browns didn't hire head coach Kevin Stefanski to create the next generation of the Air-Raid offense.
Instead, the franchise is hopeful that Stefanski can use the tools to create a detail-orientated and balanced offense that puts an emphasis on all components.
Yes, we are hopeful that his experience as a quarterback coach and offensive coordinator will help with Mayfield's throwing errors.
The best outcomes on offense will come with either Nick Chubb or Kareem Hunt rushing the football.

The Carries
Initially, your first thought may be confusion.
After all, the Browns finished No. 22 in rushing attempts in the 2019 season.
At 393 rushing attempts, the Browns were just 20 attempts away from being No. 13, but that is where the gap widens.
The Browns will get a full season of Hunt, which is a plus.
When Chubb and Hunt were at full strength back in 2018, they were two of the most dynamic running backs in the league.
Most yards after contact per carry in 2018 (min. 100 carries):
1. Derrick Henry: 2.85
2. Austin Ekeler: 2.63
3. Kareem Hunt: 2.63
4. Nick Chubb: 2.41
5. Mark Ingram: 2.37
6. Saquon Barkley: 2.32

— Field Yates (@FieldYates) August 21, 2019
The Competition
Despite the Browns ranking 22nd in attempts, the team ranked No. 12 in rushing yards with 1,901.
The Baltimore Ravens ranked first with 596 attempts for 3,296 rushing yards.
Then again, the Ravens ground game was historic.
Lamar Jackson under the radar record breaking and mind-blowing stats in 2019:

-Most TD passes in Ravens franchise history (36)

-Most yards per rushing attempt in NFL history for all players (min. 150 attempts) (6.85)

-Scored more total touchdowns himself than 17 teams (43)

— Kevin Oestreicher (@koestreicher34) April 4, 2020
The second-highest attempts in the league were 498 from the San Francisco 49ers, as they finished with over 2,300 yards on the ground.
There is no telling that the Ravens can duplicate last year's success.
If the Browns can get 100 more attempts out of Hunt at the very least, that puts the team on pace to at least contend for the No. 2 rushing offense in the league.
It's a stretch, but also a very legitimate hypothesis.

A Mistake?
History has proven that taking the ball out of Mayfield's hands is not the worst move you can make on offense.
Over the past five seasons, 13 first-year head coaches have guided their teams within the top-10 in rushing attempts.
Of that group, nine have finished 8-8 or better.
2018: Matt Nagy (Bears): 468 attempts, 12-4 record, a combination of Jordan Howard, Tarik Cohen, and a great defense
2017: Sean McVay (Rams: 454 attempts, 11-5 record, Todd Gurley scored 19 touchdowns
2017: Doug Marrone (Jaguars): 527 attempts, 11-5 record, Leonard Fournette, and successful defense.
2016: Sean McDermott (Bills): 487 attempts, 9-7 record, LeSean McCoy and Tyrod Taylor combined for nearly 1,500 yards
2016: Dirk Koetter (Bucs): 453 attempts, 9-7 record, Doug Martin, Jacquizz Rodgers, and Peyton Barber all led the ground game.
Mike Mularkey was also apart of the 2016 group when the team signed DeMarco Murray.
He alone rushed 293 times for nearly 1,300 yards.
With guys like Chubb and Hunt, there's no stopping what could be done here.