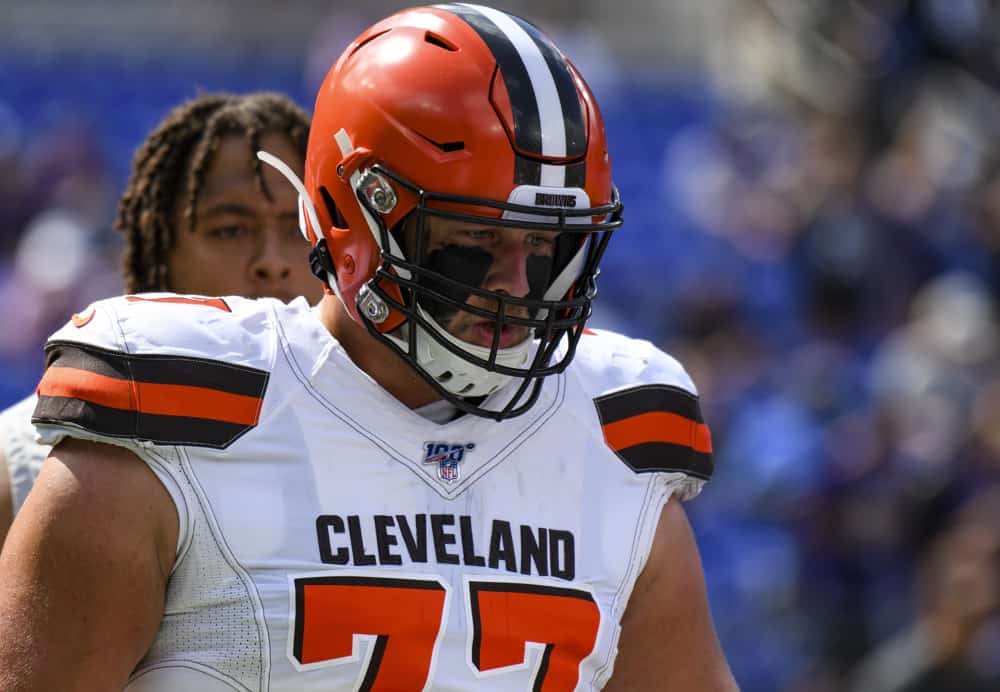 The Cleveland Browns are currently 10-4, and a big reason for that is because of the resurgence of the Browns offense.
This has only occurred because of how well the Browns offensive line unit has played.
Just a few short years ago, this was a unit that was among the worst in the league, even with future Hall of Famer Joe Thomas at left tackle.
A big part of this turn around is right guard Wyatt Teller.
Drafted in the fifth round (166th overall) out of Virginia Tech in the 2018 NFL Draft by the Buffalo Bills, he was shipped the next year to the Browns for a fifth and sixth-round pick in the 2019 draft.
While starting his Browns tenure as a back-up, he became a starter in Week 9 of last season and hasn't slowed down since.
While battling injuries throughout the season, his worth to the team can't be understated.
Highest-Graded Players of 2020:
1. Aaron Rodgers – 94.9
2. Wyatt Teller – 93.8
3. Patrick Mahomes – 93.0
3. Travis Kelce – 93.0 pic.twitter.com/tq87J9q66j

— PFF (@PFF) December 19, 2020
This is some good company to be in for a fifth-round pick.
Teller has one year left on his initial four-year, $2,714,124 contract.
Teller Is Going To Be Expensive
Next season, Teller will be playing for $920,000.
Not bad for us, but for top-notch offensive guards in the NFL?
That is well below average.
Right now, according to Pro Football Focus, Wyatt Teller is the highest OL in the game.
Wyatt Teller: PFF's highest-graded OL (93.8)#ProBowl | #ProBowlSnub pic.twitter.com/ngrPXluBK0

— PFF (@PFF) December 22, 2020
Joel Bitonio ranks third, at 86.2.
Needless to say, he's up for a big payday when Andrew Berry and the front office sit down to negotiate.
Let's take a look at what the top paid guards in the league are making right now.
Compensation Comparisons
Brandon Scherff recently signed a contract extension with the Washington Football Team.
He signed a 3-year deal worth 39.5 million, and 12.7 million guaranteed.
OFFICIAL: Superstar Offensive Guard Brandon Scherff signed his contract extension!!

THE DETAILS: 3 year deal worth $39.5 Million with $12.7 Million guaranteed.

Excited for the next three years!!! pic.twitter.com/7Qgrm32Gnv

— Washington Football Team UFL (@WashingtonUFL) September 4, 2020
Joe Thuney of the New England Patriots is pulling down $14,781,000 in the last year of his deal.
The top five guards by pay are rounded out by Philly's Brandon Brooks, Dallas' Zach Martin, and Andrew Norwell of the Jaguars.
Here are the highest paid guards in the NFL by yearly salary:

Brandon Scherff = $15 million
Joe Thuney = $14.8 million
Brandon Brooks = $14.1 million
Zack Martin = $14 million#Colts Quenton Nelson is going to reset the OG market in a similar manner as Mahomes just did for QBs. pic.twitter.com/oJDSsJS1W9

— Locked On Colts Podcast (@LockedOnColts) July 6, 2020
These top five guards average $14,239,700 in compensation per season.
Teller is definitely going to get more in his next deal.
What Does This Mean For Teller And The Browns?
As I previously mentioned, Thuney will be a free agent after the season and Teller has one more year left.
Why does this matter?
Because he isn't as highly rated as Teller, and he will ultimately drive the price up for top-flight guards.
With the spreading out and emphasis placed on the passing game, it's imperative for every team to invest in their offensive lines.
Teams will be lining up to sign these guys as they become free agents.
Andrew Berry is smart enough to know that he's going to have to give a Teller a well-deserved bump in pay to get him to stick around in Cleveland, and I can see him beginning contract negotiations before Teller's rookie deal is even finished.
The Browns currently have the most salary cap space in the league, at $38.6 million.
Needless to say, the Browns have the space to ink Teller to a long term deal that'll leave both Teller and the Browns happy.
I imagine it'll probably be somewhere in the $14.5-15 million per season range.
That'll be a nice pay bump as Teller starts a new phase of his life:
Cleveland Browns guard Wyatt Teller proposes to girlfriend on field at FirstEnergy Stadium https://t.co/PqIxkJNBP0 via @wkyc

— Ben Axelrod (@BenAxelrod) December 23, 2020
Congrats Wyatt! And here's to many more years for you and your family in Cleveland.