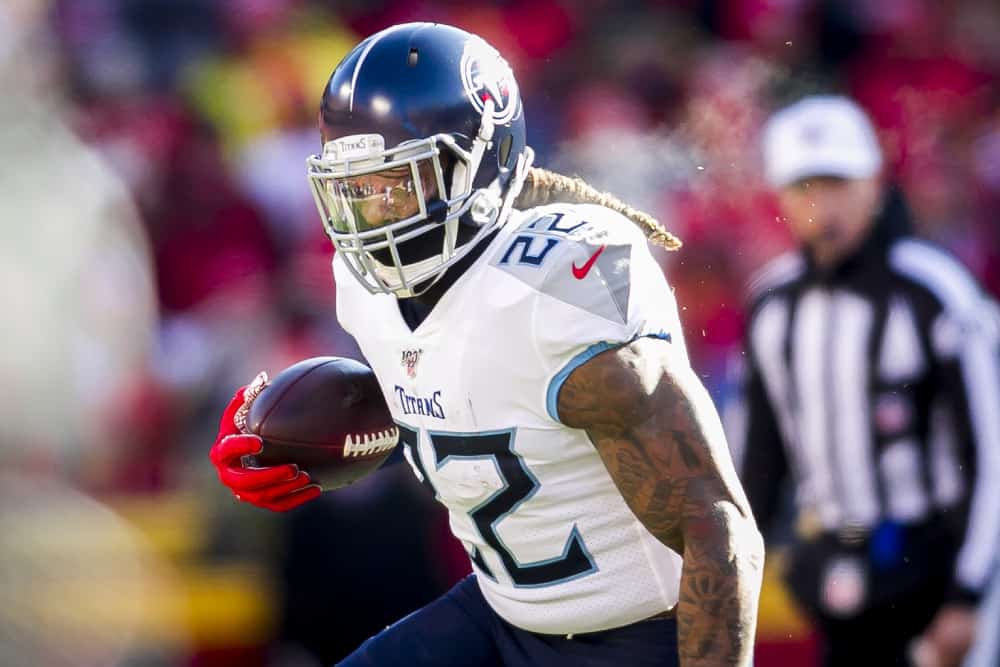 The Cleveland Browns take on the Tennessee Titans in Week 13.
Both teams are 8-3.
The Browns are riding high on a 3 game winning streak, and the Titans have a 2 game winning streak.
Here are 2 Titans players that the Browns need to contain to secure the win.
1. Derrick Henry, RB
Nobody would be surprised if figuring out how to stop Derrick Henry is giving Coach Stefanski and defensive coordinator Joe Woods sleepless nights this week.
Teams have been trying to contain Derrick Henry in 2020.
And for the most part, everyone has failed.
Trying to tackle Derrick Henry is a nightmare pic.twitter.com/s2Vu8vibNB

— Barstool Sports (@barstoolsports) November 29, 2020
He put on another clinic last week against the Colts.
That's why he is the NFL rushing leader with an astounding 1,257 yards in 11 games.
Last year, he ran for 1,540 yards in 16 games so barring an injury, he will shatter his own personal best record.
He has 12 TDs on the season.
Henry is big and fast so he is practically impossible to bring down.
He is so good that the Titans don't need a committee approach to rushing the ball; he can make short and long yardage plays look easy.
Derrick Henry has piled up 1,121 rushing yards in his last 8 road games

Since the 1970 merger, only hall of famers Eric Dickerson & Earl Campbell had more rush yards in an 8-game span of road contests pic.twitter.com/bTht7Mec8B

— NFL Research (@NFLResearch) November 29, 2020
His coach and teammates realize how unstoppable he is.
Coach Mike Vrabel talked about Henry after he single-handedly lifted the Titans over the Texans.
"I mean, just obviously we all witnessed somebody taking a game over when we had it.  He put us on his back and carried us."
After Henry stiff-armed Bills CB Josh Norman in the Titans 42-16 over Buffalo, Vrabel said:
"It was the best 5-yard run I've ever seen. It was amazing."
Derrick Henry and Josh Norman…… pic.twitter.com/yLt2TDa5ao

— the_r00k (@BROADH205) December 1, 2020
Teammate WR A.J. Brown says that Henry is his pick for NFL MVP.
#Titans RB Derrick Henry already has 120 yards and two TDs on 14 carries in the first half here in Indianapolis.

It's just the third 100-yard game by a player against the #Colts over the past three seasons.

The other two: Derrick Henry and Derrick Henry.

— Tom Pelissero (@TomPelissero) November 29, 2020
2. A.J. Brown, WR
Second-year wide receiver A.J. Brown could give the Browns big trouble.
He has 8 TDs in 9 games with 638 yards receiving.
Targeted 65 times this season, he caught 40 of the passes.
And he averages 16 yards per catch.
AJ BROWN 69-YARD TD 🤯

He's special

(via @NFL)pic.twitter.com/sYYwXyNV0u

— Bleacher Report (@BleacherReport) November 29, 2020
If that's not enough to contend with, last week against the Colts he ran an onside kick back 42 yards for a touchdown.
So he can be a dual-threat on both offense and special teams.
Like Henry, Brown is tough to take down.
He had a big catch in the Titans' win over the Ravens at the end of regulation where it looked as though the entire Ravens defense tried to take him down.
First player in #GMFB history to win Toe Drag Swag and Angry Runs in the same season. @Brown1arthur 🤬

UNANIMOUS, @KyleBrandt! The scepter's second home is in Nashville.

📺: Watch @gmfb on @nflnetwork pic.twitter.com/xJlgaVYENd

— Tennessee Titans (@Titans) November 24, 2020
But they couldn't and he scored the TD that kept his team in the game.
Browns vs. Titans
The Browns have their own versions of Derrick Henry and A.J. Brown in Nick Chubb and Jarvis Landry.
What makes this game very interesting is that both of these teams are very good at what they do.
The Titans have beaten good teams this year, the Bills and Ravens.
Critics of the Browns have said that the Browns have not beaten the good teams yet, such as the Ravens and Steelers.
To quell the naysayers, the Browns have to win this game.
Not only does a win help the Browns in the playoff hunt, but it also sends a message to the rest of the AFC that the Browns are one of the teams to beat in the AFC.