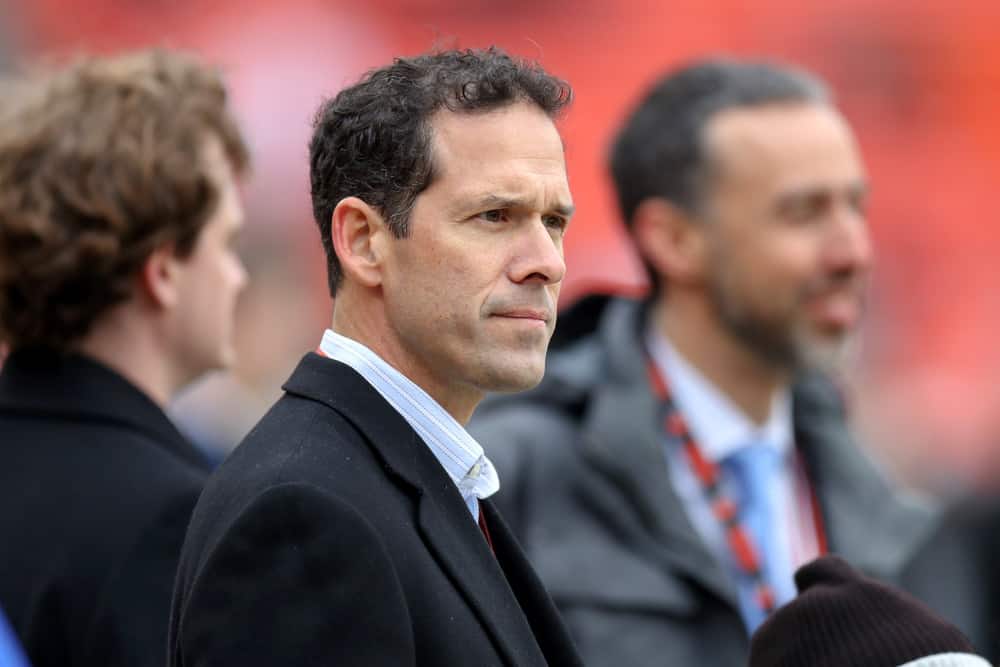 Humans are programmed to resist change.
The more ingrained a belief, process, or pattern is, the more difficult it is to adapt.
Anyone who watched the movie, "Moneyball" remembers the scene where "Pete" meets the scouting department. 
Paul DePodesta would have approached the moment differently than Oakland's general manager Billy Beane did.
But the scene reflects the anxieties of employees facing change.
Report: Paul DePodesta, Billy Beane's old right-hand man, is going from @Mets to @Browns. https://t.co/s4p1DWDOZp pic.twitter.com/ukSYYXv6h3

— NBC Sports (@NBCSports) January 5, 2016
There is resistance that yields to anger, fear, and resentment.
Anger that an outsider wants the team to change.
Fear that there might not be a place for us in the new system.
Resentment that our boss let an outsider make the decision.
It happened in Oakland, Los Angeles, New York, and with the Cleveland Browns.
But like him or not, there is one sentiment the employees in each of DePodesta's career stops share.
Paul DePodesta was the smartest person in the room.
Even if they thought he didn't know squat about their job.
Where Does Genius Come From? 
Paul DePodesta's approach to process change is wrapped around one simple question.
"If you weren't already doing it this way, would you do it this way?"
The question can be presented in a way that solicits employee collaboration.
That collaboration is aimed at accelerating change-acceptance from the affected workers.
Billy Beane's method of introducing DePodesta's theory to the Oakland A's fell short of that goal.
#Athletics Billy Beane: Paul DePodesta's "curious mind" shouldn't be limited to baseballhttps://t.co/e1bJYvtaPA

— MLB Network Radio on SiriusXM (@MLBNetworkRadio) January 10, 2016
But DePodesta's next stops went increasingly smoother.
DePodesta's thought-inspiring question comes from Jim Pinkerton, for whom DePodesta interned at Harvard University.
Pinkerton taught DePodesta his theories about remodeling processes, summed up in the question above.
DePodesta credits his short time with Pinkerton as the most formative period of his life.
Pinkerton used his approach to reimagine government and economics.
When he hired DePodesta as an intern, Pinkerton was the deputy assistant to President George H.W. Bush.
Can Genius Work Across All Spectrums- like Sports?
By the time Paul DePodesta took his last baseball job, his analytics approach was catching on.
But when the New York Mets signed him as vice-president of player development and scouting, there was still skepticism.
New York had a reputation of trying to operate like a small-market team in the world's biggest market.
Moneyball sounded like something the Mets' beleaguered owners believed in for the wrong reasons.
Mets VP of Player Development Paul DePodesta is leaving Mets for Cleveland Browns. I think he did his part. pic.twitter.com/XDjaTvTCQy

— In Mets We Trust (@InMetsWeTrust) January 5, 2016
But even the most ardent Mets fan doesn't remember DePodesta influencing the operation much.
His name rarely came up even as the team struggled through four more losing seasons.
When the club broke through with a World Series appearance in his fifth year, DePodesta remained low-key.
After the Mets fell to the Kansas City Royals in that series, DePodesta left to join the Browns' front office.
Many were left wondering if he still had any magic after his nondescript tenure in New York.
But the members of the New York Mets front office lamented the organization's loss.
Every single person in the organization lauded DePodesta's successful overhaul of the team's scouting and development departments.
But Can He Be a Football Genius? 
DePodesta's arrival in Cleveland was met with as much derision as praise for thinking outside the box.
Hiring a career lawyer in Sashi Brown as his general manager didn't make Jimmy Haslam's vision any clearer.
Andrew Berry brought credibility to the front office as a bonafide NFL scout.
But his youth and analytics background helped obscure that experience to those wary of DePodesta's plans.
So many get upset at the thought of Paul DePodesta guiding the Browns organization.

Here are the guardrails laid forth once he joined the team. All of them seem rather reasonable: pic.twitter.com/bNMWifTZuz

— Brent Sobleski (@brentsobleski) January 31, 2020
Two bad drafts magnified concerns about the non-traditional makeup of the Browns' front office.
Sashi Brown's decision to accumulate draft picks and salary-cap space was analytically correct.
But he and DePodesta did not make that decision without outside counsel.
Former Cowboys manager Jimmy Johnson admits he had conversations with DePodesta.
He offers no details, but Johnson's philosophy about draft picks is well known.
Basically, since nobody hits on 100% of their selections, the more selections you have, the better your odds of success.
.@Browns chief strategy officer Paul DePodesta on adopting Jimmy Johnson's philosophy of accumulating draft picks: https://t.co/lHJ3T3b4aB pic.twitter.com/YDWaDP0a6P

— The MMQB (@theMMQB) April 3, 2017
The only team with more draft picks over a three-year period than the Browns' 2016-18 teams was Johnson's 1991-93 Cowboys.
Analytics also drove the Brock Osweiler trade when the Browns basically purchased the Texans' second-round draft pick.
The move also helped the team hit the NFL's minimal-allowed salary level while maintaining $50 million in cap space.
So, Why Has Genius Not Made the Playoffs Yet? 
Only three players remain in Cleveland from the Browns' 2016 and 2017 drafts.
It is easy to question the analytics experts' role in those disasters.
However, there was an X-factor, or maybe an H-factor.
Jimmy Haslam overrode his brain trust's recommendations in two important moments, both involving head coaches.
In 2016, Paul DePodesta wrote Jimmy Haslam a Hail Mary email arguing against Hue Jackson and in favor of Sean McDermott. In 2019, DePo wanted Kevin Stefanski but John Dorsey "flexed my muscles and got what I wanted," with Kitchens. Today, DePodesta finally gets his guy. Godspeed.

— Seth Wickersham (@SethWickersham) January 12, 2020
First, he went with his gut and signed Hue Jackson instead of Sean McDermott, DePodesta's top choice.
As "the football guy" in the room, Jackson insisted on having some say in the draft room, with Haslam's blessing.
Hue Jackson was the only person in the room excited about Corey Coleman in 2016, indicating a rift with his GM.
But Jackson's most famous faux pax was telling fans to "trust me" when he selected Cody Kessler over Dak Prescott in the later rounds.
Real masterstroke by Hue Jackson to start Deshone Kizer all of 2017 to get at Baker Mayfield. The most brilliant strategists play the long game while making everyone believe they're ignorant.

— Josh Hornsby (@Josh_ADHD) September 21, 2018
After the draft, Andrew Berry made a few comments about the draft, explaining why the team liked Shon Coleman, Carl Nassib, and Emmanuel Ogbah.
But when asked about Kessler, Berry's only comment was,
"Well, I know Hue is happy."
When Sashi Brown was replaced by John Dorsey, more clashes between analytics and football gut came about.
Dorsey won the battle over the next head coach when Freddie Kitchens stepped in for the 2019 season.
DePodesta waited a year before Haslam let him hire his top choice in Kevin Stefanski.
It is human nature to veer from a plan during adversity.
But getting back on track takes courage… and genius.
So What Genius Gets Credit For a 2020 Playoff Run? 
Smart and successful business people surround themselves with other smart people.
The Haslams get credit for keeping DePodesta around despite some lean years.
But bringing back Andrew Berry might be the smartest thing they've done in 2020.
Berry had full control of the Browns' highly-praised draft and free agency signings.
Not everything is perfect, and the jury will be out for a while before we know how well things work out.
But what is Paul DePodesta's role in all of this?
The job title for Paul DePodesta — #Browns chief strategy officer — has not changed, but after a few days of mixed messages to candidates from the organization, DePodesta is now the one running the head coach hiring process for the Haslams, source said. Should be more directed.

— Ian Rapoport (@RapSheet) January 1, 2020
Is he the resident genius or is he get lucky to have another genius who really runs the show?
The New York Mets suffered through four losing seasons before a World Series appearance in DePodesta's fifth season.
This is DePodesta's fifth season with the Cleveland Browns.
Everything appears to be under DePodesta's control after a couple of detours down Haslam Way.
His low-profile approach makes his impact difficult to notice.
But make no mistake about it: this is Paul DePodesta's team now.
And if he is the genius folks think he is, the Browns could be in for a memorable 2020 season.