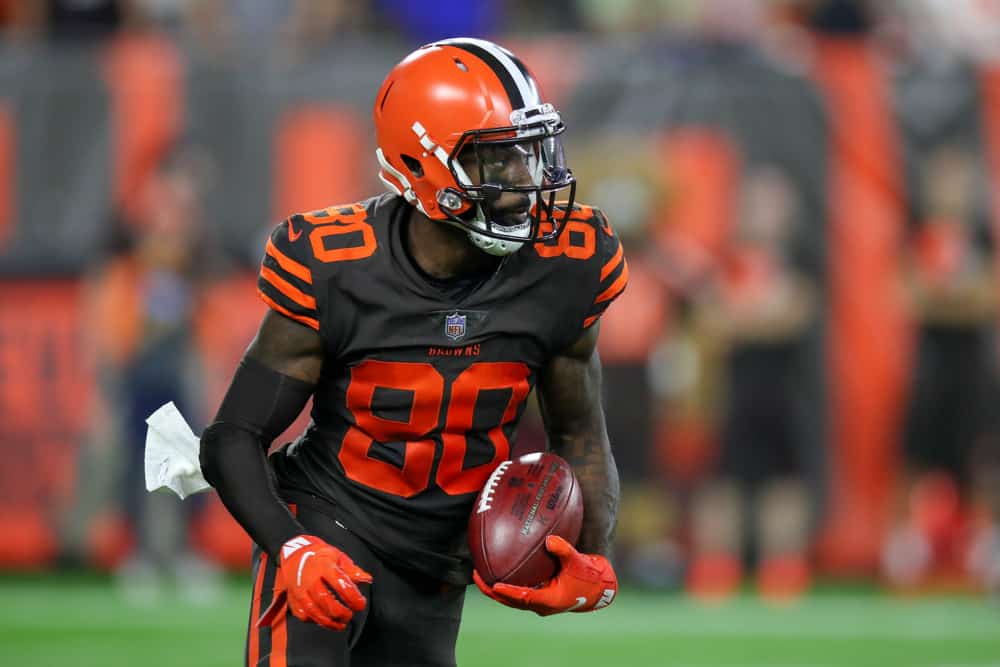 Jarvis Landry is a fan favorite in Cleveland, and rightfully so.
He's played through injuries, seen both failures and successes, and embodies an attitude that northeast Ohioans can rally behind.
Landry is a big reason the culture has changed for the better with the Browns.
He's already trying to instill that winning attitude in the newest members of the brown and orange.
#Browns Anthony Schwartz said working with Jarvis Landry will be great for him and helping him get to the next level.

Also called Jarvis one of the "instrumental players in changing everything" in Cleveland.

— Camryn Justice (@camijustice) May 14, 2021
Heading into 2021, expectations are high for Landry and his fellow receivers.
Here are 3 bold predictions for Landry during the upcoming season.

1. He Won't Lead the Team in Receiving Yards
For the past two seasons, Landry has been Cleveland's leading receiver.
He's gotten more targets than any other wideout during that stretch, so it only makes sense that he would rack up the most yards.
However, that may not be the case after this year.
With Odell Beckham Jr. on his way back from a knee injury last season, he'll be on the receiving end of several deep balls from Baker Mayfield.
Highest yards per route ever recorded by a WR in their first two seasons:

🔹A.J. Brown – 2.66
🔹Antonio Brown – 2.65
🔹Odell Beckham Jr. – 2.57 pic.twitter.com/Tsqc6ArCFr

— PFF (@PFF) May 19, 2021
Granted, it was a rocky start with those two syncing up in 2020.
Before the season-ending injury to OBJ, him and Baker never truly developed a rhythm.
Defenses know this, too.
They will likely try to alienate Jarvis from the offense.
Especially early on, Odell will have an opportunity to remind the league just how dangerous he can be.
Maybe Landry will have another chance to toss some big yardage and a touchdown his way again this year.
JARVIS LANDRY TO ODELL BECKHAM JR.❗️

📺: @foxsports pic.twitter.com/79gnFPgL99

— Cleveland Browns (@Browns) October 4, 2020
2. He'll Score a Touchdown… On the Ground
Misdirection plays involving a wide receiver running the football have become commonplace in the NFL.
Teams such as Kansas City can use receivers like Tyreek Hill to get the defense off-balance before handing the receiver the ball the other way for a big gain.
Goal line situations have also become a spot for teams to employ a receiver handoff.
Landry found himself carrying the ball into the end zone last season in the regular season finale against Pittsburgh.
Incredible performance from Jarvis Landry today to give us an early lead in the finals! #ThunderStruck🌩

[5 Receptions, 51 Yards, 1 Rush TD] pic.twitter.com/b1aRUgrjIz

— Red Thunder (@redthunderfball) January 4, 2021
With another game on the schedule this year, I think Landry records another rushing touchdown in 2021.
Kevin Stefanski has a plethora of offensive weapons at his disposal, and he has the creative mind to find the right ways to use them.

3. He'll Reach 1,000 Receiving Yards with OBJ
With Odell primed for a comeback season, him and Landry will be a nightmare for opposing secondaries.
Of course, with Nick Chubb and Kareem Hunt in the backfield, there will be games where throwing the ball endlessly won't be needed.
Stefanski won't just ignore his two stud receivers though, so expect Baker to find those two plenty throughout the year.
In 2019, when all three were healthy, both receivers eclipsed 1,000 receiving yards.
With all three heading into 2021 healthy, I expect Jarvis and Odell to each hit the 1,000-yard mark once more.
Baker's improvement in 2020 makes that goal much more realistic than it would if he had taken a step backward.
This offense has the luxury of having the same coaching staff this year as it did in the last, something Mayfield hasn't been able to say yet in Cleveland.
A monstrous season could very well be on deck for the Cleveland receivers.