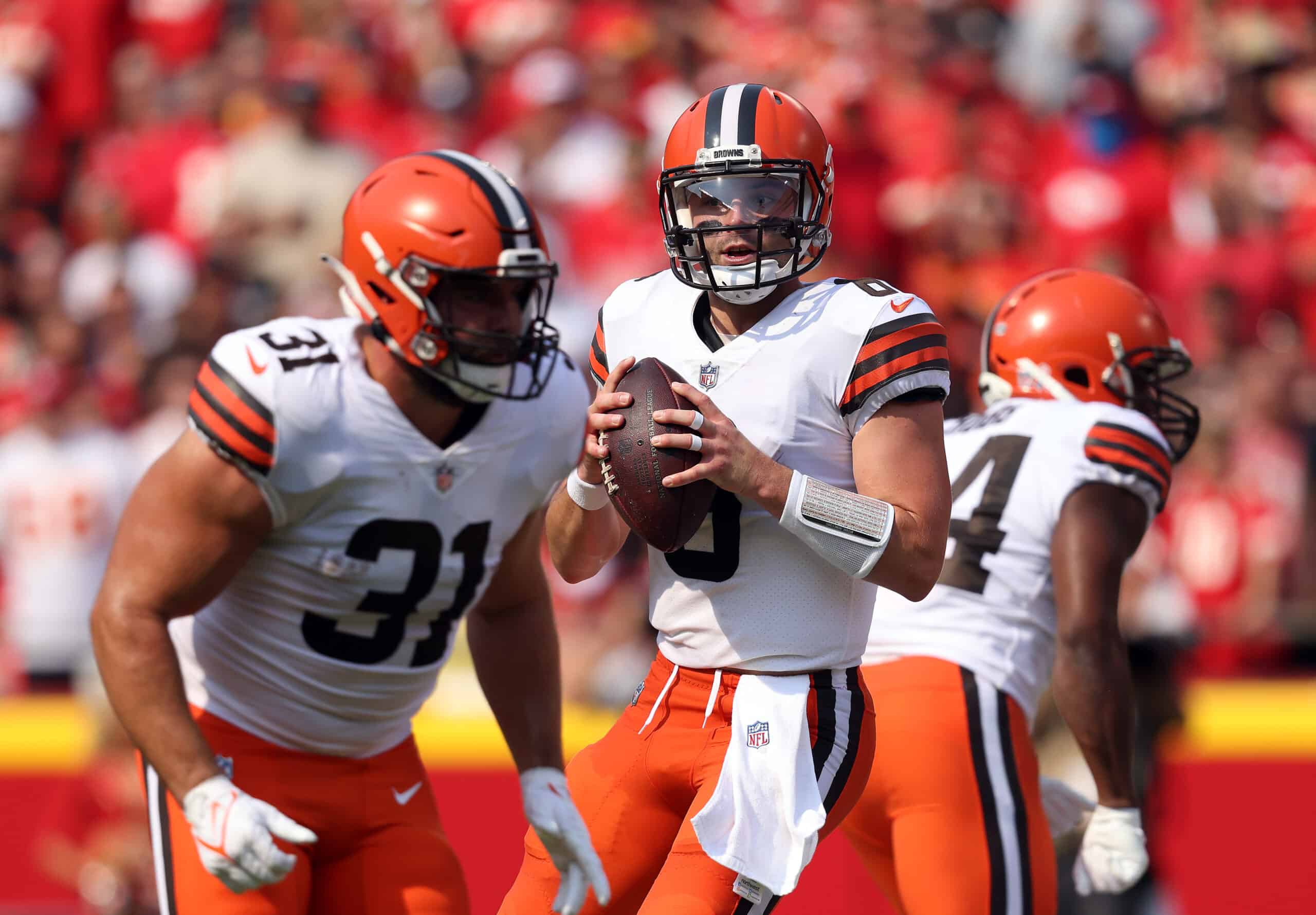 Baker Mayfield and the Cleveland Browns host the Houston Texans in a Week 2 matchup.
Houston comes off a convincing victory over a shaky Jacksonville team that lifted the spirits of Texans fans.
And there are Texas-based pundits who believe their team could surprise Cleveland with a close game at FirstEnergy.
But there are plenty of reasons most of them won't go as far as to predict a victory.
#Browns RB Nick Chubb on preparing for #Texans: "We're an 0-1 team facing an undefeated team right now, so that's how we're looking at it."

— Nate Ulrich (@ByNateUlrich) September 15, 2021
For their part, the Browns are taking the Texans as a serious threat.
Nick Chubb told reporters he sees the Browns as a winless team taking on an undefeated opponent.
And that doesn't bode well for any kind of letdown effort or a surprising upset by the Texans.
Here are 3 bold predictions for the Browns versus Texans game.
1. Myles Garrett Gets His First Strip-Sack of 2021 
Tyrod Taylor leads the Texans' attack, hoping to build on a solid performance in his season opener.
But Jacksonville's once-vaunted defense does not have the weapons Cleveland brings to the table.
And one of those weapons is determined to make a big impact on this week's game.
Myles Garrett vs Orlando Brown in a huge 3rd down.

Sack.pic.twitter.com/fbCCeg8BBE

— Dov Kleiman (@NFL_DovKleiman) September 12, 2021
Cleveland feels they should have had more than the 2 sacks they came up with against Patrick Mahomes.
That frustration makes us expect the Browns pass rushers will live in Houston's backfield.
And Myles Garrett's first strip-sack of the season seems inevitable among a flurry of sacks and hits.
2. Schwartz, DPJ Haul in Long Touchdowns
Baker Mayfield played exceptionally well against Kansas City with 321 yards and a 75% completion rate.
But his late interception and a dearth of touchdown passes provided fodder for the anti-Baker club.
We expect Stefanski to let Mayfield rack up multiple touchdowns this time around.
#Browns Anthony Schwartz (82.2) is the 9th-highest-graded WR in the NFL after Week 1 pic.twitter.com/04NY5NeBuX

— Sam Penix (@Sam_Penix) September 13, 2021
Only a juggling catch prevented Anthony Schwartz from turning upfield for a long score Sunday.
He won't make the same mistake this week and that leaves us with only one question.
Will it be Schwartz or Donovan Peoples-Jones who catches the first of 2 long touchdown passes from Mayfield?
3. Johnson, Felton Lead 4th Quarter Rushing Attack 
What would satisfy fans questioning the Browns playoff-worthiness after their Week 1 loss?
An extremely dominant victory over the upstart Houston Texans would be a good start.
Stefanski understands optics and messaging as well as any head coach in the NFL.
Nick Chubb on D'Ernest Johnson making the Browns cut: "He's been through a lot. It's good to see hard work paying off. He deserves it. I'm glad he's still here."

— Nick Karns (@karnsies817) September 1, 2021
We expect his offense to pour it on early and all but end this game before the fourth quarter starts.
That is when Browns fans will see the 2021 debut of D'Ernest Johnson and Demetric Felton's first offensive snaps.
And the funny thing is, Cleveland will continue to move the ball with its backups.
Just like Last Year… the Fun Starts Now 
We'd be hard-pressed to compare last week's heartbreaker to 2020's opening day debacle in Baltimore.
But if there is one similarity, it is the limited offense Cleveland showed.
It wasn't nearly as vanilla as last season, but the Browns left a lot of players out of the Chiefs' game plan.
Again, Kevin Stefanski fears NOTHING. #Browns

— Camryn Justice (@camijustice) September 12, 2021
In Week 2 last year, Stefanski pulled out all the stops in an exciting 35-30 win against Cincinnati.
We expect to see a better defensive showing Sunday, but the same wide-open offensive attack.
And Cleveland might just end up with the offensive and defensive players of the week.