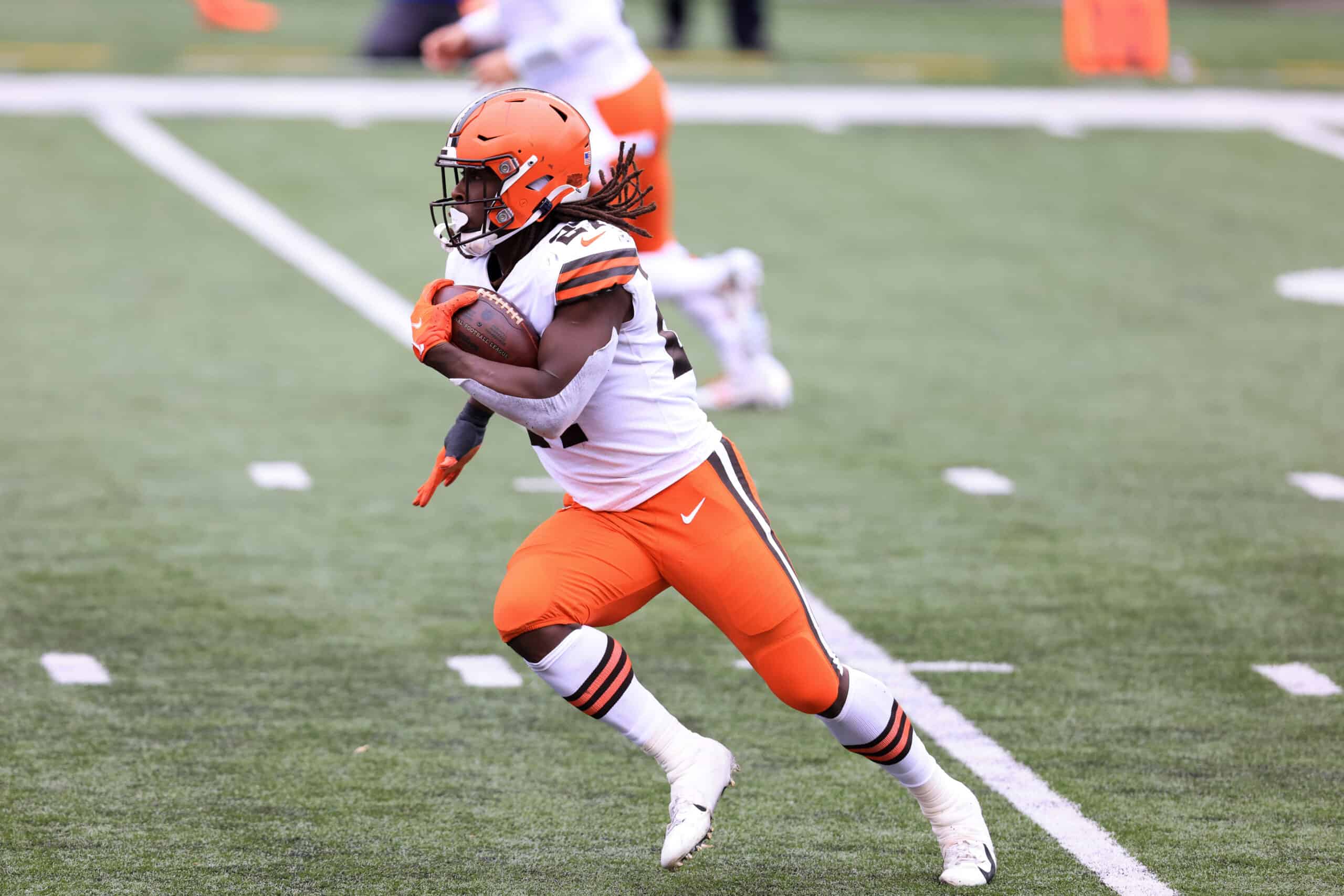 Kevin Stefanski's offense was progressively better in 2020, earning kudos from around the league.
But if you think his Cleveland Browns players are resting on their laurels, think again.
Each of them has their sights set on higher goals and a better performance ahead.
Kareem Hunt thinks he and Nick Chubb can both reach 1,000 yards in 2021. https://t.co/WNIfZJ4ltq

— ProFootballTalk (@ProFootballTalk) June 25, 2021
Kareem Hunt is no different, telling reporters at his Youth Football Camp he hopes to be a 1,000-yard rusher again in 2021.
And he expects Nick Chubb will be right there with him cementing their position as the NFL's top rushing combo.
"I believed it was possible last year, too, but some things happened," Hunt told Dan Labbe of Cleveland.com. "We'll learn from it and get better and hopefully continue to put in good work this year."
Hunt finished the year with 841 rushing yards and 1144 total yards for the Browns.
Are Nick Chubb and Kareem Hunt the best RB Duo in the NFL? 💪 pic.twitter.com/a0pzgubtYE

— RotoUnderworld (@rotounderworld) June 17, 2021
He played in every game, including 4 starts while Chubb nursed a knee injury.
And the former (2017) Pro Bowler knows the 17th regular-season game on tap this year will help.
He needs just 59 yards per game to hit his goal, not far off from his 52.6 ypg average in 2020.
What Happened In 2020? 
Kareem Hunt was the NFL's rushing champion in 2017 as a rookie with the Kansas City Chiefs.
Dreams of an elite 1-2 punch were slowed by Hunt's 8-game suspension and Freddie Kitchens' unimaginative offense.
And when Kevin Stefanski came on board, it was no sure thing he'd take advantage of Hunt, either.
The Browns coach utilized a workhorse in Dalvin Cook during his tenure in Minnesota.
But Stefanski and the rest of the Browns coaching staff have a well-earned reputation for being smart.
Nick Chubb & Kareem Hunt lead the NFL's top RB unit 😤🥇 pic.twitter.com/AKI0R7DYCM

— PFF (@PFF) June 2, 2021
Four games into his first season, Stefanski's 1 and 1A backs were on their way to 1000-yard seasons.
Chubb's 335 rushing yards and Hunt's 275 had the duo on a 2440-yard pace, including 1100 from Hunt.
Chubb made up for the time lost to injury and the pair was back on pace heading into the final 4 games.
But Hunt only got 25 carries (102 yards) over the final quarter of the season.
And that left Chubb as Cleveland's lone 1000-yard rusher.
Why Hunt Expects 1000 Yards In 2021 
There is a plethora of reasons and theories as to why Hunt's running game trailed off in 2020.
And we can trust Stefanski and Alex Van Pelt took a long look at the effect and results of those games.
In fact, we know they went to work with Baker Mayfield to enhance and expand their next attack.
Cleveland fans expect Baker to be as good as he looked at the end of 2020, but what else can they expect?
Stefanski is not one to tip his hat, but perhaps one clue leaked out during minicamp?
Kareem Hunt on what more he could do: "If they tell me to go rush off the edge and sack Patrick Mahomes, I'm going to try to do that, too." pic.twitter.com/pVBzXygQka

— Dan Labbe (@dan_labbe) June 24, 2021
Rumors of a more consistent 2-running back sets with Hunt and Chubb should pique some curiosity.
Both running backs are willing blockers and can play the role of fullback Andy Janovich.
But that puts a lot more wear-and-tear on them if Hunt and Chubb expect big rushing seasons.
Perhaps the 17th game and more consistent utilization are better predictors of a 1000-yard effort from Hunt.
And it all provides one more reason for Cleveland Browns fans to be excited about 2021.