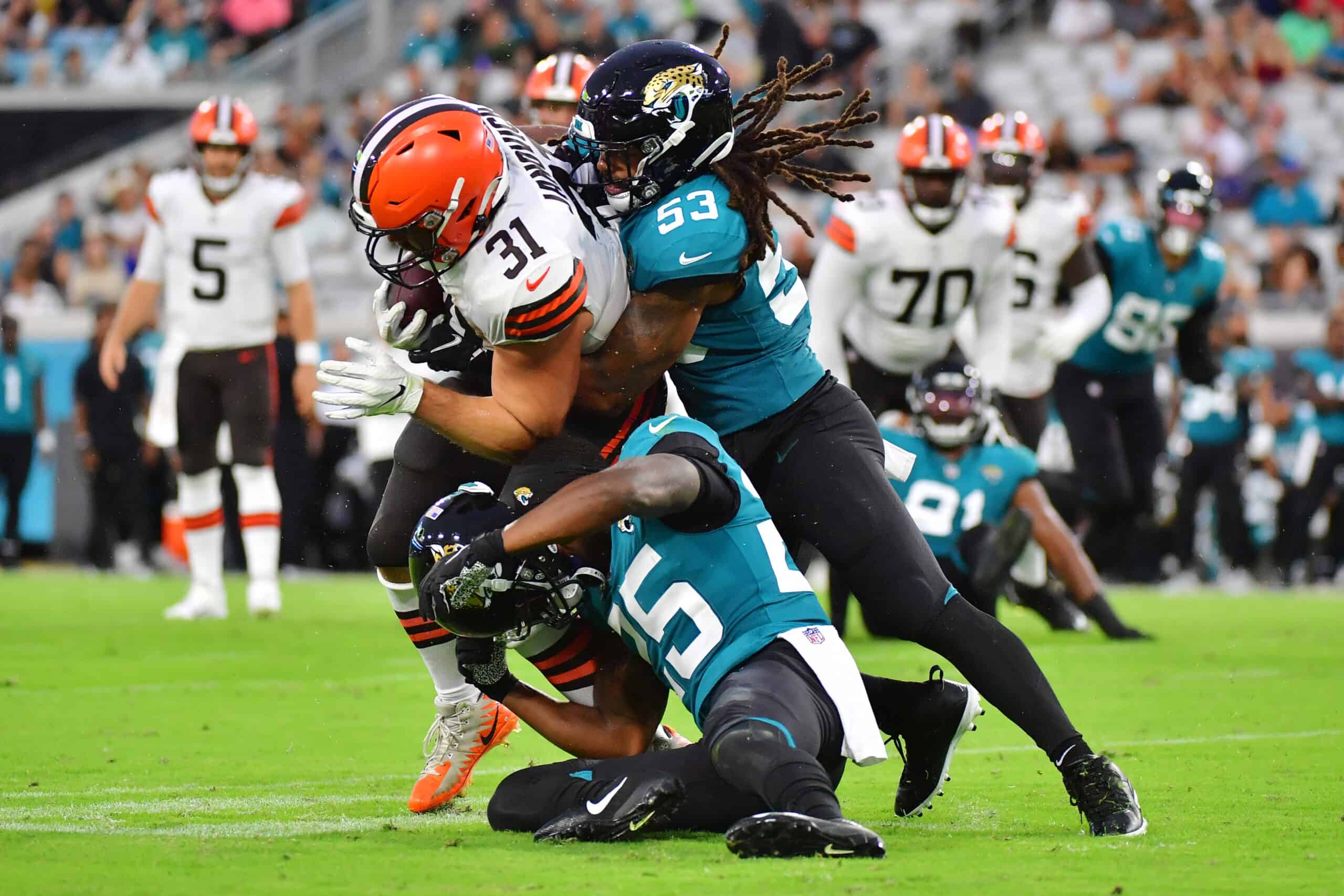 Fans didn't get to see much of the Cleveland Browns projected starters in Saturday's preseason game.
But dozens of other players fought for the right to play NFL football in September.
Kevin Stefanski is probably pleased with the overall effort, which resulted in a 23-13 victory.
His defense held Travis Lawrence and the Jaguar's first-team offense scoreless.
Wow, last nights was fun huh!!🍻🔥🍻💪🏻@browns looking GREAT as advertised, especially;@dpeoplesjones @demetricfelton7 @OwusuKoramoah

Guys that also played great;@NathanZegura @kylelauletta @johnnystantoniv

— Joe Thomas (@joethomas73) August 15, 2021
Case Keenum operated behind the second-string offensive line fighting off the Jaguars' starters.
While the running game did not impress, Keenum stayed upright and managed the offense well enough.
Most of the Browns played well, but some players will feel better about their roster chances after the game.
Here are 3 Browns who increased their stock during the Jaguars preseason game.
1. Richard LeCounte
John Johnson III is considered one of the best free agent acquisitions of the year.
And Berry is rumored to be negotiating an extension for Ronnie Harrison.
But Grant Delpit, expected to compete for the second safety spot, has been injured most of training camp.
With Sheldrick Redwine banged up and coming off a down season, safety depth is suddenly an issue.
Wow. #Browns 5th Rd draft pick Richard LeCounte just made a play from the free safety position that I've never seen Sheldrick Redwine make in 2 years: pic.twitter.com/KqqUwgbdOT

— Roberto Shenanigans (@Rob_Shenanigans) August 15, 2021
But Richard LeCounte eased worries by showing a knack for big plays from the free safety spot.
He showed tremendous range and a nose for the ball, catching up to a sideline pass from his centerfield position.
LeCounte let that interception fall through his arms, but he traveled a good distance to pick off another throw later.
He also came up with a sack and a pair of tackles in a highly visible effort that could bump him up the depth chart.
2. Demetric Felton 
Rumors from training camp include Demetric Felton getting a legitimate shot at a returner role.
Sure enough, he was one of several players who fielded a punt and threw in a kickoff, too.
His 10-yard return won't ice the job for him, but the rest of his game might.
Felton was also credited with a tackle on coverage teams.
Demetric Felton displaying his dawg paws on this 3rd down conversion. #CLEvsJAX #NFLPreseason #Browns pic.twitter.com/PTfMKDKKFR

— Ed_in_Columbus (@ed_in_columbus) August 15, 2021
But it was his pass-catching ability that made people take notice.
He pulled in 4 of 6 targets from both quarterbacks, including a key 25-yarder.
Felton's best play was pulling in a pass thrown too hard on a quick slant that resulted in a first down.
It was the kind of performance that can tilt the dice when the final roster spots are decided.
3. Davion Davis
When Davion Davis was signed to replace the retired Derrick Willies, expectations were not high.
After all, Davis couldn't even land a practice squad position with the expanded rosters of 2020.
And he was activated twice, but never targeted in his 2019 rookie year in Minnesota.
He appeared to be the classic camp body, someone who could let the better players rest up sometimes.
What a connection from Kyle Lauletta to Davion Davis for the touchdown 👀pic.twitter.com/n2k6ODvtWT

— Billy Heyen (@BillyHeyen) August 15, 2021
But it doesn't look like Davis understands that role, judging by his head-turning effort against the Jaguars.
Davis led the team with 56 receiving yards, catching 4 of his 5 targets.
One of those was a highlight-reel leaping touchdown catch over the Jaguars' defender.
The odds remain stacked against Davis in a talented Browns' receiver group, but they're a little better after this game.
Other Notables 
Kyle Lauletta came out throwing hard and high, and sometimes his pass placement could have been better.
But he calmed down enough to throw 2 touchdown passes and put up a credible stat line.
It wasn't enough to threaten Case Keenum's role, but it might end the Browns' recent quarterback tryouts.
With all the hype surrounding the Browns' second-round draft pick, it's hard to think his stock could rise.
#Browns 2021 draft class really showed out last night:

Newsome, JOK, Lecounte and Felton all had great games. Hudson got a ton of good work on the line as well.

Tip of the hat to AB once again. (Via Browns) pic.twitter.com/fFyjFCnBso

— MoreForYouCleveland (@MoreForYou_CLE) August 15, 2021
But since he was listed as the third-string linebacker, Jeremiah Owusu-Koramoah could have made this list.
JOK showed speed, power, and instincts that were reflected in a standout statistical game.
With a game under their belt and first cuts coming this week, the bar might be clearer for everybody.
And standing out against the Giants will be vital for everyone hoping to make the roster.