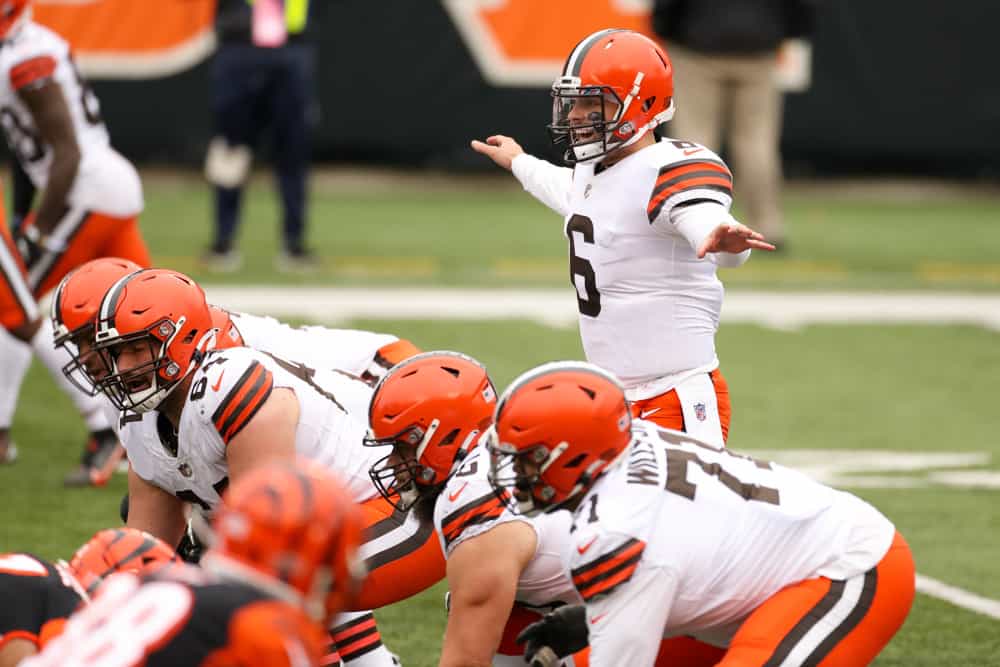 The Cleveland Browns are off to a 7-3 start in 2020.
Call it an expectation this year, but that is a true accomplishment given the state of the franchise since 1999.
Even reaching seven victories in a season is a milestone.
That has only happened now six times since 1999.
One thing that stands out this year is the team bucking the usual trends and narratives that have surrounded the franchise.
There is no quarterback controversy during the season like there was after a hot start in 2014 and the coaching staff is stable.
These are not your same old Browns and several factors point toward that being the case.
Ten games into 2020 & as of today, the #Browns would be PLAYOFF BROWNS! pic.twitter.com/CQA3sXcIpR

— FOX Sports Cleveland (@FOXSportsCLE) November 23, 2020
3. A Competent Head Coach
How great is Kevin Stefanski?
His postgame speeches are enough to fire up even the most casual of fans and he just illustrates the professionalism required to coach in the NFL.
"That is a GREAT team win!" pic.twitter.com/Xp34OZ6ezo

— Cleveland Browns (@Browns) November 24, 2020
Stefanski's only real blunder was calling a fake punt in the Week 1 blowout loss to the Baltimore Ravens.
Aside from that, he has not done anything to hurt this team.
How often can that be said not just about a Browns coach, but about a first-year coach in general?
This is his first head coaching gig and he took a job that has quite the failure rate.
He is now poised to take the Browns back to the playoffs for the first time since 2002 and it is obvious Stefanski was the perfect choice and the one this franchise has needed since Butch Davis resigned back in 2004.
2. A Suitable Quarterback
Baker Mayfield has not been a great quarterback since showing up in 2018.
But he has been good enough to not lose games for the Browns and the stability is another reason why the Browns are 7-3 and actually taking down lesser competition for once.
Last year saw Mayfield start all 16 games for the Browns.
For most teams that is an expectation for a starting quarterback.
In Cleveland, he was the first quarterback to reach that mark since Tim Couch in 2001.
Mayfield has 15 touchdowns and seven interceptions through 10 games and is on a much better pace than his ratio of 22-21 in 2019.
He is taking better care of the ball and doesn't need to throw for 300 yards for the Browns to win in this run-heavy offense.
.@bakermayfield HYPED 😂#BudLightCelly pic.twitter.com/p1eipbRU2n

— Cleveland Browns (@Browns) November 22, 2020
The third-year quarterback showed plenty of regression under Freddie Kitchens last season.
2020 has brought more consistent results and fans must also remember Mayfield has led his team to consecutive victories in awful weather.
1. No Drama
There is simply no drama with this team.
No signs of a head coach throwing coordinators under the bus or of players being distractions.
The only potential distraction was David Njoku demanding a trade and that has seemed to fade away with time.
The Hue Jackson era truly felt like one long nightmare and it was going to be tough to shake those feelings once Kitchens took over and the process continued.
Stefanski clearly runs a tight ship and so does this front office.
John Dorsey isn't insulting the roster and no surprising moves have been made that actively hurt the team's chances of winning.
This has been an uncharacteristic start to a Browns season, in a good way, and fans are hoping it continues over the final six games of the season.