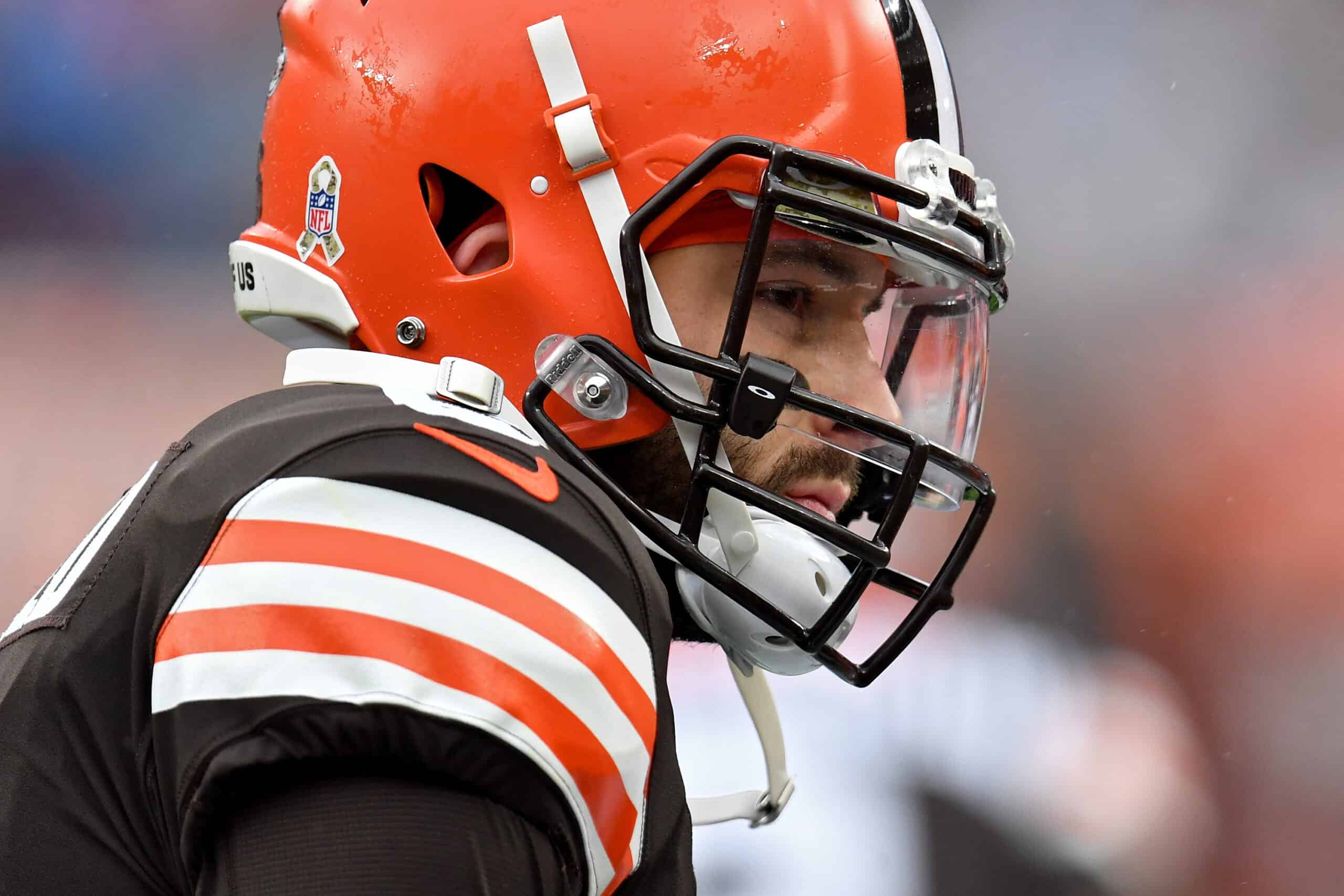 The Cleveland Browns, at this mid-January juncture, have committed to Baker Mayfield being their starting quarterback for the 2022 season.
And there you have it. Kevin Stefanski and Andrew Berry have both publicly backed Baker Mayfield. Roll with him and bounce back next season https://t.co/SO5qc1eGQ8

— Sir Yacht🛥 (@SirYacht_) January 11, 2022
A lot can change in this offseason; however, it is not unrealistic to assume that the Browns will roll with Mayfield for his fifth-year option.
Rolling with Mayfield definitely has risks associated with it.
Here are 3 reasons to be worried about Baker Mayfield in 2022.
1. Injury Recovery
Mayfield has surgery and rehab ahead for the torn labrum in his nonthrowing arm.
This is no small deal as the recovery period can be lengthy.
For the first month, he will be in a sling.
Rest and recovery continue through the 6th week.
From the 6th through the 12th week postsurgery is the strengthening and rehab portions of the recovery process.
Between 4-6 months after surgery is the estimated timeline for return to normal activities.
Fox sideline reporter Lindsay Czarniak spoke to #Browns QB Baker Mayfield pregame, saying he told her he'll be in sling for about 6 weeks after 1/19 surgery, thinks he'll be able to return to work by late April, had great convos with coaches & staff about his plans for the future

— Nate Ulrich (@ByNateUlrich) January 9, 2022
This means that potentially Mayfield will not be able to throw a football until May at the earliest or July at the latest.
His normal offseason training regimen will be replaced with these activities.
Any complications along the way could push his schedule back closer to the preseason.
2. Decision Making
Narrative that gets lost in the Baker Mayfield discussion: the injury that supposedly excuses his awful season wasn't some sort of flukey bad break.

Baker threw an ugly INT, then tried to tackle a guy he had no business trying to tackle.

It was awful judgement x2, not bad luck.

— Martin Cizmar (@martincizmar) January 12, 2022
Aside from the physical recovery, Mayfield's mental approach to the game was questionable in 2021.
He made bad choices and threw balls in spots that he should not have.
His no interception November 2020 was a distant memory.
Mayfield threw just 8 interceptions in all of 2020; he threw 7 in his final three games of the 2021 season.
Was the decision-making impacted by his injury?
That is certainly possible.
However, he threw a questionable pick at the end of the Week 1 Kansas City game before his injury issues began.
There are countless examples of him not reading the coverage and not making smart throws to move the chains on a consistent basis.
Baker Mayfield has Demetric Felton open the entire time! #Browns pic.twitter.com/HvHcsLIr0c

— Matt Waldman (@MattWaldman) October 3, 2021
This is definitely a troubling behavior that is problematic if it continues in 2022.
100% healthy Baker Mayfield threw an INT in 4th Quarter Week 1 that led to an L then an INT in Week 2 that led to his season-ending injury (yet still played). 🤔

It would seem reasonable to think that simply drafting a 1st Round WR won't fix Baker's QB IQ. #Browns

— Draft SZN (@Rugaru) January 11, 2022
3. Batted Balls
Baker "Batted Balls" Mayfield.#Steelers #Browns

— Obviously (Not) Tomlin (@Tomlin_Sense) January 4, 2022
Mayfield has always had issues with batted balls.
However, it seemed worse in 2021.
His height is usually what is believed to be the cause.
He is not the only short quarterback in the NFL and is definitely not the shortest.
There has to be more to it, and it is a concerning pattern that he has not overcome through 4 NFL seasons.
Conclusion
Internal issues definitely weighed on Mayfield this season.
He told Alex Smith as much in an ESPN interview.
Baker Mayfield, in ESPN interview with Alex Smith, said dealing with internal issues has been 'tricky' because he's had to 'fix some of the relationships in the building.'

— Tony Grossi (@TonyGrossi) January 4, 2022
There is no doubt that Odell Beckham Jr.'s departure wreaked havoc on the locker room, and those were extraordinary circumstances Mayfield had to work through.
This is understandable; however, what does not make sense is Mayfield listening to what the media says about him.
Whether it is Colin Cowherd, Mary Kay Cabot, or anyone else, he just has to ignore it and let it pass without reacting or addressing it.
I am not suggesting this is easy to do, but he just has to figure out a way to get it done.
He will be a better player in the long run if he can.