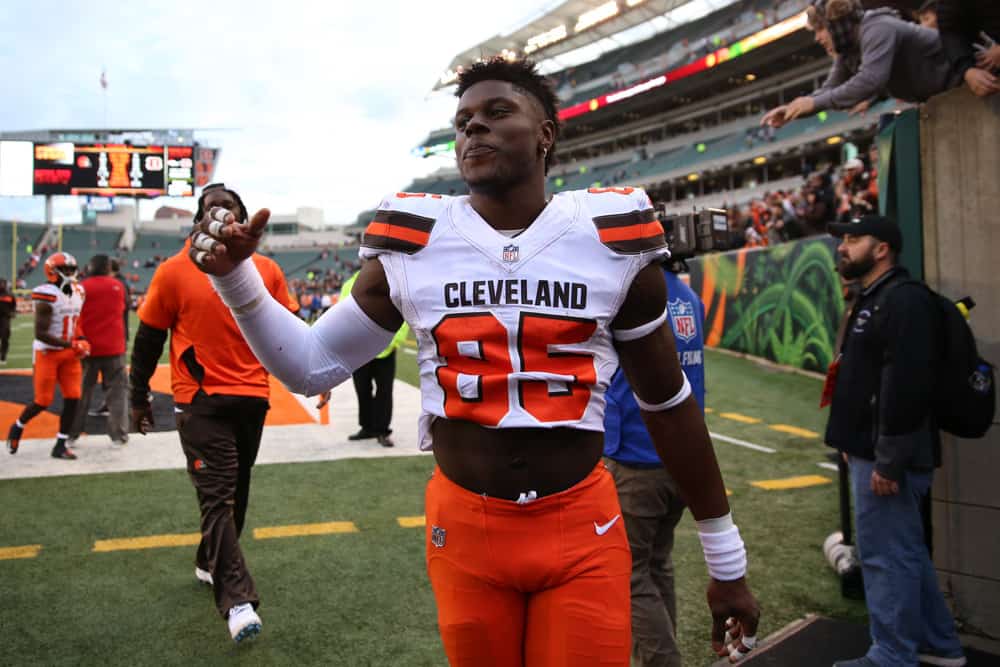 Much has been said about the loaded roster of the Cleveland Browns for 2021.
One of those returning players is David Njoku.
Njoku enters the fifth year of his NFL career.
A 2017 first-round pick, he is playing under the fifth-year contract option.
Free agency is a possibility at the end of this season.
In the meantime, Njoku is due for a breakout year.
Here are three reasons why he could be a Pro Bowler in 2021.
1. Committed
You're right where you need to be!!! Enjoy the full process

— Chief David Njoku (@David_Njoku80) July 21, 2021
A year ago, Njoku was not fully committed to staying with the Cleveland Browns.
He wavered between asking for a trade and reluctantly agreeing to play.
Whatever the issues were; whether it was the signing of free agent Austin Hooper, drafting Harrison Bryant, or other factors, they are behind him.
He is a part of this team for the long haul.
We spotted him at "Camp Mayfield" in Austin last month so he was actively involved in catching with Mayfield and team building with other Browns players at Mayfield's home base of Austin, Texas.
Odell Beckham Jr., Jarvis Landry, Rashard Higgins, David Njoku among #Browns players in Austin, Texas, this week for workouts hosted by Baker Mayfield. https://t.co/pD5dT8Ra4w

— Nate Ulrich (@ByNateUlrich) June 9, 2021
With Njoku mentally prepared and engaged, he is capable of big things.
Being named to the Pro Bowl is a definite possibility.
2. Talented
Whereas his commitment can be disputed, Njoku's talent is not.
His 2018 draft profile from Lance Zierlein has proven true.
"Ascending pass catching talent with elite athleticism and enough fight in his run blocking to believe that he can be lined up anywhere on the field at any time. Njoku should annihilate the combine with monster numbers in speed and explosion, but his play on the field shows he's more than a combine warrior."
He is an outstanding athlete and has been a good target for Mayfield since Mayfield arrived in Cleveland in 2018.
His best season statistically was Mayfield's rookie season when he had 639 yards receiving and 4 touchdowns.
Njoku could top those numbers in 2021.
Baker throws a dart to David Njoku for the TD. #Browns take the lead 24-20.

— Everything Cleveland (@everythingcle_) October 25, 2020
3. Part Of Stefanski's Multiple Tight End Offensive Scheme
Ever since Coach Kevin Stefanski got to Cleveland, his multiple tight end schemes have been discussed.
In his second season with a full training camp and preseason, we expect to see a lot more of these multiple tight end schemes.
While serving as the Vikings offensive coordinator in 2019, 57% of the plays called had multiple tight end sets.
Though Stefanski has a lot of offensive superstars in Cleveland, his affinity for tight ends has not ended including Njoku.
#Browns coach Kevin Stefanski said tight end David Njoku played well, especially late in the season as he became healthy, provided us great value

— Nate Ulrich (@ByNateUlrich) January 18, 2021
In March when it was unclear if Njoku wanted to remain with the team in 2021, Stefanski said:
"David is somebody that I respect and value, the production he gave us on the field and the teammate he is."
Conclusion
David Njoku has been with the Browns through the terrible lows.
His rookie season, the team went 0-17.
He lived through the tumultuous years with coaching changes and lots of losses.
The Browns have turned the corner and with Njoku ready to roll, the stars are aligned for him to have a career-best season and to become a Pro Bowler.