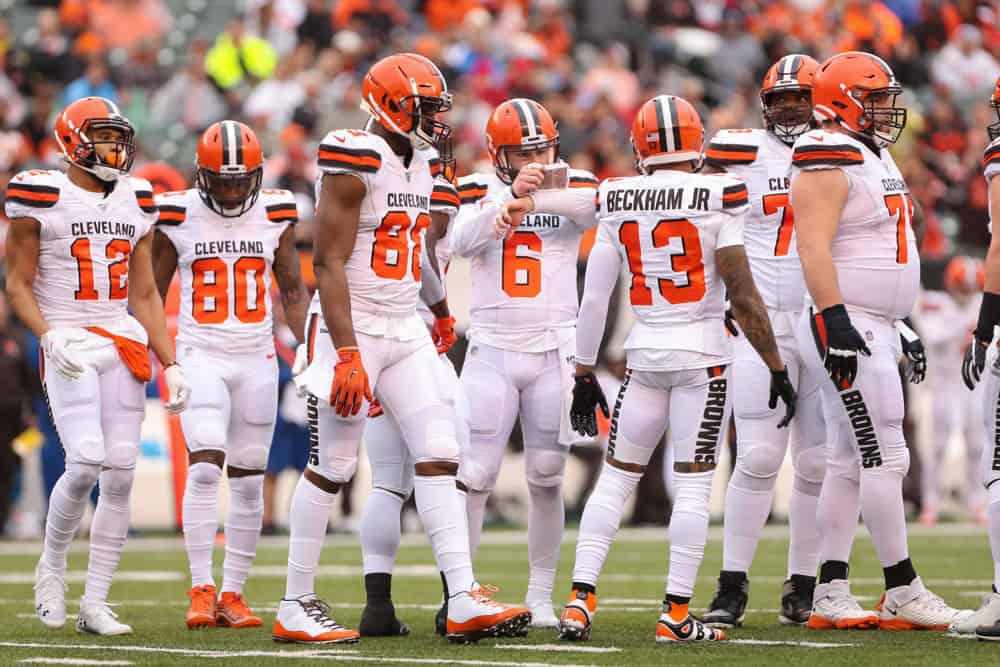 For the first time in years, Cleveland Browns fans feel like luxury.
Austin Hooper, Jack Conklin, and a mega-extension for Myles Garrett highlighted a productive offseason for the franchise.
The splurge has definitely given many the feeling that the Browns can make the playoffs for the first time since 2002.
Pump the breaks.
There is still a level of concern in play and you need to be aware of that.
1.  Baker Mayfield's Inconsistency 
Let me point out by saying that I truly believe that Mayfield is going to put together one of the better seasons a Browns quarterback has ever produced in 2020.
With that said, I have also sounded like a broken record when I point out his deficiencies.
Baker Mayfield has the lowest passer rating in the NFL when not under pressure this season per @NextGenStats. He is the only QB with more INT than TD passes when not pressured. pic.twitter.com/OuFERsVDzm

— NFL Research (@NFLResearch) November 5, 2019

Mayfield may have had some unlucky interceptions in 2019, but his clean pocket presence and decision making became a major concern.
Pro Football Focus released their end of the year quarterback rankings for 2019 and expressed their concern about the issue.
They ranked Mayfield 18th out of the 32 quarterbacks.
"Among the concerns was Mayfield's pocket presence, as he invited pressure and vacated clean pockets much more than what we saw as a rookie."

"Great quarterbacks have the ability to mitigate offensive line issues with pocket presence and decision making. But this season, Mayfield has only made his front-five look worse."
Baker Mayfield 2nd year stats:

22 TDs / 21 INTs 🔥🔥🔥
59% completion rate 😤😤😤
6-10 record 💯💯💯
3rd in the AFC North 😱😱😱
Sophomore Slump: ✅✅✅ pic.twitter.com/RKDkirTkyG

— 𝕽𝖆𝖛𝖊𝖓𝖘𝕱𝖑𝖔𝖈𝖐𝕮𝖆𝖕𝖙𝖆𝖎𝖓 (@RavensFlockCapt) December 29, 2019
2. First-Year Head Coach 
Granted, Sean McVay and Matt Nagy have shown that first-year jitters do not exist.
In Cleveland, that doesn't happen.
Look at the last decade.
In terms of Pat Shurmur, Rob Chudzinski, Mike Pettine, Hue Jackson, and Freddie Kitchens, there's a reason they are all near the bottom of the totem pole in winning percentage.
Good morning to everyone except Hue Jackson. When playing the Raiders he saw Nick Chubb take a 63 and a 41 yard rush to the house for tds. He decided Nick only deserved three carries that day while Carlos Hyde got 22. The Browns lost. Imagine ignoring Nick Chubb. pic.twitter.com/Cfgi9ARXon

— Nick Karns (@karnsies817) May 25, 2020
Kevin Stefanski could be the greatest gift ever delivered in Cleveland.
However, history is not on his side.
3.  OBJ 
This is just a really easy one.
We can't pretend that Odell Beckham Jr. is not a headache.
He is a great talent, a fantastic wide receiver at times, and has the potential to carry a huge load of Mayfield's shoulders.
However, how many times have you seen a Super Bowl-winning team have a diva on the roster?
The season hasn't even started and there have been rumors of being on the trade block while taking shots at the owners about the upcoming season.
"Why are we trying to push forward ? It's obviously for their money and that bothers me….the owners' [attitude is], 'Oh we own you guys….. they don't see us as human." ~Odell Beckham Jr. #Beckham #OdellBeckham #NFL #coronavirus #Covid_19 #Odell https://t.co/Fyt6DvWCjG pic.twitter.com/jB3Ov5EMHY

— Etan Thomas (@etanthomas36) August 3, 2020
If the pandemic spirals out of control, there is no telling what OBJ's mentality will look like.
Just take a look at his track record when everything was fine.